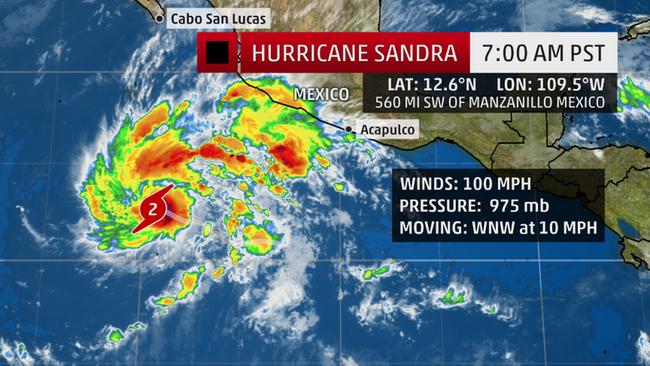 (Bloomberg) — Hurricane Sandra, the strongest storm to develop in the eastern Pacific this late in the year, threatens to strike Mexico over the weekend and pump moisture into the southern U.S. during the Thanksgiving holiday travel period.
Sandra's top winds reached 100 miles (160 kilometers) per hour Wednesday and were forecast to climb to 120 by Thursday, making it a Category 3 system on the five-step Saffir-Simpson scale, the U.S. National Hurricane Center said. Sandra was about 560 miles southwest of Manzanillo, Mexico.
"It continues the trend of record-setting events in the Pacific," said Eric Leister, a meteorologist with AccuWeather Inc. in State College, Pennsylvania.
The Pacific, in the midst of an El Nino that warms its waters, has produced 22 Category 4 and 5 hurricanes and typhoons this year. Among those was Patricia, which was the strongest storm ever tracked by the U.S. hurricane center in Miami.
Sandra "will be the first eastern Pacific system ever to require advisories to be issued on Thanksgiving Day," said Jeff Masters, co-founder of Weather Underground in Ann Arbor, Michigan. "The Hurricane Hunters are on call to investigate Sandra Friday."
Rapid decline
The system won't reach Patricia's power and will fall apart quickly as it approaches Mexico's Baja California peninsula and Pacific coast, Leister said.
"The good news for Mexico is that as it moves northward, the environment will become more hostile to its development," he said.
The main threat to Mexico will be heavy rains, flash floods and some locally damaging winds, he said.
As it moves north, a storm system moving across the U.S. will vacuum up a lot of Sandra's moisture.
"Holiday travel during the busy Saturday-Sunday Thanksgiving weekend across portions of Texas, Oklahoma, and Arkansas will get disrupted by a most unusual occurrence — moisture from an eastern Pacific hurricane contributing to heavy flooding rains," Masters said.
Almost 9 inches (23 centimeters) of rain may fall over that region in the next five days, according to the U.S. Weather Prediction Center in College Park, Maryland.