An estimated 9,500 claims resulting from June 1 tornadoes that devastated several Mass. communities may total up to $175 million, according to recent estimates. As a result, the Mass. Division of Insurance noted June 29 that this was "the state's costliest disaster in recent memory."
RELATED: View photos of the destruction caused by the Mass. tornadoes.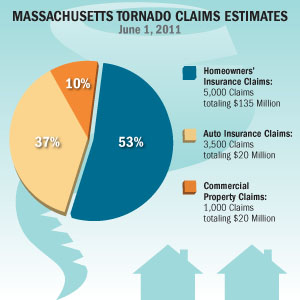 For a breakdown of P&C claims by type, refer to the chart on the right. This information will be revised if updated statistics become available.
Previous estimates put the claim count at 8,200, with total damages around $140 million.
RELATED: View video footage of the tornado that struck Springfield, Mass.
State and federal aid is being offered to residents of Hampden County and portions of Worcester County where the three tornadoes touched down.