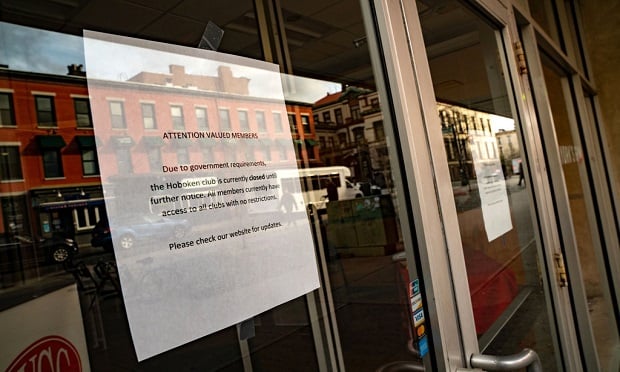 By its very name, the novel coronavirus raises the question of whether it automatically excludes insurance companies from having to pony up for small business interruption claims related to the pandemic.
A bill in Trenton is stoking the debate and highlighting more uncharted territory of the COVID-19 crisis.
A-3844 would compel insurance companies to cover claims by New Jersey small business owners for damages resulting from interruption of their operations due to the COVID-19 state-of-emergency declaration by Gov. Phil Murphy. This and other executive orders forced them to shut down temporarily.
The bill remains a work in progress, according to its primary sponsors.
The measure never made it to the Senate floor on March 19 with the 28 other bills that comprise the COVID-19 emergency package, which sailed through the Assembly just days earlier.
Assembly Democratic aides said A-3844, sponsored by Assembly members Roy Freiman, D-Hunterdon/Mercer, Louis Greenwald, D-Camden, and Annette Chaparro, D-Hudson, got as far as a second reading in the lower chamber on March 16, but failed to reach a floor vote because of discussions over amending it.
"After conversations with various stakeholders and insurance companies, we decided to hold the legislation, which will allow for more time for the prime sponsor, Assemblyman Freiman, and these companies to develop a solution," Greenwald, newly appointed Assembly majority leader, said in a recent email to the Law Journal.
"This doesn't mean the legislation is off the table. As more and more small businesses need relief in the coming days, we will be looking for these insurance companies to be a part of the solution," Greenwald said.
Small business owners, defined in the bill as employing 100 or fewer employees who work 25 or less hours per week, are championing the bill as written, claiming they desperately need the assistance as COVID-19 has dried up their cash flow, forcing workforce reductions and other measures.
Meanwhile, insurance companies and lawyers representing their interests, have pushed back in opposition. They claim the bill, while well-intentioned, would allow the Legislature to overreach and sets a dangerous precedent for their industry.
The Insurance Council of New Jersey, representing 19 state-licensed property/casualty insurance companies, said in a March 19 legislative statement: "This legislation would retroactively interfere with existing insurance contracts and mandate coverage in a commercial insurance policy where it may not currently exist."
Generally, business interruption excludes coverage for viruses and bacteria, thanks to a common but little-known provision in commercial property insurance policies. The provision, originating in 2006, reads: "We will not pay for loss or damage caused by or resulting from any virus, bacterium or other microorganism that induces or is capable of inducing physical distress, illness or disease."
There's also the issue that current premiums were not calculated to include something such as COVID-19. Murphy declared a public health state of emergency in New Jersey on March 9, the retroactive date for any claims, but there is no ending date known for the emergency.
The ICNJ noted that A-3844 contemplates enacting into law the unprecedented concept of covering the losses of a pandemic without the benefit of any underwriting analysis. Carriers need to actuarially underwrite a policy based on the size of the risk and determine a premium for the coverage in advance of agreeing to cover that risk, the organization contends. Without knowing the end date for COVID-19, this is virtually impossible, it says.
In addition, some insurance companies are particularly troubled by section 3 of A-3844, which would set up a fund in the state Department of Banking and Insurance for carriers to be reimbursed for these claims. The fund will come from an assessment on all insurers to compensate them for claims paid out to small employers. Carriers complain their insureds will end up contributing toward these claims paid to small employers at the expense of non-coronavirus claims.
With the economic fallout from COVID-19 growing by the day, "the sheer size of these claims could impact how other, legitimate non-coronavirus claims are paid by the insurer, and it has the potential to put serious financial strain on some insurers," said an insurance firm representative who asked not to be identified since talks were ongoing over the bill's final version.
Meanwhile, supporters of the measure say A-3844 would save thousands of small business owners throughout the state from going out of business, and save thousands of their employees from losing their jobs and going on unemployment.
A-3844 states: "This bill, then, is intended to hold harmless a certain portion of the business sector, which had the foresight to purchase business interruption insurance, for losses sustained as a result of the current health emergency, but for which no such coverage is currently offered."
"Of course it will help us," said Gabino Gonzalez, owner of Mamma Flora's Restaurant in Ewing Township, which specializes in comfort food. Gonzalez helped his pared-down staff on Monday night prepare takeout and deliveries only—no dine-in orders, in keeping with the executive order by Murphy that took effect on March 16.
Gonzalez said he has had to let go of workers and reduce the hours of those who remain.
"What we are making with takeout deliveries is a fraction of what we used to make in revenue," Gonzalez said. "It's hard, and even harder not knowing how long this will go on."
Related: