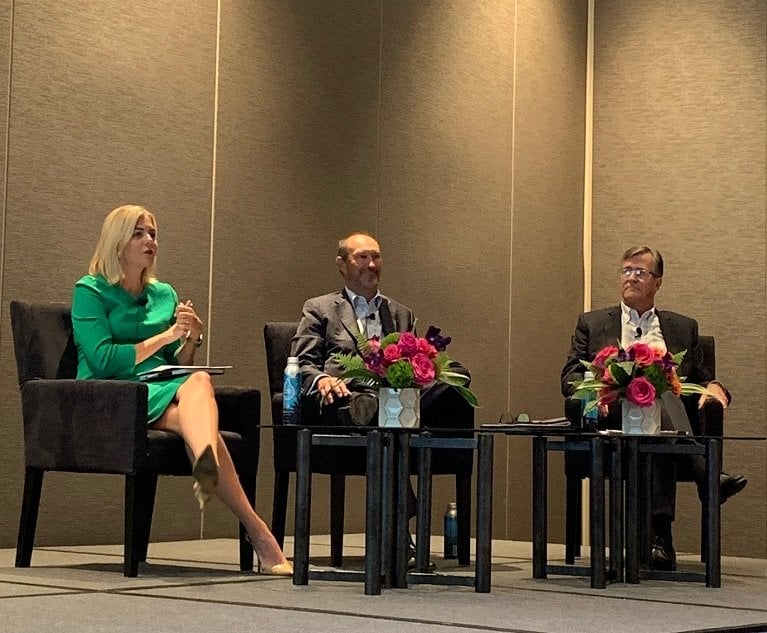 SAN DIEGO — Leading surplus lines insurance professionals provided an update on distribution-cost research conducted by the Wholesale and Specialty Insurance Association and Conning, Inc.'s Insurance Research Division during a panel discussion on Tues., Sept. 19, 2023, at the 2023 Annual Marketplace.
The study released in 2021 found that wholesale-insurance distribution does not increase transaction costs for the insured.
The afternoon session featured panelist Hank Haldeman, president of Amwins Group's worldwide programs and panelist Phillip McCrorie, CEO of RSUI Group, Inc. RT Specialty Senior Manager Annie Dawson moderated the panel, which was co-hosted by U40 — WSIA's group for insurance professionals under 40. Dawson currently serves as U40 president.
Panelists examined the recent evolution of the marketplace. The Conning research indicates that the total non-loss cost ratio for the wholesale composite was lower than the retail composite by 1.8% points. The cost analysis of commercial insurance policies through wholesale and retail brokerage channels served as the most up-to-date data since an original study on this topic was published in 2016.
Panelists agreed on the need for increased educational outreach within the industry to challenge misconceptions about increased transaction costs. The needle is moving in the right direction, they said, but it will continue to take time to change perceptions.
"The perception that we're more expensive is just wrong," McCrorie said. "We prove it in this study… It has absolute, practical-use data."
Haldeman addressed efforts to recruit a new generation of insurance professionals who are equipped with means to provide current and responsible messaging to clients. The study "is another amplifier to the value message that we've used to attract talent more effectively," he said.
More needs to be done, however, to convince insureds of the utility and value of the wholesale distribution channel.
"There are some very large retailers out there who've basically declared war on the wholesale channel," McCrorie said. "We have to keep getting the message out to people and dispel the myths."
McCrorie and Haldeman agreed that the study remains a valued resource to help those on the periphery better understand the cost of transactions in the wholesale market.
"I think the study is an important tool in advocacy to show that we are not an expense driver in the insurance industry," Halderman said. "With the dislocations now, there's a lot of attention being paid to the cost of insurance."
Haldeman and McCrorie explained that their own employee populations are regularly encouraged to reference the report and stay updated on its findings.
"There's a challenge to it, because it's technical," McCrorie concluded. "But you have to get the point across: There's no cost difference."
Jennifer Kastner is a San Diego-based freelance journalist.
See also: