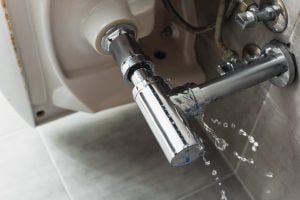 Water damage is one of the most common types of insurance claims, with roughly one in every 50 homeowners filing a water damage or freezing claim each year. In fact, this type of claim makes up roughly 29% of all insurance claims.
"Water damage is seven times more likely than fire damage and five times more likely than theft," says Jeffrey Bales, Senior Director of Business Development and Sales at Notion. "So, if you put this risk in context, you can see how mitigating the frequency and severity of loss can create a large savings. Innovation around IoT sensors has the potential to provide the solution."
Risk of water damage is on the rise
The frequency of sudden pipe bursts has nearly doubled over the past 10 years, and emerging trends are making water claims a growing concern.
"The first trend that we're seeing is a rise in storm severity," says Bales. "During 2021, for example, we had the big Texas freeze, and events like these are contributing to increased risk of pipe bursts. Additionally, in the commercial space, we have an aging infrastructure that creates another layer of risk."
What's more is that the damage around water claims extends far beyond the monetary expense. "We're talking about ruined possessions, home displacement, and people having this huge problem that they totally didn't see coming."
How IoT helps to reduce risk, mitigate claims, and produce ROI for carriers
IoT has the potential to transform large, expensive risks into smaller and more manageable exposures. If an insured has a leak under their sink, they learn about it quickly, turn off the water, find the problem, and fix it.
"If we can empower insureds to understand a problem before it turns into a major issue, then they can take proactive steps to help de-risk the situation," says Bales. "That's what we're really helping customers to do."
And the potential savings is large. Notion conducted a study on over 50,000 homes to determine the financial impact of reducing claim risk and severity through IoT. They found a return on investment of $1 million at year one, an ROI of $5.4 million at two years, and an ROI of $33 million at seven years.
"ROI is important, but there is a human element to preventing and mitigating water damage risk as well," says Bales. "IoT not only monitors your property but gives the people inside your property peace of mind that they'll be alerted to any potential emergency, no matter where they are."
About Jeff Bales, Senior Director of Business Development and Sales for Notion
Jeff Bales harnesses his 12+ years of sales leadership and experience in the connected home industry to help insurance leaders build first-rate smart home programs. As the Senior Director of Business Development and Sales, he builds strategic partnerships and spearheads new channel discovery. He's passionate about building relationships and helping others find opportunities for growth.
Prior to Notion, Jeff has worked for brands such as GE Lighting and Flo by Moen, he has also served his community as a cabinet member of the Young Leaders of United Way of Greater Cleveland, and he can often be found spending time with his three kids. You can reach out to Jeff at [email protected].