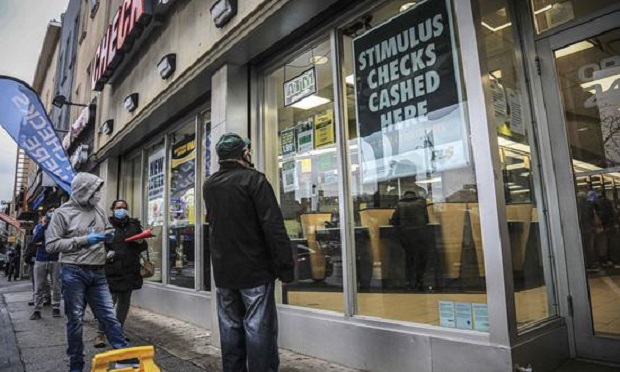 Editor's Note: Here are the latest key updates you may have missed over the past weekend relating to the novel coronavirus (COVID-19) as of May 4, 2020.
In the U.S.
According to Johns Hopkins University (as of May 4, 2020):
Total U.S. cases: 1.16 million
Total U.S. deaths: 67,781
Senator Kamala Harris (D-Calif.) introduced the COVID-19 Racial Disparities Task Force Act, Buzzfeed reported. The bill would require the director of Secretary of Health and Human Services to assemble a task force to address the racial disparity plaguing communities of color amid the COVID-19 pandemic.
Los Angeles County became the first in the U.S. to offer all residents free testing for the novel coronavirus, including those with no symptoms.
The U.S. economy shrank at a 4.8% annualized pace in Q1 2020 — the biggest slide since 2008, and the first contraction since 2014. According to the Commerce Department, the downturn was led by the steepest drop in consumer spending since 1980, and the fastest decline in business investment in almost 11 years.
On May 4, Florida will allow state parks, restaurants and retail spaces to reopen at 25% capacity. The three counties most affected by the coronavirus in the state — Broward, Miami-Dade and Palm Beach — are excluded from the new order.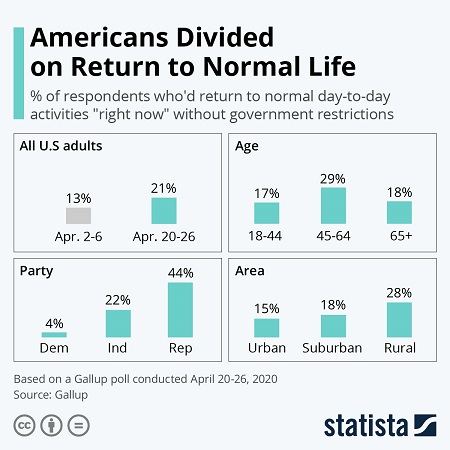 Last week, President Donald Trump signed an executive order to use the Defense Production Act to pressure meat processing plants to stay open.
In a guest column, Kansas Insurance Commissioner Vicki Schmidt said: "[COVID-19] has demanded rapid change, and it is up to those of us in elected positions to ensure that change takes place in a way that positively serves the needs of the people of Kansas… As your Insurance Commissioner, I will continue to lead in a way that inspires improvements in service rather than continues a history of stagnant procedures doomed to further complicate government."
Willis Towers Watson warned that losses from the coronavirus pandemic will exceed those experienced with 9/11 and could reach $140 billion.
During a Fox News Townhall, President Trump said the coronavirus could kill 80,000 to 90,000 Americans, increasing his original estimates announced in April.
Scientists working as part of the White House's task force on "Operation Warp Speed" said they have identified 14 vaccines to focus on for testing and development.
Major airlines in the U.S. have announced new policies requiring passengers to wear face masks onboard flights and while waiting at terminals.
In a new report, the CDC said the coronavirus spread to 115 meat plants across 19 states from April 9-27.
PIA National along with over 100 organizations from the business and insurance communities have formed America's Recovery Fund, a group dedicated to developing a solution for businesses struggling to cope with the economic fallout of the coronavirus crisis. The proposal creates a COVID-19 Recovery Fund (Recovery Fund) within the U.S. Department of the Treasury that is modeled after the September 11th Victim Compensation Fund.
Around the world
According to Johns Hopkins University (as of May 4, 2020):
Total cases globally: 3.53 million
Total deaths globally: 248,097
Cases by region: Europe (1.52M), Americas (1.43M), Eastern Mediterranean (206,004), Western Pacific (152,773), South-East Asia (65,071), Africa (30,536).
Canadian Prime Minister Justin Trudeau said that the country will commit more than CA$240 million, or US$170 million, toward developing virtual platforms that will improve access to mental health support and expand capacity to deliver health care virtually.
The U.K. Financial Conduct Authority is seeking legal clarity on how insurers are expected to handle business insurance claims stemming from the coronavirus. Recently, Hiscox refused to cover claims made by companies that had policies covering "any occurrence of any human infectious or human contagious disease."
Several regions in Europe will begin reopening as COVID-19 deaths decline across the continent. Germany will allow playgrounds, zoos, museums and churches to reopen while Spain moves to ease lockdown measures.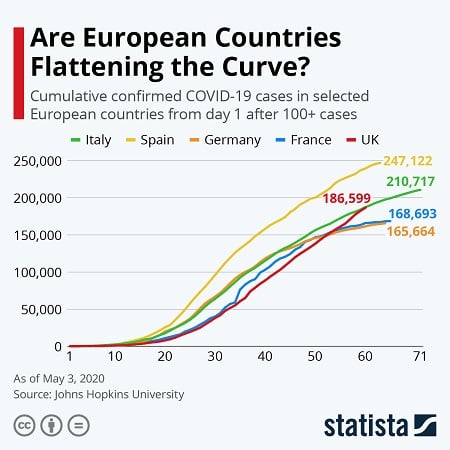 Related: Coronavirus update: States begin reopening, eased restrictions worldwide and more