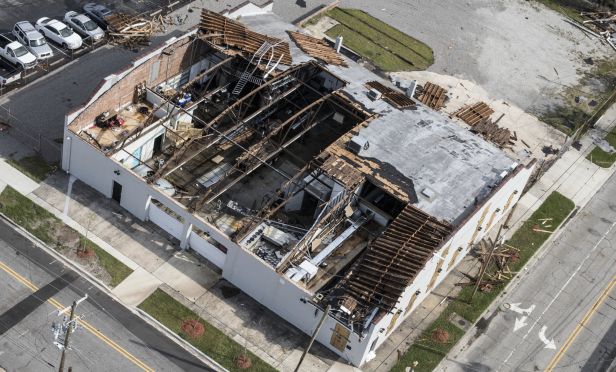 Hurricane damages from Florence will be added up in days to come but a well-known real estate executive in Wilmington, the port city in North Carolina known as a gateway to Cape Fear, does not see any long-lasting damages. "Overall, we've been through this before. We've had worse ones," says Tim Milam, president of real estate firm Coldwell Banker Sea Coast Advantage.
Related: How small businesses can better protect themselves
"I don't see any effect at all on commercial. We have a market that continues to grow. People are moving here. The commercial business will end up if anything with a shortage of inventory, just as we have in the residential market," he says.
Milam is president of Coldwell Banker Sea Coast Advantage, one of the largest real estate firms in Southeastern North Carolina with 19 offices throughout the Cape Fear Region. Milam also does commercial real estate.
Hurricane Fran was devastating
One of the worst previous hurricanes he cited in the area was Fran.
Fran, described as one of the most devastating storms to hit North Carolina, started out in a similar path to Florence. It landed at Cape Fear near Wilmington on Sept. 5, 1996 with 115 mph winds. It was blamed for 24 deaths in North Carolina and estimates of up to $7 billion in damages (in dollars at that time).
Water damage the biggest issue
Florence, in common with Fran, did most of its damage from huge amounts of water.
"We had primarily water damage from trees and other debris. It obviously blew down a lot of trees. There was water damage and flooding but not in every home. A lot of homes were perfectly fine. A majority of businesses were not closed and are back to normal," Milam says.
Media accounts of the storm warning residents to take it seriously by routinely and dramatically describing it as a monster are sometimes overblown. That does not mean that hurricanes are not dangerous to human life or that Florence did not do billions of dollars in property damage.
But Fran, which it hit North Carolina, was a Category 4 storm. Florence, by comparison, was only a one category — which should help in limiting damages.
Moody's in an early report set property losses from Florence at $16 to $20 billion.
Florence hit harder in less dense areas
In the storm's aftermath, reports are that it missed most of the largest cities but hit harder in less dense areas. Commercial areas most threatened include:
Single-tenant retail.
Vacation properties.
Light industrial buildings.
Mobile homes.
Various types of smaller apartments.
Milam says if past storms are any indication, Florence will not affect the residential real estate market for long.
"The property market typically slows this time of year. Things will be slower in the next 60 to 90 days with closings. They'll be delayed but not lost," he says.
David Wilkening is an Orlando, Florida-based freelance writer who covers business, finance and real estate.