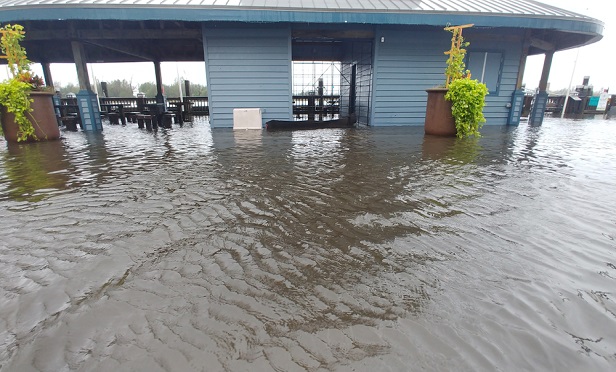 Hurricane Florence has left many questioning its impact at this point after the storm. It was a large and dangerous storm that decreased in wind velocity, but brought a lot of moisture to an area that was already fairly inundated with rain. So how can agents and claims executives predict the impact to policyholders?
Why conditions matter
Using storm predictions to estimate flood losses can be tricky. However, there are levers that have proven to be useful in determining the number of losses that could be reported as a result of a given storm. For example, certain storm conditions can contribute to slow reporting and mask the true exposure to flooding during the first three weeks of the storm:
Current conditions at the time of the storm — If the ground was already saturated, this reduces the absorption rate of the soil and causes more water to run off into lakes and tributaries.
Storm surge — This had some impact, but it turned out to be less than originally predicted.
River flooding — Extended heavy rains caused a lot of river flooding. Many rivers have reached the major flood stage and are expected to stay at that stage through this Friday.
Evacuation numbers were high — With approximately one million evacuation orders issued, people took this storm seriously and evacuated. The local governments will restrict travel back into the area until they believe the roadways and general areas are safe.
Power outages — Over 800,000 power outages were reported in North Carolina, while significantly smaller numbers, in the 10,000-20,000 range, were reported in South Carolina.
Building construction — Many homes on Carolina's outer banks are elevated and can handle a significant storm surge. This has potential to help lower the overall policy count reporting flood losses.
Predicting Hurricane Florence in numbers
According to National Flood Insurance Program (NFIP) Bureau and Statistical Agent (BSA) statistics, there are 134,306 FEMA flood insurance policies in North Carolina with an average coverage amount of $251,000 per property; and there are 204,342 policies in South Carolina with an average of $263,000 in coverage per property.
The majority of the flooding and surge impact occurred in North Carolina, while only the very northern part of South Carolina experienced major flooding. If we assume that 30% of the NFIP policies in North Carolina had payable claims and 5% of the policies in South Carolina had a payable claim, we would expect the NFIP to have around 50,000 claims. This would be less than the 80,000+ claims reported for Hurricane Harvey in Houston last year.
At a $40,000 average payment, this would still turn out to be a $2,000,000,000 event. However, there are many variables that make estimating the number and cost of claims from Florence impossible to predict.
Expectations for insurance agents
Adjusters are on stand-by and will start working as soon as they are allowed into the areas impacted by flood.
Policyholders should first document flood damage with photos before starting to rip out carpet and drywall.
Policyholders should not sign any contracts with water mitigation companies until they have a better understanding of what the flood policy covers. They should check with the agency or carrier if they are unsure.
Policyholders are encouraged to educate themselves on the flood resources available and learn how to file a claim by utilizing web sites such as National Flood Services resource page.
Anticipating the impact of flooding and knowing what to expect in terms of losses, allows insurance agents to be proactive in serving policyholders. Now is a good time to reach out to those policyholders that may be impacted by the storm and provide assistance with filing a claim and beginning mitigation efforts.
Terry Black is vice president at National Flood Services. Contact him at [email protected].