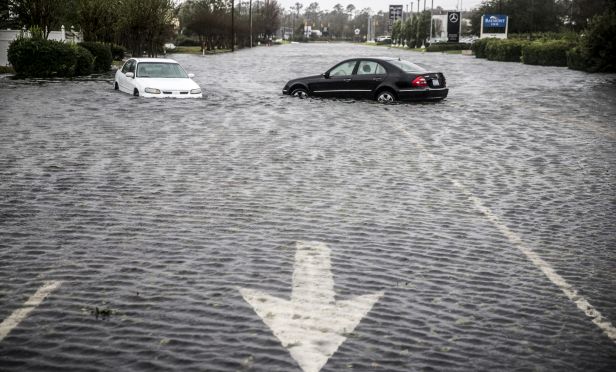 (Bloomberg) – A Duke Energy Corp. landfill near Wilmington, North Carolina, failed under the assault of Tropical Depression Florence, spilling about 2,000 cubic yards of coal ash that can carry toxic mercury, arsenic and lead. Authorities said they would investigate whether the pollutant had reached the Cape Fear River, but said it wasn't yet safe to inspect the site.
As the weakening storm plodded agonizingly across the Carolinas on Sunday, officials warned of even more catastrophic flooding.
Florence was downgraded to a tropical depression early Sunday as winds diminished to 35 miles per hour, according to the National Hurricane Center. The storm was moving west at 8 mph near Columbia, South Carolina, and expected to turn to the northwest Sunday.
As the storm weakened, North Carolina's attention turned to how its rivers could accommodate record rainfall that reached 40 inches in some places. Eight rivers have climbed to "major flooding level," with four still rising, according to the Flood Inundation Mapping and Alert Network website. The Trent River and the Cape Fear River both hit records Sunday, topping highs set during Hurricane Floyd in 1999, the National Weather Service said.
Cape Fear evacuations
Fayetteville ordered residents within a mile of the Cape Fear and Little rivers to evacuate by 3 p.m. local time. Lorenzo Simmons stood at a downtown bridge and watched the river flow as rain poured off his umbrella. "We've got a ways to go," he said.
Stretches of I-95 and other roads were closed, and drivers were advised to avoid North Carolina in general. "This is an extremely long detour, but it is the detour that offers the lowest risk," the state's Department of Transportation said in an advisory.
Florence, the first major hurricane of the Atlantic season, is expected to cause an estimated $18 billion in damage. More than 739,000 customers were without power in the Carolinas and more than 20,000 people have sought protection in shelters. Large-scale search and rescue operations were underway after rivers inundated cities near the coast. Emergency management officials said they are increasingly worried about landslides as the storm pours down on already saturated hills and mountains inland.
Recovery force
About 40,000 utility workers from at least 17 states are ready to restore power, according to the federal energy department. Besides Duke Energy, utilities in the Carolinas include South Carolina-owned Santee Cooper, Brunswick Electric Membership Corp., Jones Onslow Electric Membership and Lumbee River Electric Membership.
Residents wondered whether crucial infrastructure and industrial emplacements would survive. Of particular concern were environmentally precarious facilities for processing waste from North Carolina's massive hog industry and for containing the byproducts of power generation.
Related: North Carolina weakened its building codes in 2013
More than 60 swine operations house more than 235,000 hogs that generate almost 202 million gallons of waste per year within the floodplain of North Carolina's coast, according to Waterkeepers, a watchdog group. Environmental organizations are preparing to inspect waterways for toxic spills from lagoons once the storm subsides.
Duke Energy said part of a lined landfill near its closed Sutton Power Plant east of Wilmington eroded Saturday, releasing enough coal ash to fill about two-thirds of an Olympic-sized pool. The company said it was unsure how much may have reached Sutton Lake, a cooling pond yards from the Cape Fear River.
Most material was collected in a ditch and haul road that surrounds the landfill, Duke said. Spokeswoman Paige Sheehan said crews used "sand bags and other measures" to stanch the flow, and would make a permanent repair after the weather clears.
Under pressure
The company was ordered two years ago to clean up its coal-ash ponds. It came under pressure after about 39,000 tons spilled in 2014 near Eden. Work was underway at several high-risk sites when Florence hit.
The North Carolina Department of Environmental Quality "has been closely monitoring all coal ash impoundments that could be vulnerable," it said in a statement. "Once the damage is assessed, DEQ will determine the best path forward and hold the utility accountable."
Duke said that there was nothing to fear. "Coal ash is non-hazardous, and the company does not believe this incident poses a risk to public health or the environment. The company is conducting environmental sampling as well," it said in a statement.
Toxic substances
Frank Holleman, senior attorney at the Southern Environmental Law Center, said coal ash shouldn't be stored close to waterways.
"No rational person wants coal ash or these pollutants flowing into our waters," he said in a Sunday email. "After this storm, we hope that Duke Energy will commit itself to removing its ash from all its unlined waterfront pits and, if it refuses, that the state of North Carolina will require it."
The storm, which made landfall Friday morning as a Category 1 hurricane, has already poured more than 2 1/2 feet of rain across southeastern North Carolina as it all but stalled over the region for more than 24 hours. Records have been washed away, said Greg Carbin, branch chief of the U.S. Weather Prediction Center in College Park, Maryland. Radar estimates put some totals at 40 inches (101 centimeters), which would break the previous mark of just over 24 inches set during Hurricane Floyd in 1999.
The torrents threatened widespread contamination. In Wilmington, an estimated 5.25 million gallons of wastewater spilled into the Cape Fear River from a treatment plant when two generators failed Friday. Most spills are measured in the thousands of gallons, said Matthew Starr, the Upper Neuse Riverkeeper at Sound Rivers, an advocacy group. "That is a tremendous negative impact,'' Starr said.
The cost of the damage is expected to reach $15 billion for North Carolina, $2 billion for South Carolina and $1 billion elsewhere, said Chuck Watson, a disaster researcher at Enki Research in Savannah, Georgia.
Related: Natural disasters cost $36B in economic losses in 1H 2018, Swiss Re estimates
Got photos to share? We'd like to see them. PropertyCasualty360.com readers who have images of Florence's path can send them via e-mail to [email protected], for inclusion in our coverage.