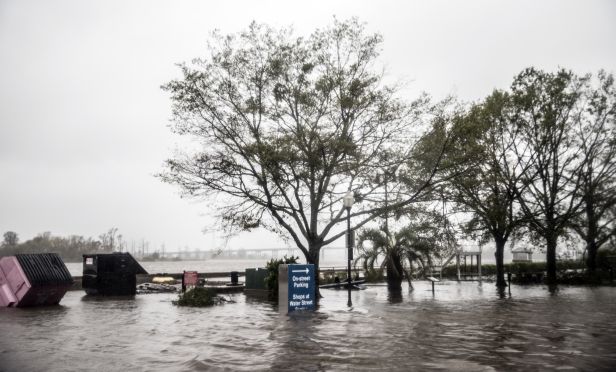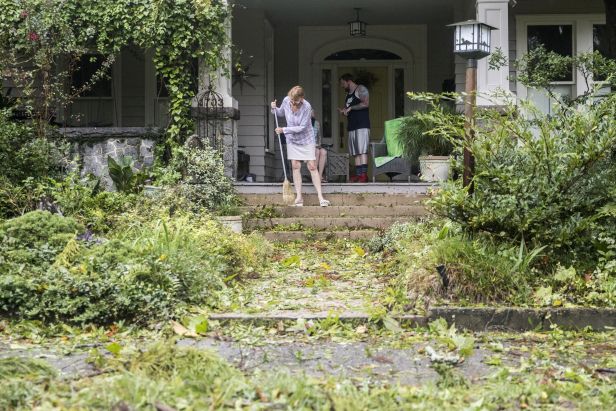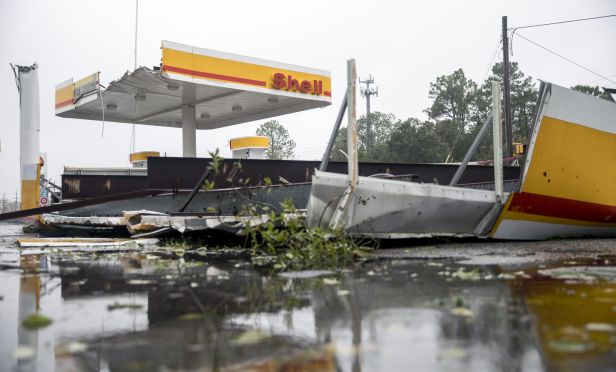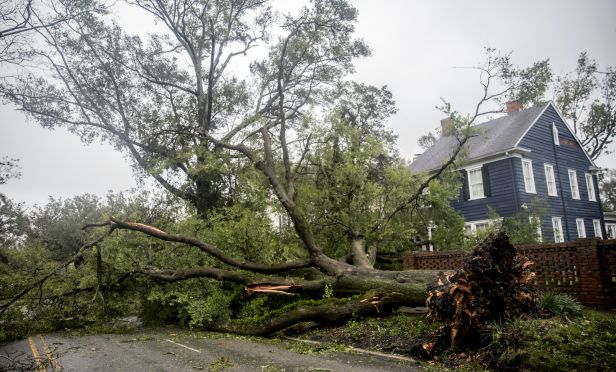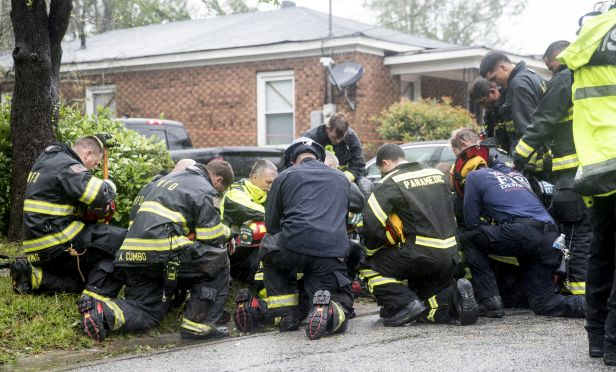 Advertisement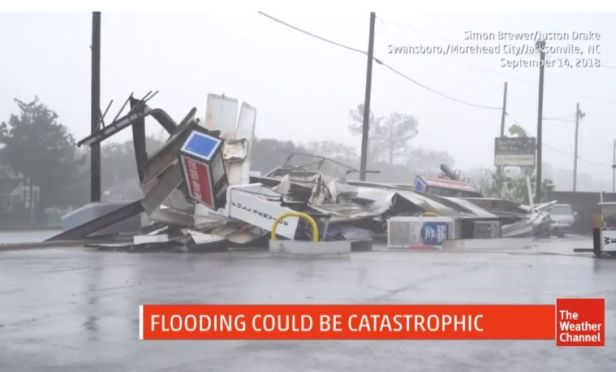 Updated 3:20 p.m. ET
(Bloomberg) – Florence's plodding pace and catastrophic flooding could produce as much as $18 billion in damage and has already caused at least six deaths, even as it has weakened to a tropical storm.
More insights: Hurricanes & insurance in 2018
As much as 2 feet of rain has fallen across southeastern North Carolina, submerging cities, ravaging tobacco crops and threatening the large and environmentally precarious hog industry. The storm is creeping west at 3 mph (5 kph), with torrents forecast as the storm moves inland, the National Hurricane Center said.
'Walls of water'
"We face walls of water at our coast, along our rivers, across farmland in our cities and across our towns," Governor Roy Cooper said in a briefing Saturday morning. "The rainfall is epic and will continue to be."
Related: Hurricane Florence — A triple threat?
More than 1 million customers were without power in North Carolina and South Carolina as of 7 a.m. local time, according to the U.S. Department of Energy, and Duke Energy Corp. said it expects as many as 3 million to lose power in the two states. Three North Carolina rivers have hit "major flood stage" and an additional 13 threaten to follow suit, according to emergency officials.
About 20,000 have sought protection in North Carolina's shelters, and hundreds had to be rescued in New Bern alone. The water closed Interstate 95, a U.S. highway that stretches from Maine to Florida.
The wind and water proved deadly. Emergency officials across North Carolina reported fatalities including a mother and infant and a man killed while connecting a generator.
In South Carolina's Union County, a 61-year-old woman died when she drove into a tree toppled by the storm.
In New Bern, hundreds of people were rescued — some by air — as water poured into homes and submerged cars. Beatrice Soliman of Houston said it had been more than 36 hours since she heard from her daughter, who lives with her husband, two children and two dogs, in Hubert, an hour east of New Bern.
"I'm nervous, I'm shaky and I haven't eaten for two days," Soliman said, adding that she had to turn off the television news coverage as the death toll rose. "I just want a text."
Making preparations
Portions of the region not yet inundated made ready. Behind West Lumberton Baptist Church in Robeson County, a pair of John Deere front-end loaders raced to build a makeshift levee of sand and gravel over CSX railroad tracks. The area saw flooding from the Lumber River during Hurricane Matthew two years ago.
In Charlotte, the largest city in the storm's path, officials said Saturday they expected as much as a record 12 inches of rain, and Mayor Vi Alexander Lyles said her biggest concern is 2,400 properties in the flood plain.
In South Carolina, more than 40 flamingos at the Riverbanks Zoo and Garden were carried, one by one, from their outdoor enclosure, their necks craning over the shoulders of staff members, according to a video posted by ABC News. The birds wandered around a secured room equipped with a blue plastic paddling pool for comfort.
Top sustained wind 45 mph
The storm was about 50 miles west of Myrtle Beach, South Carolina, at 2 p.m local time Saturday, according to the National Hurricane Center. Top sustained winds were 45 mph, and it could maintain tropical-storm strength for another 24 hours, according to the latest advisory. Rain total could reach 40 inches in some places.
"It is probably a foregone conclusion at this point that Florence is going to set the state records for both North and South Carolina,'' said Steve Bowen, director and meteorologist at Aon Benfield Analytics in Chicago.
Catastrophic flash floods are likely in the Carolinas and Appalachians through early next week, Richard Pasch, a forecaster at the center, wrote in an analysis. Landslides are also possible in higher terrain, he said.
The total bill for damage may reach $18 billion, lower than earlier estimates, said Chuck Watson, a disaster researcher at Enki Research in Savannah, Georgia. That's includes $15 billion for North Carolina, $2 billion for South Carolina and $1 billion elsewhere.
134,306 flood insurance policies in N.C.
As of July, 134,306 flood-insurance policies had been issued in North Carolina for $33.7 billion in property, the vast majority along the coast, according to Aon Benfield. The region's population has been rising, and since 2000, at least 19 counties in North Carolina and South Carolina have seen more than 25,000 residential units built, the report said.
The states' agriculture economies are also at risk. North Carolina is forecast to harvest 158,800 acres of tobacco this year, according to the U.S. Department of Agriculture, and it's the nation's top producer. Half the eastern North Carolina crop was in the field and "will be basically destroyed, blown away," Larry Wooten, president of the state's Farm Bureau, said Saturday.
More than 60 industrial swine operations house more than 235,000 hogs that generate almost 202 million gallons of waste per year within the floodplain of North Carolina's coast, according to Waterkeepers, an environmental watchdog group. Wooten said he hadn't heard about problems with hog lagoons, where bacteria break down the waste, or the safety of the animals, although some hogs were being moved to higher ground.
Environmental groups are preparing to inspect waterways for toxic spills from coal-ash ponds and hog lagoons once the storm subsides. Waterkeepers said it plans to take airplane and boat trips near flooded industrial sites and gather water samples.
Test of ability to respond to disaster
Florence, the first major hurricane of the Atlantic season, will be a test of the Trump administration's ability to respond to disaster, which has been a sensitive topic. President Donald Trump said before the storm that the federal government is "as ready as anybody's ever been," and he praised the Federal Emergency Management Agency and law enforcement on Twitter.
But he also continued complaining Friday night that the death toll in Puerto Rico from last year's Hurricane Maria was inflated in order to hurt him. He said the federal response to that storm, which an academic study found killed almost 3,000 people, was an "unsung success."
Trump may visit area early next week
The president plans to visit storm-hit areas early next week once officials determine the trip won't disrupt rescue and recovery efforts, spokeswoman Lindsay Walters said. But for now, the struggle belongs to those in the storm's path.
"We are prepared for the worst, but hoping for the best," said Kim McLeod, a South Carolina Emergency Management Division spokeswoman, who on Saturday morning was nearing the end of a 14-hour graveyard shift.
"New Bern would qualify as apocalyptic," Will Hargett, a livestock broker based in Greenville, North Carolina, said in a text message Saturday after leaving his home earlier in the week to take shelter on his family's farm in Jones County. "We're just playing Noah up here."
Related: The rise of CAT claims
Got photos to share? We'd like to see them. PropertyCasualty360.com readers who have images of Florence's path can send them via e-mail to [email protected], for inclusion in our coverage.