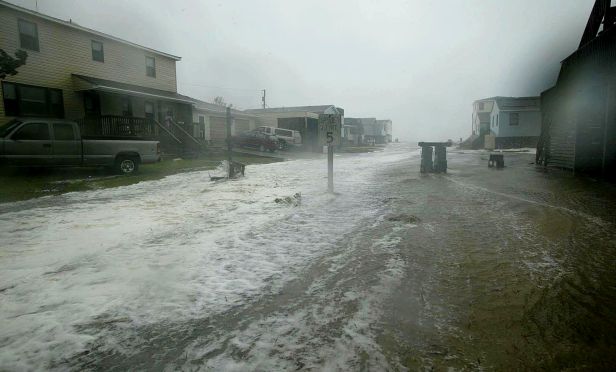 No hurricane landfall forecast is simple. But looking back at the forecast tracks for Hurricane Florence from the National Hurricane Center (NHC) and the ensemble members of the leading global forecast models a couple of days ago, what stood out was how relatively straightforward they were. Florence was anticipated to make a steady, assured progress directly towards the Carolinas, make landfall, and move directly inland.
In a somewhat remarkable turn of events that few, if any, models predicted 48 hours ago, Florence is now expected to stall over, or very near to, the Carolina coastline.
Competing areas of high pressure
The huge shift in the forecast guidance is the anticipated result of a reduction in Florence's steering flow due to two competing areas of high pressure. The hurricane is currently being steered across the southwestern Atlantic Ocean towards the southeastern U.S. around the southeastern periphery of a mid-level ridge centered northeast of Bermuda.
As the system approaches land, it will come under increasing influence from a competing mid-level ridge that is forecast to begin building over the east-central United States. The net result of these competing steering flows will see Florence slow, meander, or even become stationary for possibly 48 hours before the system moves ashore.
This possibility could bring prolonged hurricane-force winds and storm surge throughout Saturday and Sunday, to coastal areas along North and South Carolina, and significant inland flooding to whole region.
No change just yet
For the coming 36 to 48 hours, there are no major changes in the forecast track or intensity guidance, with Florence expected to approach the southeastern U.S. as an extremely dangerous major hurricane. For the coming 48 hours, the system is forecast to remain in an area of low vertical wind shear over warm sea surface temperatures.
These conditions should enable the system to at least sustain its current intensity over this period — and could even favor some additional strengthening. Another eyewall replacement cycle is possible before the hurricane reaches the coast, which could result in small fluctuations in intensity over the coming 48 hours.
It is a large system, with tropical storm force winds extending 175 miles from the center. Based on RMS HWind analysis at 1800 UTC on Tuesday, Florence's Integrated Kinetic Energy (IKE) has increased to 55 Terajoules (TJ). For comparison, Florence has more than double the IKE as Andrew (17 TJ), Charley (10 TJ) and Harvey (27 TJ) did in advance of landfall. It is so big, that astronaut Alexander Gerst on the Space Station needed to deploy a wide-angle lens to capture Florence's size.
Expected impacts from Florence
Sustained hurricane force winds over two whole days will be a severe test for buildings and assets across the two states, and the threat from storm surge and inland flooding cannot be underestimated. Ken Graham, director at the NHC reminds us that 50% of fatalities from events such as these are from storm surge, and a quarter from inland flood.
Life-threatening storm surge is now highly-likely along the coastlines of South Carolina and North Carolina. The deepest water is expected to occur along the immediate coast in areas of onshore winds. If peak surge coincides with high tide, depths could reach up to 13 feet (4 meters):

Although widespread rainfall forecasts have decreased somewhat in recent forecasts as the storm slows down, life-threatening, catastrophic flash flooding and significant river flooding remains likely in areas closest to the Carolina coastline over the coming week.
Twenty to thirty inches (500 to 750 millimeters) of rainfall remains possible over coastal portions of North Carolina and even isolated amounts of up to 40 inches (1,000 millimeters). In general, up to 10 inches (250 millimeters) could accumulate in a broader region stretching from South Carolina into western North Carolina and southern Virginia.
State authorities are taking Florence very seriously; Jeff Byard, FEMA's associate administrator for response and recovery at FEMA has been quoted in the media saying, "This is going to be a Mike Tyson punch to the Carolina coast," and stating that "… this is the last good day for North Carolina residents to evacuate."
With the arrival of tropical storm conditions from Thursday and an unpredictable weekend ahead, this advice needs to be taken seriously.
Related: 4 things to know about power surges from hurricane-force winds
James Cosgrove ([email protected]) is an event response senior analyst at catastrophe risk modeling company, RMS. Opinions expressed are the author's own. Originally published on the RMS website blog.
Got photos to share? We'd like to see them. PropertyCasualty360.com readers who have images of Florence's path can send them via e-mail to [email protected], for inclusion in our coverage.