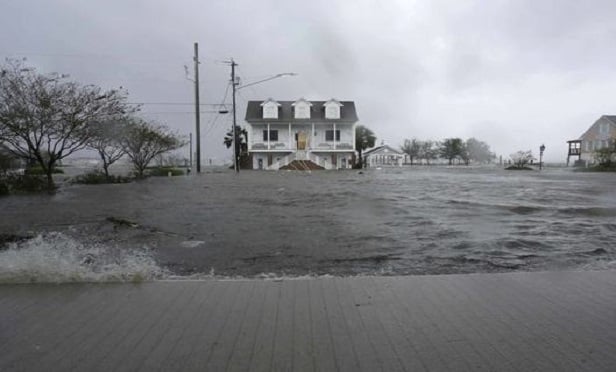 (Bloomberg) – Hurricane Florence weakened to a tropical storm, trudging through the Carolinas at 3 miles per hour as it unloaded pelting rain and floods that killed at least five people. Its implacable advance threatens as much as $20 billion in damage, a toll that likely will unfold through the weekend.
"Florence is still grinding its way across North Carolina," Governor Roy Cooper said in a briefing Friday afternoon. "We have a lot more of the storm to endure."
Widespread power outages
More than 686,000 customers in North Carolina are without power, and Cooper said that could rise to as many as 2.5 million as maximum sustained winds of 70 miles (113 kilometers) an hour batter the Midatlantic.
Hundreds of thousands evacuated the coast, more than 1,500 flights have been canceled, factories are shut and more than 21,000 North Carolina residents have taken cover in shelters. At least 100 people were rescued from rising waters in New Bern alone, according to the governor's office.
Confirmed deaths
A mother and infant died when a tree fell on a house in Wilmington, and a Lenoir County man died using a generator, authorities said. While not in the governor's count, another woman died in Pender County after a tree fell on a house and emergency crews couldn't get to her quickly, said Chad McEwen, the county's assistant manager.
Related: When a tree falls, is there debris removal coverage?
The storm was about 25 miles northeast of Myrtle Beach, South Carolina, at 5 p.m. local time, moving west with only gradual weakening expected tonight, according to the National Oceanic and Atmospheric Administration.
Storm surge is overtopping rivers
More than 20 inches (51 centimeters) of rain have drenched the region, and the total may reach 40 inches in some areas by the time Florence has passed, according to the National Hurricane Center. The governor's officer warned of "1,000-year rainfall totals." A 10-foot storm surge is overtopping rivers, and the National Weather Service is warning of tornadoes.
In Belhaven, an enclave in far eastern North Carolina, the Pungo River almost reached the second floor of buildings as the storm moved in, according to video posted on the website of The News & Observer. More than 60 guests fled the Triangle Motor Inn in Jacksonville in the middle of the night after winds and rain put a basketball-sized hole in a corner room, according to police. Cinder blocks were crumbling and parts of the roof collapsed, flooding rooms.
The total bill for damage may reach $20 billion, said Chuck Watson, a disaster researcher at Enki Research in Savannah, Georgia. Florence made landfall near Wrightsville Beach on Friday morning as a Category 1 storm before being downgraded.
Duke Energy Corp. shut down its Brunswick nuclear plant on North Carolina's southern coast Thursday, and has estimated that as many as 3 million customers face power outages.
Waiting for winds to die down
More than 40,000 utility workers from at least 19 states are ready to restore power, according to a news release from the U.S. Department of Energy. Outside the Le Meridien hotel at the edge of Charlotte's downtown, dozens of linemen from Louisiana stood among their trucks in the parking lot, waiting for instructions. Once the winds die down, the linemen will set out, two to a truck, to repair wires brought down by Florence.
Environmental groups are preparing to inspect waterways for toxic spills from coal-ash ponds and hog lagoons once the storm subsides. Waterkeepers, a watchdog group, said it plans to take airplane and boat trips near flooded industrial sites and gather water samples.
"There's a very real possibility of another coal-ash spill,'' said Matthew Starr, the Upper Neuse Riverkeeper at Sound Rivers, an advocacy group. "Once the weather breaks, it will be fairly obvious if there's a problem,'' he said from Raleigh.
There had been no reported spills from hazardous sites due to Hurricane Florence, Reggie Cheatham, director of the Environmental Protection Agency's Office of Emergency Management, said Friday.
Residents coping
As the storm ground inexorably east, residents did what they had to. Above the depopulated streets of Rockingham, North Carolina, was a menacing sky with fast-moving clouds. El Super Taco was locked and the video store was empty. But there was a steady stream of customers coming into the JD Mart convenience store to buy beer, cigarettes and lottery tickets.
"I'm stuck here,'' said owner Hardik Patel.
About 100 miles east in Durham, home of Duke University, noodles were 30% off at Melina's Fresh Pasta. Carmella Alvaro, the 42-year-old owner, held an emergency sale in anticipation of a power failure. In an hour, she did as much business as she typically does in a single day.
"It was a happy moment: People coming into a locally owned business and helping us all out," she said.
By the numbers
Pasta sales, however, are the least of the immense storm's effect. The response can be gauged in numbers:
More than 11 million meals, 18 million liters of water, 60,000 cots and 1 million blankets were made ready to help residents.
The Environmental Protection Agency is monitoring more than three dozen Superfund sites, oil-production facilities and chemical-storage operations in the path of the hurricane.
The Nuclear Regulatory Commission sent inspectors to plants that could be damaged.
More than 500 National Guard soldiers and air personnel are responding to calls across North Carolina.
Emergency personnel from 22 states have arrived in North Carolina to help with the storm, including swift-water rescue teams and emergency medical personnel, Cooper said.
Potentially delivering rain to NYC on Tuesday
Florence is expected to move inland across southeastern North Carolina and eastern South Carolina Friday and Saturday. It will then head across the central Appalachian Mountains early next week, potentially delivering rain to New York City on Tuesday.
As it goes, it may devastate the region's economic drivers. North Carolina is the largest tobacco grower and ranks second among U.S. states in hog inventory and producing broiler chickens. CoBank ACB, an agricultural lender, estimates damage to North Carolina farming could hit $1 billion before the storm slows.
'This is not the end of it'
Along with agriculture, the Carolinas are a regional hub for banking, technology, manufacturing and transportation, accounting for about 4% of U.S. gross domestic product, according to a Bloomberg U.S. economic analysis. The path may affect more than 4,000 manufacturing and distribution facilities, potentially hurting sectors including auto parts and packaged foods, according to Bloomberg Supply Chain data.
"This is not the end of it. Twenty-four to 36 hours remain of a significant threat," Jeff Byard, FEMA's associate administrator for the Office of Response and Recovery, said Friday. "I hope people bought flood insurance, because you are going to need it for this event."
Got photos to share? We'd like to see them. PropertyCasualty360.com readers who have images of Florence's path can send them via e-mail to [email protected], for inclusion in our coverage.