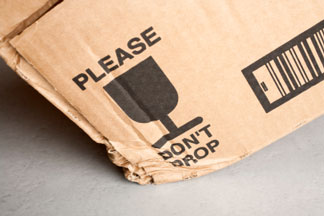 This month's Contents Claims Solved begins with an inheritance. A family member has inherited a collection of glassware from his father's estate. The shipping company hired to transport the collection delivered the glass items, which were unfortunately broken into shards upon receipt.
The family turned to an online appraisal service to assist with the valuation. This appraiser, located on a different continent, reviewed digital images and issued a lengthy appraisal identifying 10 specific collector glass objects from the likes of Steuben, Lalique, Emil Gallee, and, most notably, Elena Danko. Consequently, the appraiser estimated the value of the collection to be more than $350,000. The adjuster then called upon contents claims specialists to review the images of the broken objects and provide a second opinion on the appraisal report and valuation.
Case Background
Content claims experts poured over the images trying to isolate any shards that validated the appraiser's identification. Glass and decorative art specialists identified remains from 14 unique items. Not a single item compared to any of the valuable collector glass objects specified by the claimant's appraiser. As a result, the contents claims team determined aggregate valuation of the 14 items totaled approximately $800.
Click to find out what happened next!
The Outcome and Key Takeaways
Given the extent of the variation in assessed value along with the claimant's exceedingly high expectations based on the valuation provided by the online appraisal service, a representative from the contents claims team traveled on site to inspect and identify each shard. The on-site inspection of the shattered glassware not only confirmed the $800 valuation, but also revealed even that estimate may have been generous.
An adjusting professional can glean many insights from this not-so-clear case. For instance, proactive claims handling and valuation may have drastically altered the path of the file. Reacting to and defending against an unrealistic expectation based on a flawed appraisal may have been eliminated had contents claims specialists stepped in to assess the damage. Explaining the value of the damaged collection, prior to when the claimant received an extremely inflated estimate for the shattered glassware, would have prevented confusion while aligning expectations with the reality of the situation.
Keep in mind that inaccurate identification of objects frequently results in grossly inaccurate valuations that are often inflated. What someone actually owns may differ drastically from what they think they own. Make certain that claims are paid on what is actually lost or damaged, not on what the owner "claims" to have lost.