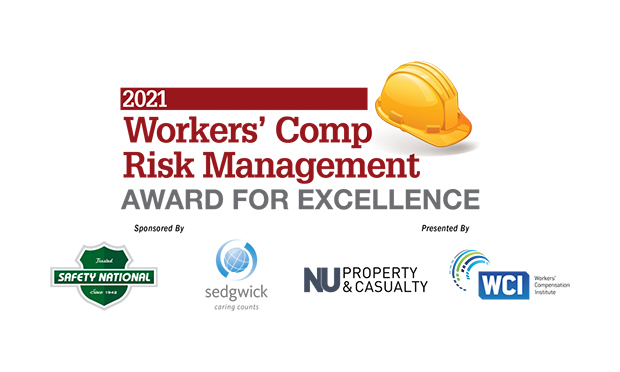 Here at the 2021 midway point, COVID-19 dominates fewer headlines and conversations than it did a year ago. But the pandemic has indelibly changed worker and workplace behaviors and policy.
For instance, a recent survey by the Sequoia Consulting Group found that:
There has been 50% growth in the number of companies strategically focused on employee emotional health in the past year;
One-third of companies now have "forced vacations," and
Seven in 10 companies have rolled out new diversity, equity and inclusion (DEI) programs over the last year.
Here's another notable change from last year: The Worker's Compensation Institute (WCI) returns in 2021 with its in-person Educational Conference. This is where winners of NU PC360′s annual Workers' Comp Risk Management Award for Excellence will be honored.
This award program sponsored by Sedgwick and Safety National in conjunction with WCI spotlights stories about ingenuity, collaboration and humanity in the workers' compensation insurance and risk management sectors. WCI's 75th Annual Workers' Compensation Educational Conference and 32nd Safety & Health Conference happens Dec. 12-15, 2021, at the Orlando World Center Marriott.
Award nominations are now open
The 2021 Workers' Comp Risk Management Award for Excellence recognizes outstanding loss control, safety and return-to-work programs.
In 2020, the three winners of this award were JetBlue Airways, DaVita Inc., and Baptist Children's Home of North Carolina.
This year's award nomination cycle begins July 1, 2021, and runs through September 1, 2021.
Up to Three Winners Will Receive:
An exclusive feature profile in the December 2021 issue of NU Property & Casualty magazine as well as online at PropertyCasualty360.com.
Complimentary registration for WCI's 2021 Educational Conference.
One night of accommodations during WCI's 2021 Educational Conference.
Participation in a platform trophy presentation as well as a live Winner's Roundtable interview session during the WCI Educational Conference.
A private-hosted dinner during the WCI Educational Conference.
Award requirements
An entrant must be a risk manager or someone who works in a risk management department of a U.S. company or organization and responsible at least in part for the firm's workers' comp program. Carriers and brokers, while not directly eligible for the award, should encourage clients/policyholders to apply. Applicants should have a great story to share about innovating workplace safety and managing costs.
Prior recipients of the Excellence in Risk Management Award are not eligible.
The entrant must fill out all of the company profile information in the application below. (All proprietary information will be kept confidential and is being collected for judging purposes only.)
There is no entry fee for this award program submission. Click here to submit a nomination today!