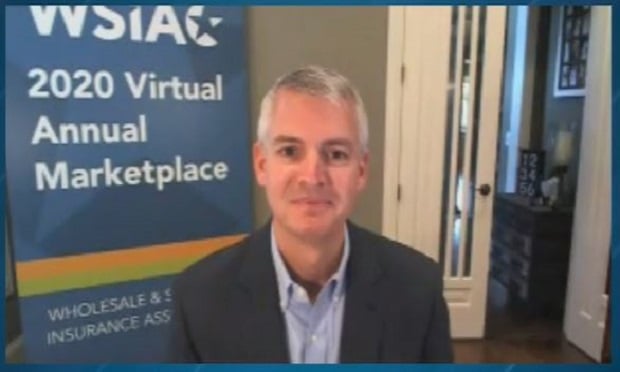 Among the events that helped kick-start this year's Virtual Annual Marketplace hosted by the Wholesale & Specialty Insurance Association (WSIA) was a Sept. 10 webinar that provided insurance-industry thought leaders with an opportunity to sound-off on AM Best's recently released Market Segment Report, "Expanding Opportunities Bolster Surplus Lines Growth and Operating Results."
The annual report is produced in conjunction with WSIA and the WSIA Education Foundation.
Participants in the discussion, which was moderated by John Weber of AM Best, included:
David Blades, associated director, industry research & analytics, AM Best;
James Drinkwater, president, AmWINS Group and AmWINS Brokerage;
Brady Kelley, executive director, WSIA;
Lou Levinson, president & CEO, Lexington Insurance Company;
Marya Propis, senior vice president, distribution and broker partnerships, RT Specialty;
Bryan Sanders, president, Markel Specialty and 2020-2021 WSIA president; and
Jacque Schaendorf, president & CEO, Insurance House.
WSIA President Brady Kelley launched the presentation by describing AM Best's 27th annual excess and surplus lines report as "our report card for the market." In his remarks as well as in statements, Kelley highlighted the following report findings:
Growth of 11.2% in surplus lines direct premium written in 2019, with surplus lines premium of $55.5 billion, setting a new record.
Domestic company growth of 14.7%, the highest since 2003.
No financial impairments in the surplus lines segment, in contrast to 13 admitted property/casualty company impairments in 2019. Since 2013, AM Best has reported just one surplus lines company impairment, in contrast to the admitted property/casualty industry's 252 financial impairments.
Domestic professional surplus lines insurers continue to maintain a higher proportion of secure ratings than the overall property/casualty industry. Through midyear 2020, 100% of surplus lines companies maintained secure AM Best ratings compared to 96.9% for the total property/casualty industry, with surplus lines carriers having much higher proportions in the Exceptional, Superior and Excellent rating categories.
"This is now the 8th year of sustained growth for the market," Kelley said. "We believe it's driving demand for more specialized products."
David Blades from AM Best said the surplus lines market was able to grow in 2020 despite widespread economic distress because of how the sector was already managing market challenges prior to the coronavirus pandemic.
"One thing that was striking was just how much momentum surplus lines companies had coming into 2020," Blades said. "The overall surplus lines market would have grown by more if not for the more modest growth of the Lloyd's market."
Lloyd's has been making over its portfolio and business model recently.
It's also worth noting that although AM Best rated the surplus lines segment as "stable" in March (when many pandemic mitigation efforts were just rolling out in the U.S.), the company revised its rating to "negative" in April because of overall economic disruption.
Lexington Insurance Company President & CEO Lou Levinson said the surplus lines market gets high marks for how it responded to 2020′s challenges.
"We kept our doors open (during the pandemic); we paid claims; we came to the aid of employees and communities," he said. "Most companies came through it all pretty well… We are a very resilient bunch!"
Several panelists emphasized how the surplus lines market is well-suited to respond to unprecedented social and economic headwinds. RT Specialty's Marya Propis said brokers and carriers with a strong culture of collaboration are now well-positioned to launch nimble solutions and unique products. "There are many possibilities before us in a dynamic and challenging market," she said.
Jacque Schaendorf with Insurance House said technology also has enabled the surplus lines market to gain strength and momentum during challenging times. Although COVID-19 may have robbed many insurance pros of the personal connections on which they thrive, the changing nature of work in 2020 also meant that brokers and carriers capitalized on the chance to improve digital communications and platforms and make better use of data science.
What's more, consolidation within the InsurTech field has been a good thing for insurance carriers and brokers. "If you envision a clear night sky full of stars, that's what the InsurTech industry looks like now," Schaendorf said.
A copy of the AM Best report, as well as a playback of the "State of the Surplus Lines Market" webcast, are now available to WSIA members.
Keep reading…