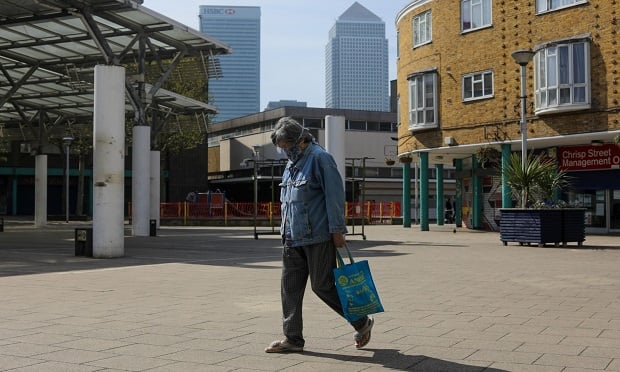 (Bloomberg) — Lloyd's of London, the world's largest insurance exchange, estimates the industry will suffer around $203 billion in losses from the coronavirus pandemic this year.
The projected losses include about $107 billion from underwriting claims, with the rest from insurers' investment portfolios, Lloyd's said in a statement. The claims costs are on a par with some of the most catastrophic hurricanes of recent years and could rise further if the virus isn't contained, Lloyd's said.
"Once the scale and complexity of the social and economic impact of COVID-19 are fully understood, the overall cost to the global insurance non-life industry is likely to be far in excess of those historical events," Lloyd's said.
The pandemic, which has infected at least 4.2 million and killed nearly 300,000, has confronted the insurance industry with its biggest challenge to date. While triggering a deluge of claims related to canceled events, business interruption and other costs, the outbreak has threatened a global recession that's put the payment of many household and business insurance premiums at risk.
As economies ground to a halt, many European insurers withdrew earnings guidance and suspended dividends. In the U.K., general insurer Hiscox was among the first wave of firms to tap public markets for additional capital after coming under pressure to make good on business interruption policies.
Lloyd's estimates that it will pay out in the range of $3 billion to $4.3 billion to global customers, on a similar scale to the Sept. 11, 2001, attacks.
"The thing that is special about this is it is impairing the asset values as well as creating liabilities," Chairman Bruce Carnegie-Brown said in an interview.
Amid talk of a second or third wave of the outbreak, the insurance industry needs a new model for payouts, Lloyd's Chief Executive Officer John Neal said Thursday in a Bloomberg TV interview.
Among the ideas Lloyd's has suggested is pandemic insurance coverage for a period of as much as two decades. "An insurer would need to have a long term cover to have confidence over time there would be some financial sense in providing the cover," Neal said.
Lloyd's might not reopen its London offices for at least three months, he added.
— With assistance from Lucca de Paoli, Vonnie Quinn and Keith Campbell.
Related: