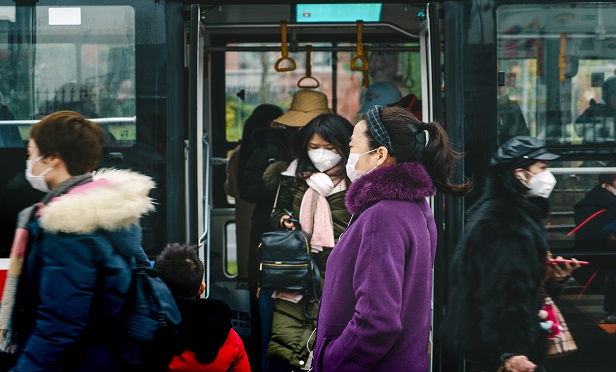 The effects of the coronavirus, now known as COVID-19, continue to reverberate around the globe. Just when it seems that its spread has slowed down, more cases arise, some in unexpected areas. Tracking the number of people affected worldwide changes almost hourly.
The Centers for Disease Control and Prevention (CDC) has issued travel advisories for China, Iran, South Korea, Japan, Italy and Hong Kong. The CDC also recommends that all travelers reconsider embarking on any cruises either into or around Asia at this point in time.
In his daily update on Feb. 27, Dr. Tedros Adhanom Ghebreyesus, director-general of the World Health Organization (WHO), shared that China had reported 48,630 cases of COVID-19 to WHO and that there were 2,747 deaths from the disease. He indicated that an additional 3,474 cases were reported in 44 other countries, resulting in 54 deaths. "The number of new cases reported in the rest of the world has exceeded the number reported in China," he said. New cases were reported in Brazil, Georgia, Pakistan, Romania, Greece, Norway and North Macedonia. Finland and Sweden had reported no new cases for two weeks but said there were new instances of the disease last week.
Several countries are reporting successful containment with no new incidents in the last two weeks. They are Belgium, Cambodia, Sri Lanka, Vietnam, the Philippines, India, Nepal and the Russian Federation.
"If you act aggressively now, you can contain the virus and save lives," emphasized Ghebreyesus, "Move swiftly and contain it. With the right measures, it can be contained…This virus does not respect borders."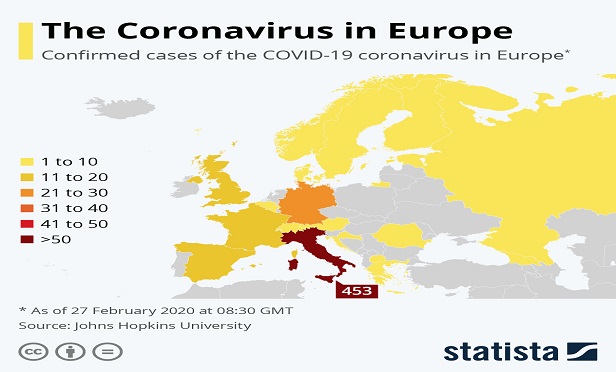 During the Marsh webinar, "Coronavirus Planning, Response and Recovery" on Feb. 26, Dr. Lorna Freidman, global health leader for Mercer's multinational client group, shared that COVID-19 affects people in different ways. "It causes a version of the common cold in otherwise healthy people, and 82% of those infected have mild cases, 15% have moderate cases, 3% experience severe symptoms, and it has a 2% mortality rate."
Friedman said that the elderly over the age of 70 and individuals with chronic conditions are at the greatest risk. It passes easily from person to person in close contact (usually 6 feet) and spreads through coughing, sneezing and touching affected surfaces. There is some good news, however. A small study of pregnant women has found that there is no vertical transmission from mother to child.
You can't get there from here
The impact of the COVID-19 disease on the travel industry has been severe. Airlines have stopped flights to China. Cruise lines have canceled trips to and from China, Japan and other Asian countries. Corporations are canceling meetings or plans to attend international conferences. Hotel occupancy is down; resorts and casinos throughout Asia are seeing losses and preliminary estimates are that the epidemic could cost airlines an estimated $30 billion in revenue.
Travelers who are able to arrange transportation from China and nearby countries are encountering mandatory quarantines when they arrive in their home cities, and some countries are closing their borders to anyone entering from neighboring countries. There have been preliminary discussions about whether or not to allow the summer Olympics to go on as planned in Japan or cancel them altogether. Moving them would be a logistical impossibility.
"This would be a huge event cancellation issue," said Julie Nevins, special counsel in the Miami office of Stroock & Stroock & Lavan LLP. "There are a lot of contract claims that are not covered, and something like this could make someone go out of business." She believes there could be some business interruption coverage related to the cancellation of the games, but that it would be hard to prove physical damage.
Other major events already canceled include the Shanghai Grand Prix and the Mobile World Congress. Organizers that purchased epidemic cover, in addition to their other event insurance, may have a claim for the losses incurred due to the cancellations. Anyone who did not purchase epidemic coverage will be unprotected for the lost income. In addition, obtaining coverage for epidemics could be more difficult going forward.
"For event cancellation, it is common to see exclusions for SARS, Avian and Swine flu or Atypical Pneumonia or other pandemic influenza outbreaks," shared Simon McConnell, managing partner of Clyde & Co Hong Kong. "As a general principle, insurers carry the burden of proof when seeking to rely on an exclusion clause; it is crucial that there is sufficient evidence that COVID-19 fits within any communicable disease exclusion, and ultimately, this may require expert medical evidence."
Proving damages
As the disease spreads, so too does the impact on businesses around the globe. During the Marsh webinar, Christopher Lang, global placement leader for the U.S. & Canada for Marsh, said that insurers can expect to see claims for workers' compensation, property, business interruption, general liability, pollution, employment practices liability, and directors and officers liability. "Workers' compensation claims need to be occupational and peculiar to the employee's work or activities," he said. "The question will be: Was the employee benefitting the employer when exposed to the disease?" Employees in the hospitality, travel and medical fields have the highest chance of exposure.
A significant number of claims are likely to come under business interruption (BI), property or contingent liability policies. However, determining coverage for BI damages could prove elusive since there must be physical damage to a property.
"It's not a tsunami or earthquake that creates the damage in this instance," explained Nevins. "The government ordered a shutdown to prevent the disease from spreading. Generally, you will have some requirements for property damage."
The COVID-19 disease is unlike Legionnaire's disease, which can get into an HVAC system and spread throughout a building. "It's considered property damage because it contaminated the system," she said. "Coronavirus may not contaminate like Legionnaire's. Those issues will arise and may result in litigation."
With so many people out of work, physical damage to buildings is possible because they were not maintained, and claims could arise due to neglect, but she said lockdowns don't usually qualify as physical damage. However, Nevins predicts, "We will see things we've never even conceived of with these claims and policies."
Don't forget, it's about the people
While policyholders and insurers figure out what policies and coverage may apply to many of these losses, it's important not to lose sight of what's really important: the people affected by the disease. In China, an estimated 780 million people are living under travel restrictions due to the COVID-19 disease. Travelers have been stranded; residents are confined to their homes and doing basic things such as buying groceries becomes a monumental task.
Anna Zhang, Law.com International's Hong Kong bureau chief, was visiting her family in mainland China in January when the coronavirus outbreak occurred, and she was caught in the citywide lockdown (Law.com International is an ALM sister site of PropertyCasualty360). She shared some insights on what it's like to live in China during this difficult time.
With everyone confined to their homes and apartments, people who can work from home are trying to do so, but China's residential internet system has not been able to keep up with the demands, making access for something as simple as checking email or holding a video conference call extremely challenging. In addition, China's internet firewall makes access to some websites and applications inaccessible from the mainland without using a VPN client.
"That's the problem I have," shared Zhang. "Because we use Google's G-suite, I can't access work emails without a VPN. I solve that problem by bringing home my work laptop, which has a VPN that connects to the company's servers in the U.S. But not everyone has that option. I read somewhere there are people from Hong Kong who got stuck in Wuhan and have to take unpaid leave because they couldn't work from home due to an internet access problem. And some people have trouble bringing home work computers. So for people whose work requires access to websites blocked in China, internet access can be a problem."
Residents are able to get information and updates about the disease and its impact from social media and Chinese media, said Zhang. "If I want, I can get on the VPN and access international news and social media channels. Popular commercial apps in China all carry a special section for the coronavirus, so people are able to have the latest infection statistics and other information all in one place."
While China had initially extended the Chinese New Year Public holidays, which meant that employers would have to pay workers, it was only a short-term solution. Smaller companies that cannot afford to continue paying employees may have to close if operations don't resume soon. Migrant and factory workers could also be facing difficult financial situations, despite the government's efforts to provide assistance.
For residents who now spend most of their time indoors, simple tasks like grocery shopping and entertainment also take on a new level of complexity. "We usually have some food. Supermarkets are open the whole time, so at least for us, there wasn't a time that we ran out of food," said Zhang. "We eat in and find ourselves entertainment at home. My phone carrier gave out 10G of free data for the rest of February the day before we were in lockdown. The cable company made loads of paid TV channels free. I have some books, but there isn't much else to do. My father had to wait almost a month to get a haircut, which he finally got today."
As the number of cases seems to level off in different areas, there is still some question as to when the lockdown will be lifted. "Where I am, there have been at least 10 days with no or one new infection; more people are being cured," shared Zhang. "But I think people are mostly of the view that this period is very critical. If we reopen as soon as things start to calm down, the spread of the virus might go up again. Most of the factories and companies have resumed operations and public transportation has also resumed. Everyone is given a health code — a QR code that is green if you are healthy, orange if you have a history of quarantine and red if you are in quarantine. We use the green code to get in and out of pretty much everything in the city.
"The Wuhan and Hubei areas are still pretty much sealed. I don't know when that will change. I think some people said April at the earliest. In other regions such as Hong Kong, things are not really being contained. It can take longer before travel restrictions can be lifted."
The CDC has issued a warning for Americans to be prepared for COVID-19 to become a pandemic and several more cases have been identified in the U.S. Healthcare providers are advised to watch for people who recently traveled to China and exhibit a fever or respiratory symptoms. "If you have been in China or have been exposed to someone sick with COVID-19 in the last 14 days, you will face some limitations on your movement and activity. Please follow instructions during this time," said the CDC advisory.
Communication and finding accurate sources of information are critical for businesses and individuals proactively working to minimize the threats for themselves and their communities. Friedman recommends that companies create active pandemic committees. These individuals may be part of a larger company crisis management team. She recommends providing flexible work options, such as allowing employees to work from home or travel during lighter traffic periods.
"Encourage people to stay home if they are ill," she emphasized. Friedman shared that getting a flu shot is important because many people who have the flu go to emergency rooms or clinics for less serious issues and could pick up the coronavirus in those environments. She also advocated for the use of telemedicine capabilities for less serious issues to reduce further risk of exposure to the disease.
For employers trying to prevent the spread of COVID-19 among their workforces and protect employees from the threat, AON has developed a pandemic preparatory checklist for businesses based on information from the CDC and the Department of Health and Human Services (HHS). Some of the recommendations include:
Identify essential employees and other critical inputs required to maintain business operations by location and function during a pandemic.
Train and prepare an ancillary workforce.
Determine the potential impact of a pandemic on business-related domestic and international travel.
Establish an emergency communications plan and revise periodically. This should identify key contacts, the chain of communications, and processes for tracking and communicating business and employee status.
Implement an exercise/drill to test your plan and revise it periodically.
Forecast and allow for employee absences during a pandemic due to factors like personal or family member illness, community containment measures and quarantines, school/business closures and public transportation closures.
Evaluate employee access to and availability of mental health and social services during a pandemic. This may include corporate, community and faith-based resources.
Identify employees and key customers with special needs and incorporate their requirements into the preparedness plan.
PuroClean's Environmental, Health and Safety Director, Barry Rice CSP, said, "The most effective way to prevent the spread of the coronavirus is to continue educating visitors and employees with ways they can minimize the risk to themselves and those around them. For example, public spaces and buildings could post signage recommending the public to wash their hands regularly."
Rice also shared these tips to help reduce the risk of spreading the disease:
Regulate humidity, as bacteria and viruses can thrive in low humidity environments.
Maintain air filters to ensure the air is as clean as possible.
Regulate temperature because warm bodies fight infections better than a cold body.
Encourage employees and visitors to stay home if they show symptoms.
Educate guests on symptoms of the virus so they can take proper precautions.
Consider installing handwashing stations around public spaces.
Avoid touching the nose, mouth, and eyes.
Keep all surfaces clean, paying particular attention to the common areas.
If the COVID-19 evolves into a global pandemic, many countries may find that their local hospitals, labs and testing facilities are not as prepared as expected. Zhang has seen this in China. "I think it exposed that in most of the so-called big cities, there is a fundamental lack of adequate medical facilities to handle this kind of public health crisis. Wuhan is a city with 11 million people and has plenty of good hospitals, and yet it couldn't do this — it's not just a lack of hospitals, there's also the lack of an effective healthcare institution which has to do with the quality of local officials and many other things.
"I kept thinking if this happened in my city, which is much smaller with less than 8 million people and a lot fewer good hospitals, what would I do?… Healthcare really hasn't been much of a priority in a lot of places. I think that will change from now on. I hope that will change."
Zhang also said there is very limited access to medications. "The government has banned all sales of a number of medications having to do with fever, cough and other related symptoms. We couldn't get a certain type of pain killer and all cold meds, which is a problem for us. Otherwise, the government makes sure there are enough supplies of vegetables and meat. But in places like Wuhan and Hubei, things are much more dire."
The unknowns regarding COVID-19 seem to outweigh the facts at this stage of the disease. Insurers can model some responses and coverage based on information from the SARS and MERS outbreaks, but those can really only provide a preliminary guide. What is apparent is that the impacts will be global, and this disease definitely has the ability to travel, so U.S.-based companies can use this opportunity to prepare for its likely arrival and its effect on their people and daily operations.
For more coverage like this on the coronavirus, visit our Instant Insights page, "The coronavirus and its impact."
Related: