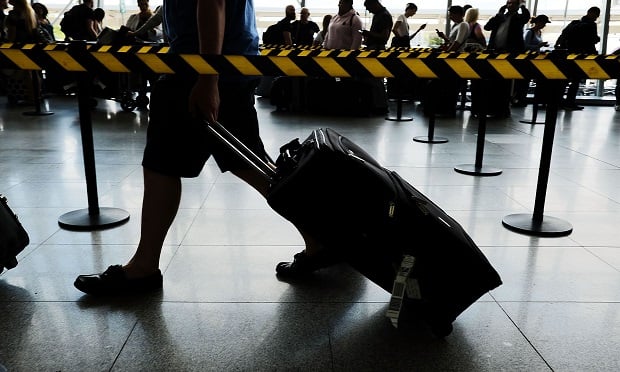 (Bloomberg) — U.S. airline shares are on pace for the biggest five-day rout since March 2009, and two Wall Street analysts warned that the drubbing is poised to get worse as the new coronavirus crimps travel demand.
Deutsche Bank AG's Michael Linenberg cut his recommendation to hold from buy on six carriers, citing the rising risk that the outbreak "will disrupt travel patterns beyond China." Daniel McKenzie of Buckingham Research said industry stocks could drop another 15% to 20% and "potentially more, depending on the severity of the economic fallout" from the virus.
"If the collapse in demand to Asia is a sign of things to come in other geographic entities, the stocks are not even close to discounting the potential demand fallout from a broader spread," McKenzie said in a Thursday report. He downgraded seven U.S. airline stocks, including American Airlines Group Inc. and United Airlines Holdings Inc., to hold from buy.
The sell-off reflects increasing fear that the coronavirus will upend U.S. airlines' long profit bonanza over much of the last decade, which had followed a wave of industry consolidation. While the big carriers have already suspended flights to China, they have been banking on continued strength at home and in other overseas markets.
A Standard & Poor's index of the five largest U.S. airlines tumbled 2.5% at 11:20 a.m. in New York to the lowest intraday level in more than three years. In Europe, Air France-KLM, Deutsche Lufthansa AG and British Airways owner IAG SA also posted steep declines.
Containment unlikely
McKenzie said his downgrades were behind the curve, as Buckingham had mistakenly anticipated that the virus would be contained. Those hopes took a blow this week by warnings from the U.S. Centers for Disease Control and Prevention and others.
"Over the past two days, the CDC and other experts have warned that containment is unlikely, which creates a far more challenging demand picture," McKenzie said.
If the collapse of demand in Asia extends to the more lucrative European and domestic markets, the industry may face a "financial crisis-type or 9/11-type demand and earnings shock," he said. The possible return this year of Boeing Co.'s grounded 737 Max aircraft could add additional seats and potentially crimp airfares, further threatening airline profits.
Even domestic-focused airlines are making adjustments. JetBlue Airways Corp. said Wednesday that it would stop charging ticket change and cancel fees through March 11 to give customers "some peace of mind" about their plans if the virus situation changes. Such measures are likely to help support ongoing sales as coronavirus dominates news headlines.
Business travel
Deutsche Bank's Linenberg lowered his rating to hold from buy on JetBlue, Delta Air Lines Inc., Alaska Air Group Inc, and Spirit Airlines Inc., as well as on American and United.
He said he was concerned that the crisis will start to hurt peak travel periods such as spring break, Easter travel and early summer.
In addition, the growing number of corporate travel restrictions was "disconcerting," he said, as business travelers tend to be "demand-inelastic and represent one of the industry's most lucrative revenue streams."
— With assistance from Justin Bachman.
Related: