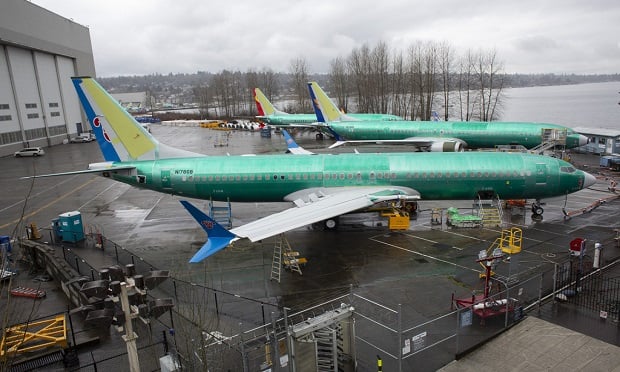 Before Boeing 737s started falling from the sky, it was hard for travelers to avoid feeling at least a twinge of nostalgia for the airplane.
The 737 first took flight the same year the Green Bay Packers and the Kansas City Chiefs played the first Super Bowl, authorities stripped "The Greatest," Muhammad Ali, of his World Heavyweight Championship for refusing to go to war, and British model Twiggy helped popularize micro-mini skirts (and micro-mini physiques).
"The 737 is the most popular (commercial aircraft) in history," aviation insurance broker Brad Meinhardt said shortly after countries worldwide grounded the planes in light of serious mechanical, software and pilot training questions following two deadly crashes in less than six months. (The Oct. 29, 2018 crash in Indonesia of a Boeing 737 MAX 8 operated by Lion Air killed 189 people, and the March 10, 2019 crash of an Ethiopian Airlines 737 MAX 8 took 157 lives.)
"The grounding arrives at a time when aviation insurance is transitioning into a hard market, making its timing significant," True-Course Aviation Insurance Services recently posted in its blog. The longer the grounding, according to True-Course, the worse the financial blood-letting.
Who will pay?
Investigations into the exact causality of these deadly events are ongoing, but much of the discussion revolves around a type of software that automatically signals the plane to lower its nose prior to a stall. The Guardian has reported that two pilots previously filed safety complaints about the 737 MAX 8. Pilots also have said they received insufficient training, and that regulators were lax in their approach to 737s due to the plane's history and market dominance.
What follows is a survey of some of the insurance lines of business that could feel the financial pinch as a result of Boeing's 737 MAX problems, all of which may produce higher aviation and business liability policy premiums for insureds, and higher consumer travel prices as affected airlines begin battling and settling myriad lawsuits.
Products and operations liability
Crash victim lawsuits against Boeing and its airline operator partners are piling up. One such lawsuit filed on behalf of Ethiopian Airlines passenger Jackson Musoni claims the aircraft wasn't safely designed. In another suit filed on behalf of a dozen victims' families from the Lion Air crash, attorneys have said the second crash "bolsters our claims that Boeing knew or should have known that the plane was defective and did nothing about it."
Compensation for crash victims is likely to be $2 million to $3 million each.
Grounding Liability
According to True-Course, "Grounding Liability is a coverage that manufacturers like Boeing carry in their Products Liability policies. It has to be triggered by an occurrence (the Ethiopian tragedy) and an official grounding by authorities. The policy covers the manufacturer for its liability when an alleged product defect grounds an aircraft. The claimants will be the operators and the damages can be significant depending on the length of time the grounding takes."
True-Course estimates that in the U.S. alone, grounding the 737 MAX is costing around $9,450,000 in lost revenues for the impacted airlines and subsequently Boeing, which could be exposed to lawsuits from airlines already operating the planes as well as those expected to take delivery of MAX aircrafts currently in production.
What's more: "The carriers are going to be paying massive amounts of legal fees," says Shan Rogers, director of the national aviation practice for insurance wholesaler RT Specialty. "Some carriers are going to set aside very large reserves when they figure out that this is going to be very expensive."
Passenger travel insurance
It may be months before international aviation regulators clear the 737 MAX to fly again, which means thousands of flights have been cancelled. Passengers who booked travel on a scheduled 737 flight before the planes were grounded, and whom also carried travel insurance, may subsequently file claims for lost meals, accommodations and related trip transportation.
Reinsurance
"All of the reinsurers are getting awfully nervous that they're going to end up paying out considerably on these Boeing claims," Rogers concludes. "It's going to be very painful for everyone in the aviation industry."
Elana Ashanti Jefferson (ejefferson@alm.com) is managing editor of National Underwriter Property & Casualty and PropertyCasualty360.com.
See also: