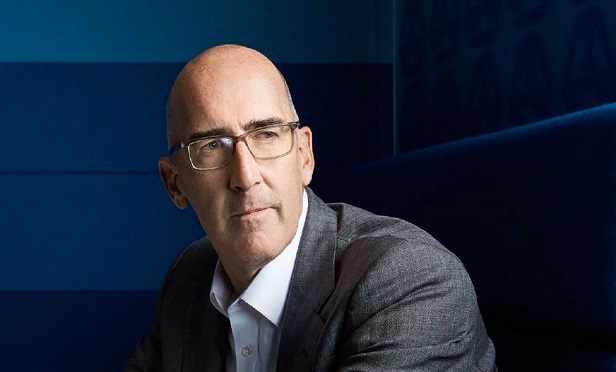 That man restoring an old bicycle isn't a typical repair person. It's Russell Johnston, CEO of QBE North America, and that's one of the ways he decompresses at the end of a busy week. The rest of the time, Johnston leads the North American operations of QBE, an integrated specialist insurer with a presence in 31 countries and more than 14,000 employees worldwide.
It's the employees in North America who are at the core of Johnston's leadership philosophy and vision. "You have to put employees at the center because if you don't get the employee piece right, you can't get anything else right," he explains. Technical competency is important, he admits, but "I want to make sure that when people walk through the door every day, they want to be here, they think it's a great environment to work in, and they want to spend a long time here — not just 6 to 12 months, but 5 to 10 years."
Relationships matter
When asked about the effects of technology on the insurance industry, Johnston believes that it's still the people making decisions and those who execute that are key. "Technology has made underwriting more of a nuanced skill," he explains, "but the brokers still want to know who's making the decision. Telling a broker, 'The model told me…' is dead on arrival." It might be truthful, but it's a clinical decision, and Johnston believes that brokers turn away from companies who engage that way.
A related technology issue for Johnston is the task of managing data. The insurance industry built propriety technology years ago, but it has become very expensive to maintain and operate. In Johnston's view, "The owned orientation of the industry is done and busted." He believes that effective insurance companies are the ones that figure out the right balance of bringing in diverse talent with core competencies to manage the areas that should remain in-house, while creating the right partnerships with InsurTech, the broker/distribution channel, or data scientists, for example.
For Johnston, this means not necessarily owning all the data in a given category but teaming up with an analytics partner that has a relevant data set. The data then should form the basis of the policies. As Johnston notes, "We live by our contracts. How can we be smarter about it?" He is looking for ways to be more innovative in constructing policies and more "solution-oriented" for clients than the company is today. That's what he describes as, "the magic sauce."
Integrated specialist strategy
Johnston is enhancing the company's focus on its specialty commercial business by building insurance coverage options around industry verticals as "integrated policy construct solutions." He's started with the healthcare industry and plans to build about a dozen industry verticals over next few years. Johnston's vision is simple: "When a customer does business with us, they'll think they're dealing with an extension of their own company, not an insurance company. When we've crossed that threshold with a customer then we've hit the sweet spot."
While stressing that this plan is not a cross-sell initiative, Johnston explains that within the vertical, the underwriting is focused on a particular customer segment, followed by a policy construct and claims processing also tailored to the segment, wrapping up with providing service in a way that's important to the customers in that segment. Combining targeted underwriting with policy construct is the way he sees the company differentiating itself in the market.
Johnston believes strongly in leveraging the various skills and lessons the company can share globally. QBE does well with small to midsize businesses (SMBs) in Australia. "We shouldn't have to recreate the wheel in North America," he says. "So what people, technology and insight do we have, and how can we import that into what we want to do in the U.S.?"
Strong views about cyber
Although cyber is only a small part of QBE North America's business, Johnston has strong views about it. He believes the industry is focused "on the wrong end of the cow." Instead of being concerned with whether carriers should provide $200 million of insurance or $300 million, the industry should be looking at the bigger picture. "If a company asks for $200 million of cyber coverage, that should be their deductible because their exposure is probably a few billion dollars," he explains. He thinks not even the chief information officer can understand all the cyber exposures for a Fortune 50 company. How can the underwriter?
"Cyber will ultimately cut across multiple lines of business," Johnston says, noting that it's one of the fastest evolving coverages. "SMBs don't buy it today so there's a massive opportunity. We need to help customers understand and evolve their technology to determine where their shortcomings or strengths are." His strategy is to concentrate on SMBs, a market in which the underwriters can better understand the risks and provide solutions. A cyber event can have a material impact on an SMB's financial viability, and having the right insurance coverage is critical.
For the insurance industry as a whole, Johnston thinks the correct question is, "How do we grow the aggregate pie in cyber in a meaningful way? When size of pie gets bigger, the level of risk the industry can take should get bigger." Right now, he says, the industry is focused only on the amount of risk it can handle. Premiums currently aren't profitable enough to take the kinds of risks carriers keep trying to solve for.
Real work/life balance
"The mark of any great leader is that the company they helped build can be successful without them," Johnston says. "How do I make this a better place and make sure it goes on without me?" For him, it's the leadership team around him and the 2,500 employees in North America who show up every day. His goal is to build a company that's self-perpetuating, which is his definition of success.
In keeping with that goal, work/life balance is more than a phrase to Johnston. He is married with four children between the ages of 9 and 16, and he's aware that his time with them is fleeting. He's mindful of that when he walks in the door every night between 6:30 and 7 p.m. and puts down his smartphone. For the next few hours, as he has dinner with his family and helps with homework, he doesn't pick it up again. He checks email and messages between 9 and 10 p.m., then not again until the next morning. The members of his leadership team all have his home phone number, and they can call him in a serious emergency.
"You need time away to let your mind wander, get its own downtime and refresh in order to be effective," Johnston says. For one vacation a year, he and his family go to a national park in the U.S. "What's great about a national park is no cell service," he explains. When in the park, he checks in with the office early in the morning, then goes out to enjoy the park. He checks in again in early evening.
"I've got a good, strong, competent leadership team," Johnston says. "They know where to find me if they need me. More importantly, they know I trust them." And true to his philosophy, he encourages his leadership team to follow his example and unplug.
That brings Johnston back to his favorite way to disconnect: riding and restoring bicycles. He buys them on eBay, finds parts and then restores them on evenings or weekends. His home office has a desk and electronics at one end, with a bike stand and at least one bicycle in pieces at the other.
Johnston likes the mechanical element of working with his hands — what he calls his "distracting indulgence." As he explains, "When you get into the workings of a bike that you have to take apart to put back together, it lets your mind escape."
Rosalie Donlon is the editor in chief of National Underwriter Property & Casualty magazine and PropertyCasualty360.com. You can contact her at [email protected].
See also: Top insurance technology issues nagging at industry leaders