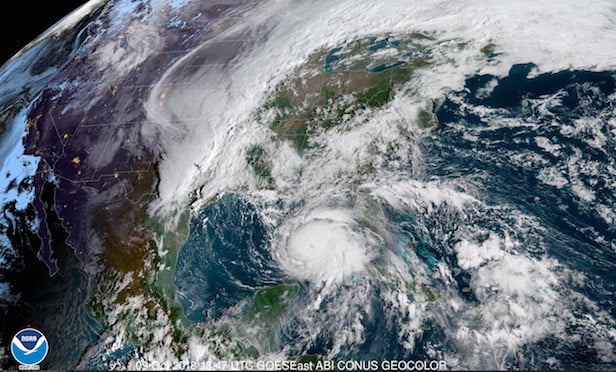 Updated Wednesday, 9:30 a.m. ET
Hurricane Michael, now a Category 4 storm as of Wednesday morning, is forecasted to be "the most destructive storm to hit the Florida Panhandle in decades," according to Gov. Rick Scott. The storm is headed directly for the Panhandle area, barreling through the Gulf Coast at 12 mph with sustained winds of 100 mph as of Tuesday morning.
Michael is expected to make landfall by Wednesday afternoon with the potential to bring "total devastation" to the Florida Panhandle and Big Bend areas, Scott says. Officials warn that life-threatening storm surge could reach up to 12 feet as these areas are forecasted to see 4-8 inches of rain, with isolated areas seeing as much as 12 inches.
Tracking Michael
Forecasters predict the storm will likely make landfall as a strengthened Category 4 storm, exceeding 111-mph winds.
As of Tuesday morning, Michael was located 395 miles south of Panama City, Florida where forecasters are saying the most devastation is likely to occur. Georgia and Alabama will feel Michael's wrath after the storm makes its way through the Florida Panhandle.
Related: How small businesses can better protect themselves
Early damage estimates are in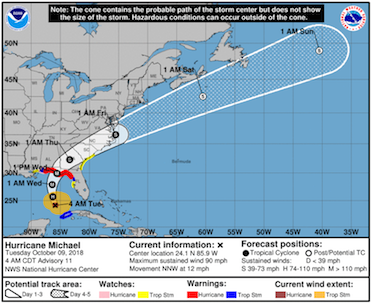 Data and analytics company CoreLogic has released early estimates evaluating the property value at risk lying in Michael's path.
CoreLogic data analysis released Tuesday asserts that if Hurricane Michael makes landfall as a Category 4 as predicted, approximately 57,002 Floridian homes along the Gulf Coast are at potential risk of storm surge damage. The approximate reconstruction cost value (RCV) of these homes is $13.4 billion.
Data analysts at Enki Research say Michael could produce $7-10 billion in damage.
Related: Some hurricane damage can be avoided: Advice to pass on to homeowners
Additionally, Michael has already caused a stir in the markets, driving up cotton prices and cutting the region's oil and gas production.
Experts warn Michael will likely strengthen before it makes landfall Wednesday due to conducive environmental conditions, and already, evacuation orders have been put in place in and around the Panhandle, and at least three counties announced mandatory evacuation orders Monday. Alabama also declared a state of emergency Monday afternoon.