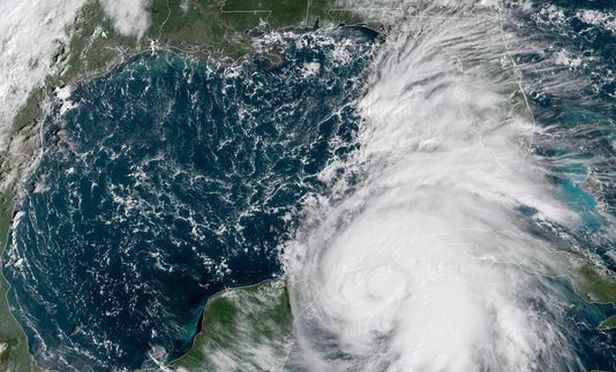 (Bloomberg) – Michael, the tropical storm that's been chugging toward the Florida panhandle, is now a hurricane, threatening to bring driving rain and high winds to the region's agricultural and tourism industry.
12 foot surge, at least 8 inches of rain
While Gulf of Mexico oil platforms remain largely outside its path, Michael has the potential to become a major hurricane by late Tuesday as it races toward the Florida coastline. The U.S. National Hurricane Center says the storm could generate a 12-foot surge, and at least eight inches of rain in the region.
Related: Some hurricane damage can be avoided: Advice to pass on to homeowners
Michael is now about 140 miles (225 kilometers) east-northeast of Cozumel, Mexico. While it is currently producing winds of 75 miles per hour, the "major" listing means it holds the potential for 111 mile-per-hour winds. On Sunday, Florida Governor Rick Scott declared a state of emergency for the region.
Life threatening, extremely dangerous
"This storm will be life threatening and extremely dangerous,'' Scott said. "Everybody's got to get ready." While the state's panhandle is more sparsely populated than many other areas, it includes the capital city of Tallahassee, Pensacola and Panama City.
While most citrus in Florida is produced in the lower two-thirds of the peninsula, south of the storm's path, heavy rain could create difficulties for the U.S. Southeast cotton harvest. Georgia had collected 6 percent of its crop as of Sept. 30 and Alabama had reaped 5%, U.S. Department of Agriculture data show.
Matt Rogers, president of the Commodity Weather Group LLC, said in an interview early Monday that there's only a 10% chance of damage to oil and gas platforms.
"The worst part of the storm should be on the east side," he said. "It should stay clear of the production zone."
Still, Michael could affect energy in the region by lowering demand for power, and thus natural gas, Rogers said, noting, "instead of being in the upper 80s, it'll be in the 70s" Fahrenheit.
After landfall
After making landfall in the Panhandle region, the storm is forecast to bend back across Georgia, North Carolina and South Carolina later in the week.
On the current forecast track, the center of Michael will move over the Yucatan Channel on Monday, then across the eastern Gulf of Mexico late Monday through Wednesday, according to the National Hurricane Center.
"It's a fast-mover," Rogers said in the interview. "It's an in-and-out type of deal."
It's common to see big "monsoon-like" systems develop in Central America at this time of year, said Jeff Masters, co-founder of Weather Underground. As of Thursday, the Atlantic had produced 12 named storms this season. They include Hurricane Florence, the most powerful one so far this year.
National Hurricane Center @NHC_Atlantic Tropical Storm #Michael is strengthening and it is almost a hurricane. Hurricane and tropical storm watches are now in effect for portions of the Gulf Coast. Here are the 4 am CDT October 8th Key Messages. Go to hurricanes.gov for more information. Sent via Twitter Web Client.
Hurricanes Ivan & Dennis hit panhandle region
The panhandle region has suffered storm damage in the past, hit by Hurricane Ivan in 2004 and Hurricane Dennis in 2005. In 2010, the Deepwater Horizon oil spill hit Pensacola Beach, hurting the fishing and tourism industries.
The area is also home to a number of military bases, including the Naval Air Station at Pensacola and Eglin Air Force Base.