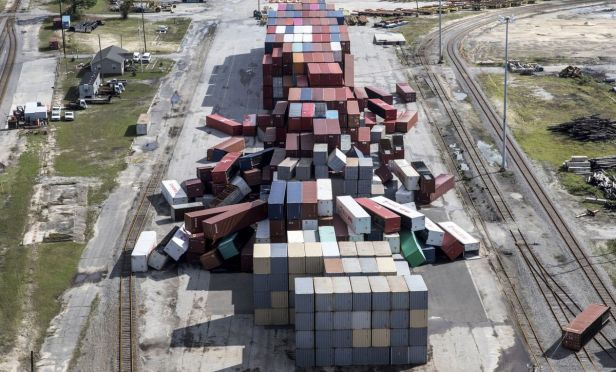 (Bloomberg) – The port at Wilmington, North Carolina, is currently an island in the aftermath of Hurricane Florence.
Several major surrounding highways are flooded and the port itself will stay closed until Thursday, it said on its website.
A number of large companies impacted
Major products moved through Wilmington include grains, wood, chemicals, furniture, clothing and auto parts. There are "a number of very large companies down there impacted," said John Loyack, vice president of global business services for the Economic Development Partnership of North Carolina.
Related: The ins and outs of business interruption insurance
One company, Enviva Partners, LP, makes wooden pellets used to run industrial furnaces, and ships products from Wilmington to Europe. The pellets are stored in giant, white domes at the port. In a statement, Enviva said its Wilmington terminal will be able to receive pellets later this week as the port reopens. The company said it expects "modest impacts" to its shipments from Wilmington due to the hurricane.
Another company with a presence at the port, National Gypsum, didn't immediately respond to a request for comment.
Related: Florence's hit to insurers starts early as businesses shut down
Got photos to share? We'd like to see them. PropertyCasualty360.com readers who have images of Florence's path can send them via e-mail to [email protected], for inclusion in our coverage.