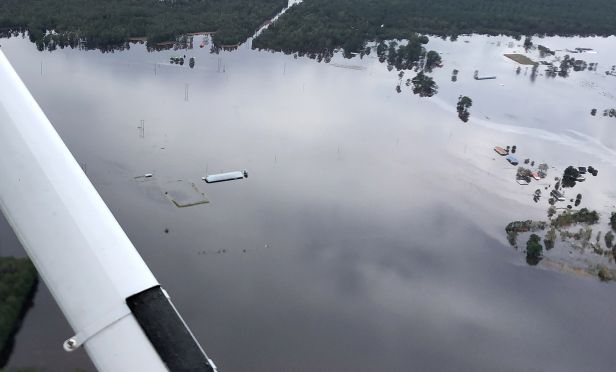 (Bloomberg) – There have been at least two breaches of hog-manure lagoons in North Carolina amid the record-setting, still-rising floods that have been unleashed by deadly Hurricane Florence, according to a state agency.
One of the sites is in Duplin County and contains more than 300,000 cubic yards of waste, which can be described as a "total loss," said Megan Thorpe, a spokeswoman for the state's Department of Environmental Quality.
N.C. has about 4,000 lagoons
The state has about 4,000 of the lagoons, Governor Roy Cooper said Sunday. The lined earthen pits that hold treated waste had been a major environmental concern as unprecedented rain lashed the state. North Carolina is home to more pigs than any state besides Iowa, and its farms are concentrated in eastern counties, government data show.
Related: Coal ash, sewage spill over as Florence floods the Carolinas
Rising waters are spurring "widespread impacts" in eastern regions, the North Carolina Pork Council said in a statement on its website Monday. The group said it was aware of one lagoon breach in Duplin County and four other lagoons there were inundated by the floodwaters.
Potential environmental impact
"While there are more than 3,000 active lagoons in the state that have been unaffected by the storm, we remain concerned about the potential impact of these record-shattering floods," the Raleigh-based council said.
Smithfield Foods Inc., the largest U.S. hog processor, didn't immediately respond to a request for comment. The company had shut two of its facilities in North Carolina last week ahead of the storm including its Tar Heel facility, the world's largest pork plant.
Got photos to share? We'd like to see them. PropertyCasualty360.com readers who have images of Florence's path can send them via e-mail to [email protected], for inclusion in our coverage.