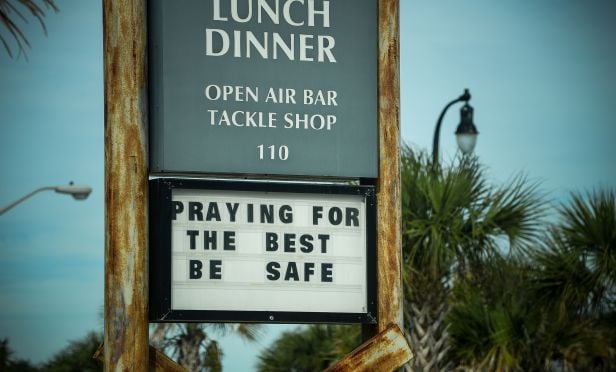 Updated 3 p.m. ET
(Bloomberg) – The outer bands of Hurricane Florence reached the Carolina coast, bringing stinging winds and lashing rain.
They are the first signs of the Category 2 storm, which threatens to deliver a deadly 13-foot (4-meter) ocean surge and drench the region with as much as 40 inches of rain. Florence is still 145 miles (233 kilometers) east-southeast of Wilmington, North Carolina, where it's expected to make landfall overnight. Portions of the state came under tornado watches as the winds raged.
Power loss & flooding
Tens of thousands of structures are expected to be flooded by storm surge alone, North Carolina Governor Roy Cooper said at a press conference Thursday. "Our greatest concern about this storm remains the same — storm surge and massive flooding," he said.
The storm still carries 105 mile-per-hour winds, strong enough to tear off roofs and topple trees. It will head across South Carolina Saturday, and up through the Appalachians next week.
Florence could eventually cost $10 billion to $20 billion.
More than 1,000 U.S. flights have been canceled, and Duke Energy Corp. said as many as 3 million customers may lose power.
Storm surge & rainfall will be significant
"We're still going to get catastrophic inland flooding from heavy rains and multi-billion dollar storm surge damage along the coast where it hits,'' said Jeff Masters, co-founder of Weather Underground in Ann Arbor, Michigan.
Duke is in the process of shutting down its Brunswick nuclear power plant, which has two reactors directly in the path of the storm on the southern coast of North Carolina, according to the Nuclear Regulatory Commission. Federal officials have said at least nine nuclear facilities are threatened by Florence.
Despite the fact that it's no longer a major hurricane, "it is a very large and very dangerous system," said Anthony Chipriano, a meteorologist with Radiant Solutions in Gaithersburg, Maryland. "The storm surge will be significant and the rainfall amounts won't go away despite the winds not being as strong."
Agriculture is a main concern
A main concern for the region is agriculture. North Carolina ranks second among U.S. states in hog inventory and second in producing broiler chickens. CoBank ACB, an agricultural lender, estimates damage to North Carolina farming could hit $1 billion before the storm slows later this week.
Along with agriculture, the Carolinas stand as an important regional hub for banking, technology, manufacturing and transportation, accounting for about 4 percent of U.S. gross domestic product, according to a Bloomberg U.S. economic analysis. The path may affect more than 4,000 manufacturing and distribution facilities, potentially hurting sectors including auto-parts and packaged foods, according to Bloomberg Supply Chain data.
Several East Coast ports are already seeing disruptions, including Wilmington, Charleston, South Carolina, and Norfolk in Virginia. The three ports together handled 23% of imports into the East Coast in 2017.
Combined with disruptions in rail traffic, that could mean serious delays for manufacturers in the region, some of which have already been shut down as a result of mandatory evacuation notices. The Boeing Co., for instance, closed commercial operations at its 787 Dreamliner assembly and delivery plant in North Charleston, South Carolina, on Sept. 11.
Fran hit North Carolina in 1996 as a Cat 3
Five major hurricanes, with winds of 111 miles-per-hour or more, have come ashore in North Carolina, Phil Klotzbach, hurricane researcher at Colorado State University said in a tweet. The last was Fran in 1996, which hit as a Category 3, according to National Hurricane Center records.
More storm coverage:
Manufacturers bracing for hurricane.
Homebuilders may gain after the storm.
Nuclear power plants expected to shut down.
Golf courses are closed.
Pigs and chickens are threatened.
Catastrophe-bond traders assessing potential exposure.
Supply chains disrupted.
Airlines are canceling flights.
Got photos to share? We'd like to see them. PropertyCasualty360.com readers who have images of Florence's path can send them via e-mail to [email protected], for inclusion in our coverage.