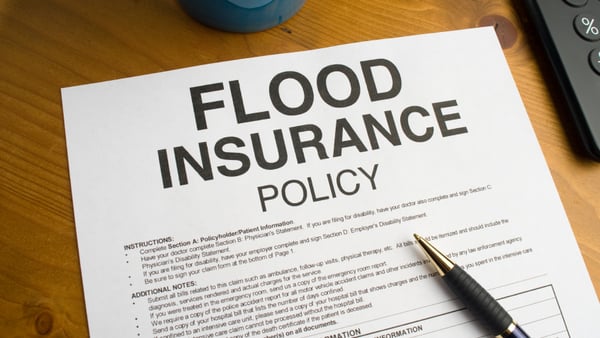 With Florence the latest storm to threaten the U.S., it looks as though we're heading up the river without a paddle once again this hurricane season — and if that river floods, more than water-logged homeowners could get soaked.
Truth be told, we sang the same song last year as the National Flood Insurance Program (NFIP) was nearing a congressional reauthorization deadline when three major hurricanes slammed U.S. coastlines, causing a combined $265 billion in damages. The struggling NFIP was hit hard leading Pres. Trump to sign a measure that provided $36.5 billion in disaster relief funding and included language to prop up the NFIP in the form of a $16 billion taxpayer bailout designed to partially refresh $30 billion in taxpayer-funded NFIP borrowing capacity.
Once again in 2018, we find ourselves in the same situation with Congress having temporarily reauthorized the NFIP until only Nov. 30, coincidentally, the last day of hurricane season. Meanwhile, agents and brokers have seen a surge in demand for the options available in the private flood insurance market. Even with a growing private flood insurance market, the NFIP must be permanently reauthorized with key reforms before another multi-billion-dollar storm hits. If it is not, congressional dithering will leave most homeowners with sub-standard NFIP insurance coverage and service as taxpayers are left to foot the bill again.
But, perhaps what's most frustrating about this repeated delay and inaction, is that while the vast majority in Congress — as well as virtually all regulators, insurers, real estate agents, lenders and homeowners — want to see flood insurance reform that assures consumer choice via the private market, several U.S. senators appear to be driving an effort to stop any such progress.
Related: Why is long-term re-authorization of NFIP so elusive?
Strength in numbers
Recently, I was, along with others, interviewed on the private market's role in flood insurance as part of a study by researchers at the prestigious Wharton School at the University of Pennsylvania. According to the July 2018 report that resulted from their interviews, there is considerable opportunity in the U.S. flood market for private insurers — opportunity with an estimated value of up to $50 billion in revenue. Confidence is growing in the private flood insurance market in the form of more capital flowing in. Underwriting and modeling are improving, while state regulatory systems are evolving — all of which are fueling this growth, researchers found.
As described in that same report, currently, less than 4.5% of purchased primary residential flood policies are originated by the private market, while the NFIP has more than five million policies in force corresponding to more than $1.17 trillion in residential flood insurance coverage. The Wharton researchers also found that private policies often offer higher limits and better coverage than NFIP policies.
Additionally, research by Milliman examined what a healthy private flood insurance market could look like in New York and New Jersey and found that "across each state, over 90 percent of homes could see cheaper premiums in a private market." Inside both high- and low-risk areas, Milliman found that flood insurance sold by the private market would be less expensive than the NFIP in most cases. Further, they surmised that a stronger private market for flood insurance could increase the number of homeowners in those states with flood insurance. They noted that if just 10% of uninsured homeowners located outside high-risk zones were offered less-expensive flood insurance and bought it, approximately an additional 152,000 and 216,000 homes in New Jersey and New York, respectively, would be protected against the peril of flood. Currently, only 2% to 3% of homes in these areas have flood coverage.
So, what's stopping the private flood insurance market from rapid growth?
Terribly flawed language was inserted into the last reauthorization of the NFIP as a definition of private flood insurance. Based on that language, federal lending regulators intend to publish a universally criticized regulation that will have the effect of making private flood insurance more expensive for mortgage lenders to accept. Even though the House of Representatives unanimously passed legislation correcting the flawed language, the Senate refuses to make the correction.
Related: FEMA is exploring expansion of its reinsurance program
Why the delays?
It's clear that this small number of senators, most of whom represent states that have experienced severe flooding, feel an enormous responsibility to their constituents, as they should. But in their rush to assure the continuance of a federally funded program that has proven it doesn't work, they're deterring real progress and obstructing consumer choice.
Though they're looking for some reforms, these senators are proponents for the NFIP to continue as the only provider of primary flood insurance to Americans just as it has for the last 40 years. What these good folks refuse to accept is the undeniable truth that the NFIP has, and will continue to, multiply taxpayer-funded losses by encouraging the building of structures in flood-exposed areas unless the NFIP is transformed into an insurer of last resort in support of a competitive open market. Simply exposing the NFIP to unfettered competition will, over time, automatically correct virtually every failure of the current paradigm because the private market will efficiently corelate price to risk. More accurate pricing, higher limits, more comprehensive coverage and freedom to shop for the best deal is all that is really needed to overcome the nation's flood insurance debacle and restore fairness to the system.
Ironically, as disclosed by the Milliman study previously referenced, as well as a similar study performed by Milliman in the state of Florida, the states that will likely benefit the most from an open flood insurance market are in some cases the very states whose senators seem to want to cling to the current system. Unleash the invisible hand and millions of acres of low lying land will remain wild, changing weather patterns will be responded to appropriately, flood insurance consumers will pay less for better coverage and taxpayers will save billions of dollars.
Related: Spreading Florida's model laws nationwide
Reform or bust
Without reform that leads to open markets, we are only making it more difficult for Americans to get a fair shake when it comes to flood insurance. Just look at the numbers. The Washington Post reported that "thirty percent of those who experienced Hurricane Harvey's onslaught on the Texas Gulf Coast say their lives remain upended a year later, and nearly 42 percent say they are not getting the help they need to rebuild their flood-ravaged homes."
The data came from a new survey from the Kaiser Family Foundation/Episcopal Health Foundation. The researchers found that 25% of those impacted by the storm's flooding did not have flood insurance. In a survey conducted three months after the storm, they found 8% of affected residents were still unable to inhabit their homes and about 50% of those who sought disaster aid from the Federal Emergency Management Agency (FEMA) or the U.S. Small Business Administration had applications either still pending or denied. In a survey one year after, 40% of those surveyed said they're not getting the help they need to recover. Residents in lower-income areas are suffering the most. The status quo is not working.
Again, making small technical corrections to prior legislation would make better flood insurance more accessible and affordable to all Americans, including those who didn't think they could afford it or didn't think they needed it.
Related: Federal flood insurance: Just because you have it, doesn't mean you're protected
Congress needs to pass a reform measure to stop federal lending regulators from implementing a rule that will stifle competition and limit private flood insurance availability to consumers. This regulation could lead to lenders rejecting private flood policies offered by agents and lead to producers and private flood insurers being forced to cancel existing policies, which, in turn, will result in massive litigation that will cost taxpayers even more.
Congress needs to ensure a level playing field between the NFIP monopoly and private insurers, who are looking to grow their place in the market — a market that needs their involvement. Agents must be able to offer superior options to their consumers. They have a responsibility — just as members of the U.S. Congress have a responsibility — to do what's best for their constituents. Encourage your senator to make the changes we need and stop the stalling before the next hurricane spiraling in the Atlantic threatens our shores.
Related: The untold story of Hurricane Harvey wind damage: 12 key findings
Craig Poulton is CEO of Salt Lake City-based Poulton Associates LLC, which administers the country's largest private flood insurance program, the Natural Catastrophe Insurance Program at CATcoverage.com.