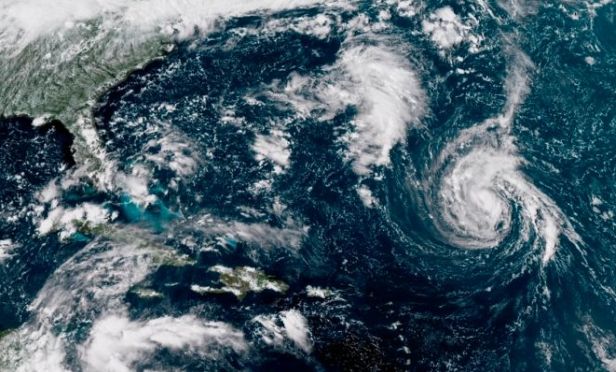 Updated 12:40 p.m., Sept. 10, 2018
(Bloomberg) – Hurricane Florence's top winds exploded to 130 miles (209 kilometers) per hour, making it a Category 4 storm, just one-step short of the most severe level as it pushed westward toward the U.S. East Coast.
Related: Hurricane categories explained
Florence is a major threat to lives, homes, agriculture and the waning tourist season. It's currently about 575 miles southeast of Bermuda, the U.S. National Hurricane Center said in an 12 p.m. New York time advisory.
U.S. landfall could come Friday between Charleston, South Carolina and Norfolk, Virginia, the Hurricane Center said. If the strength continue to rise, Florence will be one of just three storms in the records to have winds of 150 miles-per-hour this far north, said Phil Klotzbach, a Colorado State University hurricane researcher. Storms in that part of the ocean usually veer away from the U.S.
Very atypical track
"The track that Florence is taking is very atypical," Klotzbach said in an email. "There's just a really strong ridge building over the top of Florence that is going to drive it westward and also give it a remarkably favorable environment for strengthening."
In 1989, Hurricane Hugo grew to a Category 4 storm before coming ashore near Charleston, South Carolina, where it caused about $14.1 billion in damage when adjusted for inflation, making it the 13th costliest U.S. storm, according to Hurricane Center records. Hugo killed 49 people in the U.S. and across the Caribbean.
Florence could almost double that price tag with total losses reaching $27 billion, said Chuck Watson, a disaster modeler with Enki Research in Savannah, Georgia. It would be the eighth costliest storm in U.S. history.
Stall out before it strikes the coast?
Some forecasts call for Florence to stall out after it strikes the coast. Still, the storm would produce flooding rains across a large part of the U.S. South, expanding the damage, according to Enki Research's Watson.
"A big question on this track is how intense the storm remains over the Research Triangle area of North Carolina — Raleigh-Durham-Chapel Hill," Watson said.
——————————————————–
September 9, 2018
(Bloomberg) – Hurricane Florence continues to intensify rapidly as it moves ever closer to the U.S. Atlantic coast, where it could strike somewhere between South Carolina and Virginia late this week.
Related: Some hurricane damage can be avoided: Advice to pass on to homeowners
Florence was about 720 miles (1,160 kilometers) southeast of Bermuda, with maximum sustained winds of 85 miles per hour, making it a Category 1 hurricane on the Saffir-Simpson scale, the National Hurricane Center said in an advisory at 5 p.m. New York time. The storm was moving toward the west at about 7 mph and is expected to speed up and turn toward the northwest by Monday.
Category 4 intensity expected
"Florence is forecast to rapidly strengthen to a major hurricane by Monday, and is expected to remain an extremely dangerous major hurricane through Thursday," the center said. Models show the storm reaching Category 4 intensity within 48 hours, with winds of 130 mph to 156 mph, hurricane specialist Eric Blake said in a forecast discussion.
South Carolina Governor Henry McMaster on Saturday declared a state of emergency in anticipation of the storm. The move will allow the state to use the National Guard for preparations and recovery if necessary. North Carolina and Virginia have taken similar steps.
Carolinas likely to be most impacted
Most forecast models point to Florence's eye hitting the southeast coast sometime on Sept. 14, said Anthony Chipriano, a meteorologist at Radiant Solutions in Gaithersburg, Maryland. What's worrisome is that the storm could stall at that point and wring out heavy, flooding rains throughout the area.
Related: Hurricane preparation step–by-step: What to do as a storm approaches
The northern coast of South Carolina and the Outer Banks of North Carolina are likely to be the areas most impacted by the storm, which could cause $15.32 billion in damage if it stays on its current five-day forecast track, said Chuck Watson, a disaster researcher at Enki Research in Savannah, Georgia.
'Nightmare scenario'
A storm would normally weaken considerably if it stalled on the coast, by choking off its own energy supply as it churned over its own wake, Watson said. But the Gulf Stream is pushing warm water past Cape Hatteras, which could create a "nightmare scenario" that could lead to as much as $25 billion in damages, putting Florence in the top 10 of the most destructive storms, he said.
Hurricane track and intensity forecasts often have wide margins of error beyond five days, and with Florence computer models have struggled to accurately predict what the storm will do.
"The models have not been very good with intensity for this system pretty much for the entirety of the storm," Chipriano said.
More than 3.9 million homes that would cost more than a $1 trillion to rebuild are at risk from hurricanes on the U.S. Atlantic coast from Maine to Florida, according to CoreLogic, a property analytics firm in Irvine, California.
The East Coast's fate from the current storm will be decided by a weather pattern called the Bermuda High. A semi-permanent feature in the Atlantic, the high rotates in a clockwise manner and will steer Florence through the ocean.
Olivia may hit Hawaii as soon as Tuesday
Nine storms have emerged across the Atlantic so far this year. To the east of Florence, forecasters are also watching tropical storms Helene and Isaac. Helene is brushing past the Cabo Verde Islands off Africa before drifting into the central Atlantic, while Isaac could grow to a hurricane and threaten the small islands in the Caribbean Sea by Thursday.
Meanwhile, in the Pacific, Hurricane Olivia, forecast to weaken to a tropical storm, may hit Hawaii as soon as Tuesday. Further west, Typhoon Mangkhut will sweep past the U.S. territory of Guam Monday and Tuesday.