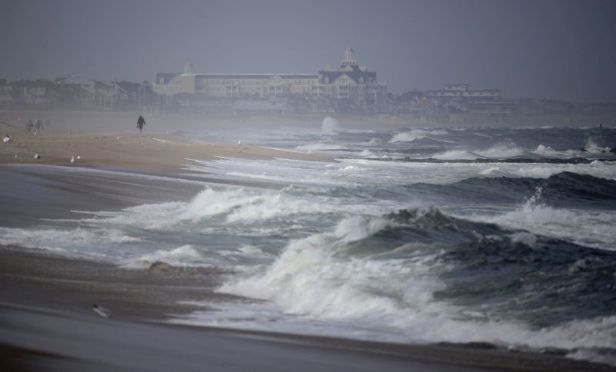 Updated: 1:05 p.m. ET
(Bloomberg) – There's an even chance Florence will strike the U.S. East Coast late next week. And there are more storms stacked up behind it.
Impact the East Coast over the weekend
Florence, which was downgraded overnight to a tropical storm, is expected to strengthen again to a hurricane and has a 50% chance of making landfall somewhere from northern Florida to Massachusetts, said Jeff Masters, co-founder of Weather Underground.
Related: Residents in hurricane-prone areas aren't properly prepared, survey says
Experts are also tracking two weather patterns off the coast of Africa that have a 90% chance of becoming hurricanes Helene and Isaac in the next two days. That could mean three hurricanes traversing the Atlantic simultaneously.
Even if Florence veers away from the Atlantic coast, it will generate "life-threatening surf" in Bermuda later Friday and parts of the East Coast over the weekend, the U.S. National Hurricane Center said in a bulletin at 5 a.m., New York time.
Likely a major hurricane early next week
"I'm predicting it to be a hurricane over the weekend and probably a major hurricane early next week," Masters said.
Florence is currently about 985 miles (1,585 kilometers) east-southeast of Bermuda, with winds of about 65 miles per hour. Wind shear has weakened it since Wednesday, when it was listed as a Category 4 hurricane.
Meanwhile, there are two systems following roughly in Florence's footsteps. One is about 650 miles west of the Cabo Verde Islands and the second just off the west coast of Africa, according to the Hurricane Center.
Odds have increased Florence will reach East Coast
Florence follows Gordon, which came ashore near the Alabama-Mississippi border late Tuesday with flooding rains and winds that knocked out power to thousands.
Florence's path may hinge on a high pressure system over New England that at some point is expected to drag Florence north, according to Matt Rogers, president of the Commodity Weather Group LLC.
The storm was initially expected to remain at sea, but the odds have increased that it will reach the East Coast.
"Does it turn to the north after it hits land or before it hits land?" Rogers said. "That's the question."
Related: Federal flood insurance: Just because you have it, doesn't mean you're protected