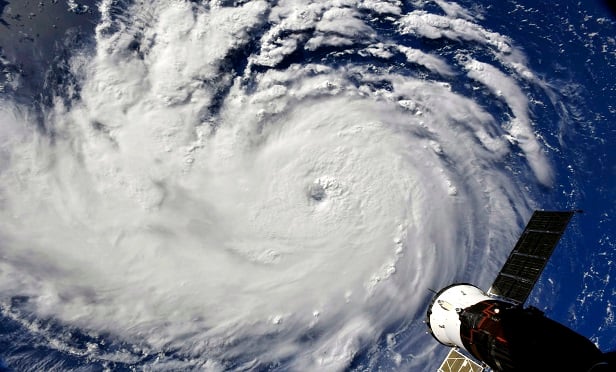 Now a Category 4, Hurricane Florence is shaping up to be a massive and violent storm as it heads directly for the Carolinas with maximum sustained wind speeds of 130 mph.
Florence is expected to make landfall Thursday evening or early Friday morning, and mandatory evacuation orders have already been issued throughout the coastal areas of the Carolinas and Virginia, affecting over 1 million residents.
Anticipating Florence's wrath
Experts at CoreLogic warn that approximately 758,657 homes in North Carolina, South Carolina and Virginia are at risk of storm surge based on Florence's current Category 4 status. CoreLogic data analysts put the total reconstruction cost value (RCV) of these homes at approximately $170.2 billion.
Catastrophe modeler Risk Management Solutions (RMS) cited the potential for Hazel or Hugo type losses at a reconstructed loss value between $15—20 billion.
To make matters even worse, many weather analysts say Florence will likely exceed Category 4 strength, flirting with Category 5 status if not fully achieving it.
Dangerous flooding and storm surge is expected and total rainfall accumulations of 15 to 20 inches, with isolated amounts up to 30 inches, are possible over portions of North Carolina, Virginia, and northern South Carolina through Saturday, according to AIR Worldwide.
Related: Florence approaches: 11 things you can do to prepare for hurricane winds
Current status
As of 11 A.M. Tuesday morning, Hurricane Florence was located 905 miles east-southeast of Cape Fear, North Carolina and traveling west-northwest at 16 mph heading directly toward the U.S. East Coast. Weather experts say the storm's speed will likely increase over the next two days as it prepares to make landfall.
Analysts at AIR Worldwide explain that Florence's currently forecast track is unusual in that it is not expected to continue traveling in its current northwest direction into the Mid-Atlantic, as is typical for storms in this area.
Dr. Peter Sousounis, vice president and director of meteorology at AIR Worldwide explains that the unique aspects of Florence are not in terms of its intensity or expected landfall location, but rather, its forward speed.
While most current weather predictions estimate total rainfall accumulations of 15-20 inches, and isolated amounts upwards of 30 inches, Sousounis warns that some models say Florence may stall for a day or two, which would create massive rainfall over portions of North Carolina. If the storm does stall, these areas could see over 40 inches of rain, possibly even 50, Sousounis says.
Related: The untold story of Hurricane Harvey wind damage: 12 key findings