Editor's note: This article first appeared at David-Costello.com.
When a big disaster hits everybody talks about it, the media covers it, and at that time it seems like a good idea to invest in protection. But as time passes, typically 2-4 years, attention fades. The California Napa area 6.0 magnitude earthquake, the first large quake event in 25 years resulting in over $1 billion in damage, has put earthquake insurance back on people's radar screens.
Only 12% of Californian's homeowner's have earthquake insurance. Are the rest in denial or making a rational choice?
The following are a list of commonly mentioned rationalizations for not purchasing coverage.
Rationalization No. 1: "I'll just hand over the keys to the bank."
Homeowners who let their banks foreclose on earthquake devastated homes not only lose all of their equity, but also put their credit rating at risk which could make it difficult or impossible to borrow money for years to come.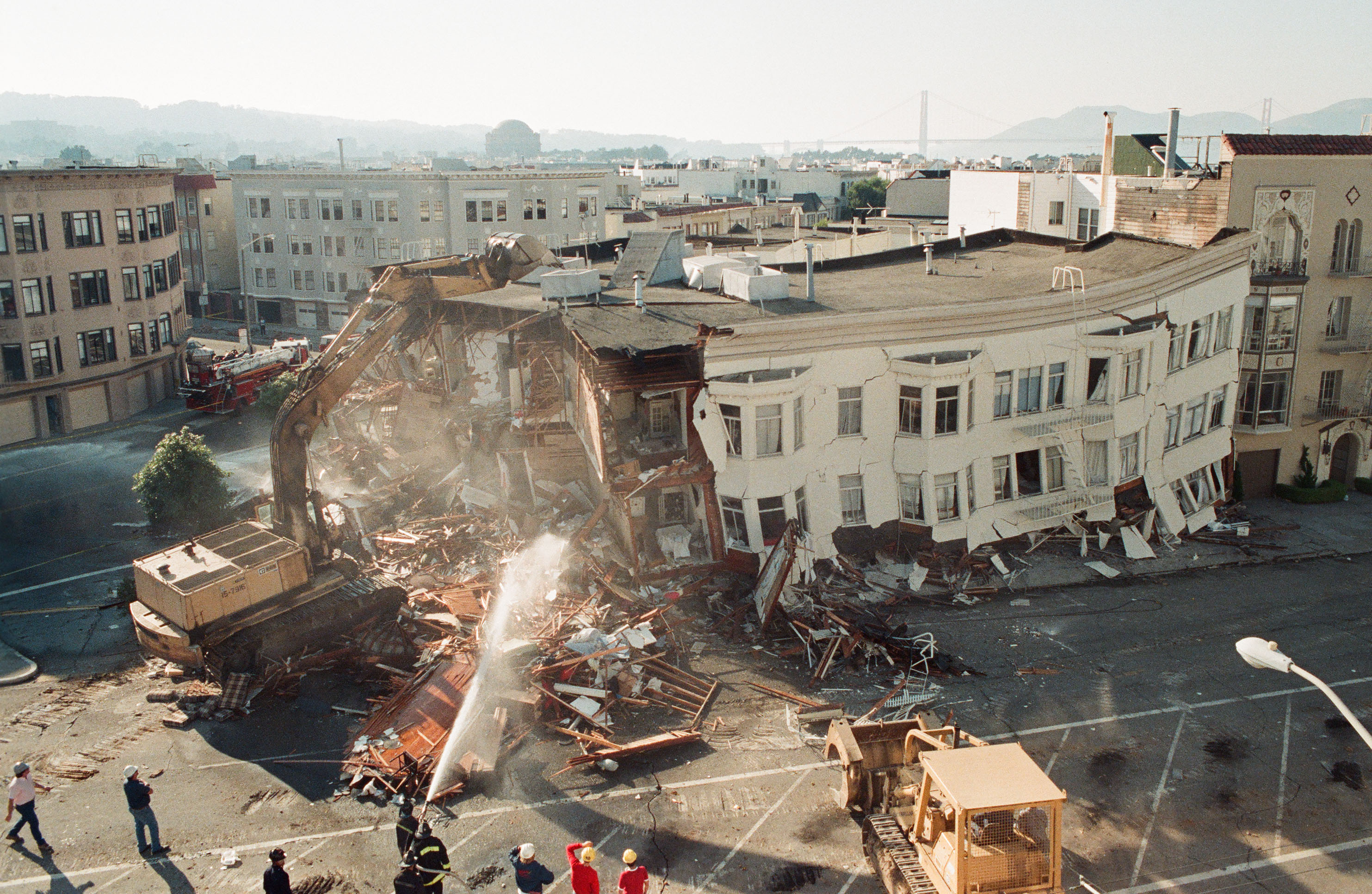 Rationalization No. 2: "My home survived the 1989 Loma Prieta earthquake."
For anyone that knows anything about earthquakes, this is the silliest of arguments.
Image: In this file photo taken Oct. 18, 1989, crews demolish a collapsed apartment building in the Marina district following the Loma Prieta earthquake in San Francisco. (AP Photo/George Nikitin)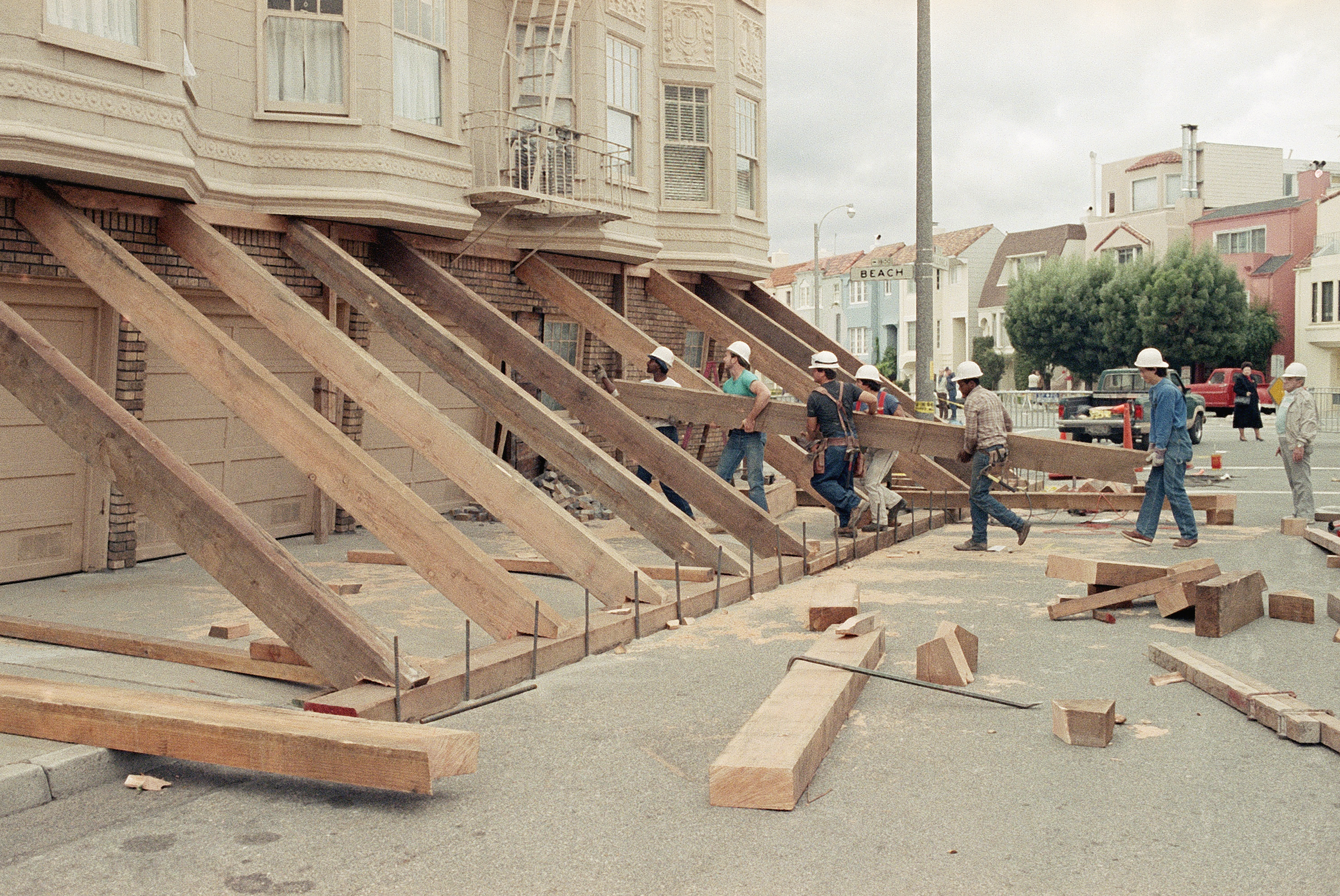 Rationalization No. 3: "My home is bolted to the foundation."
This is a better argument than most, however, no amount of retrofitting can protect against a truly devastating shaker. Bolting seems to work best for one-story frame homes; homes that are two or more stories—or that have big picture windows or other large gaps in the frames—are likely to suffer more damage, even if bolted. Of course, all the bolting in the world won't help if the soil you home is subject to liquefaction (such as San Francisco's Marina District).
Image: Workers use lumber to shore up a quake-damaged building in San Francisco's Marina district, Sunday, Oct 23, 1989 to prevent it from collapsing. Officials estimate that at least 60 buildings damaged by Tuesday's 609 either fell down or will have to be torn down. (AP Photo/John Swart)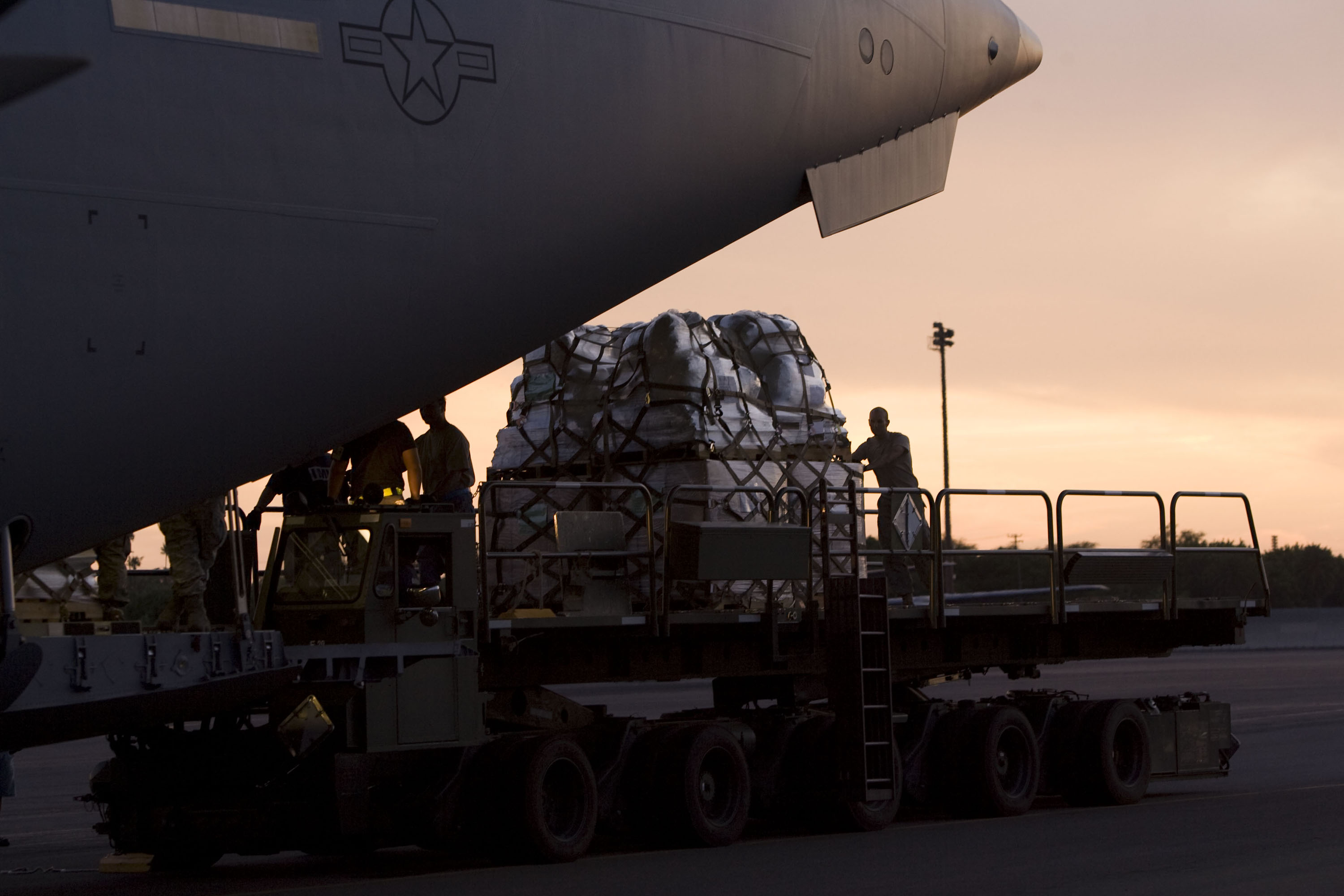 Rationalization No. 4: "I will just apply for government assistance/FEMA."
The common assumption is that a high impact event will be covered by the Federal government. Not so. Assistance to individuals and households is only intended to get people back in their homes. FEMA's maximum grant to homeowners is $32,000, and most rebuilding aid comes from the Small Business Administration (SBA). Applicants should remember that such low interest loans won't cover their existing loans and must be paid back. Servicing double mortgage payments could be financially devastating.
Image: FEMA relief aid for victims of the Samoan tsunami is loaded into a Hawaii National Guard C-17 Globemaster III Wednesday, Sept. 30, 2009 at Hickham Air Force Base in Honolulu. (AP Photo/Marco Garcia)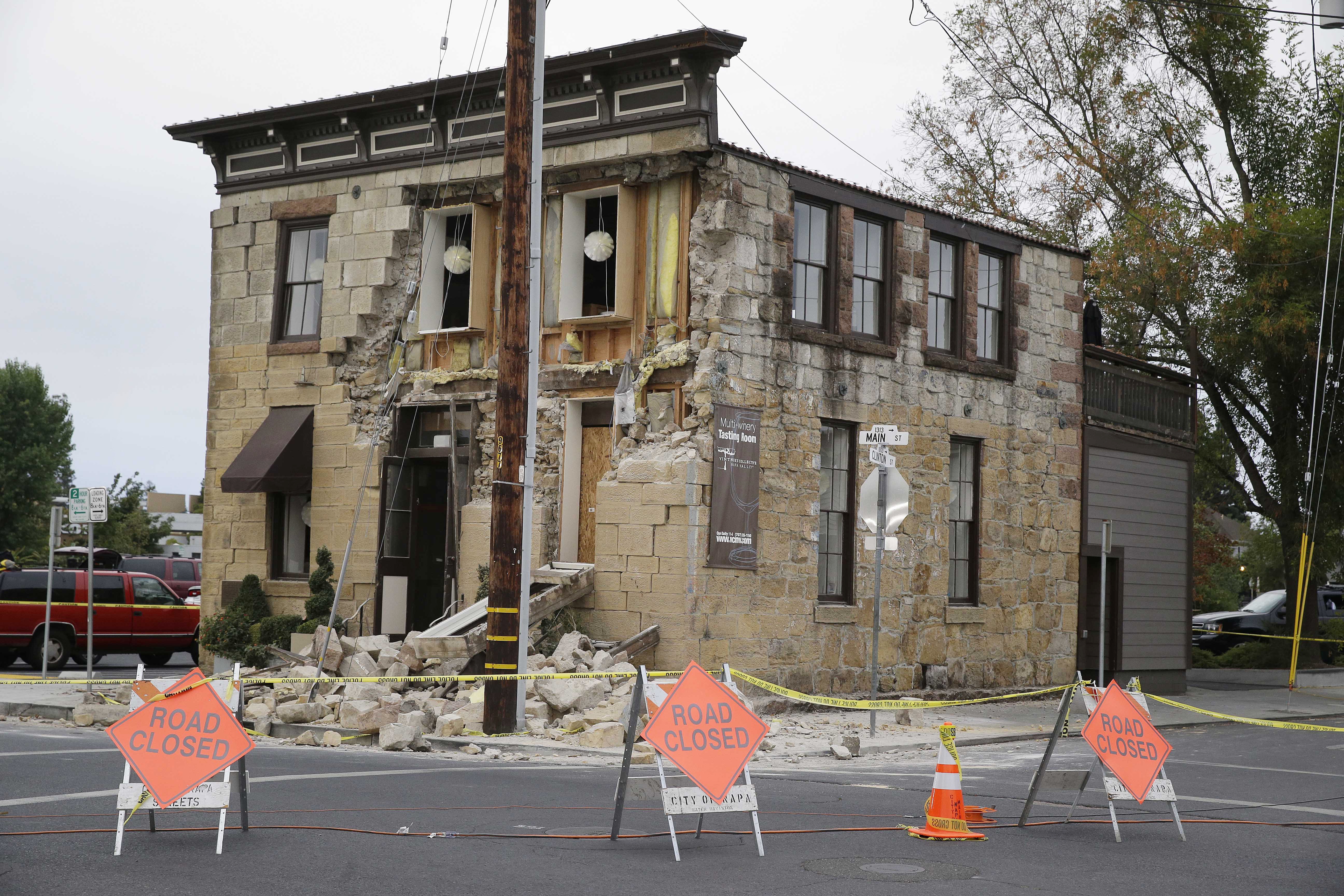 Rationalization No. 5: "I'm on bedrock."
This is one of the most widespread rationalizations for not purchasing earthquake insurance. Even homes on bedrock can sustain severe structural damage depending on the magnitude and duration of a powerful quake. Homeowners should be more concerned with their homes' proximity to major fault lines such as the San Andreas, Hayward, and Calaveras faults (which is most of the SF Bay Area).
Image: Signs and caution tape block the street in front of the earthquake-damaged Vintner's Collective multi-winery tasting room Monday, Aug. 25, 2014, in Napa, Calif. The building dates from the late 1800s. (AP Photo/Eric Risberg)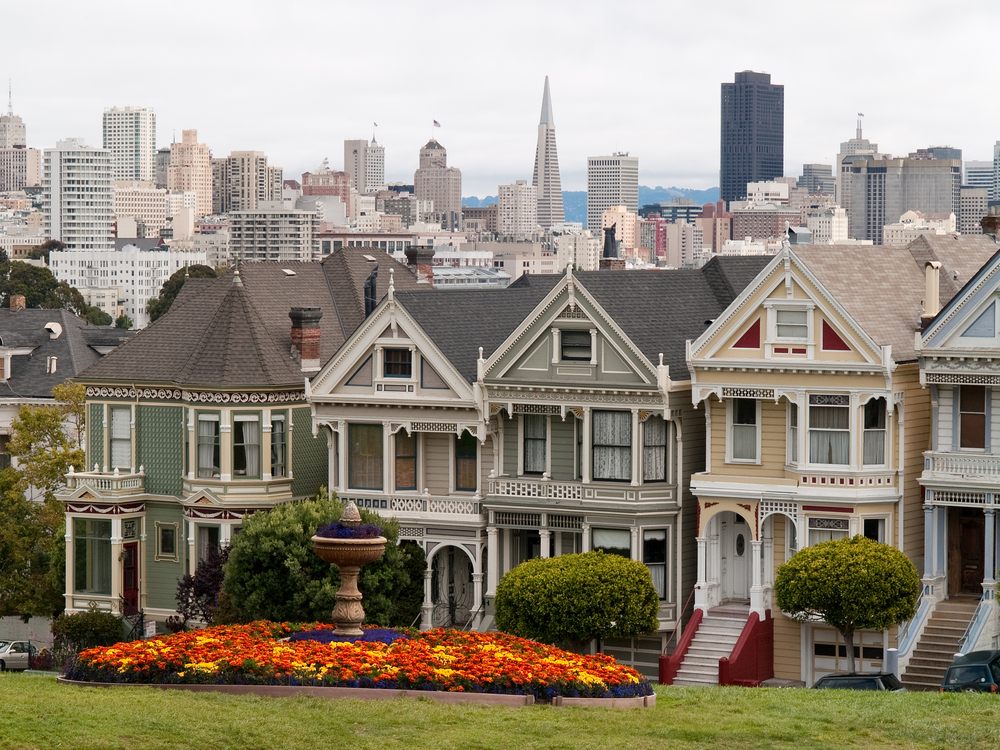 Alamo Square in San Francisco, Calif. (Photo: Jarno Gonzalez Zarraonandia/Shutterstock.com)
99% chance of 6.7 earthquake in California by 2038
The U.S. Geological Survey (USGS) has stated that there is a 99% probability of a 6.7 magnitude or great earthquake hitting California by 2038, and a 62% chance of a 6.7 magnitude or greater quake hitting the San Francisco Bay Area within this same period of time.
Not all quake insurance carriers are alike. The California Earthquake Authority (CEA), the not-for-profit state administered program is not backed by the State of California's guarantee fund and is a $10.4 billion 'pooled limit'—meaning that there may not be enough funds to cover all losses should a catastrophic event occur to its 856,000 policy holders. It's important to note that the CEA is obligated to take "all applicants," no matter what the age of the dwelling is or if it is bolted/earthquake retrofitted, or not.
Affluent market carrier option
Affluent market carriers are now offering a value proposition to their high net worth clients, making earthquake coverage worth reconsidering. Here's an example of premiums for a home in Pacific Heights/San Francisco.
(Note: Premiums vary widely based on dwelling age/# stores/building materials & location proximity to a major fault)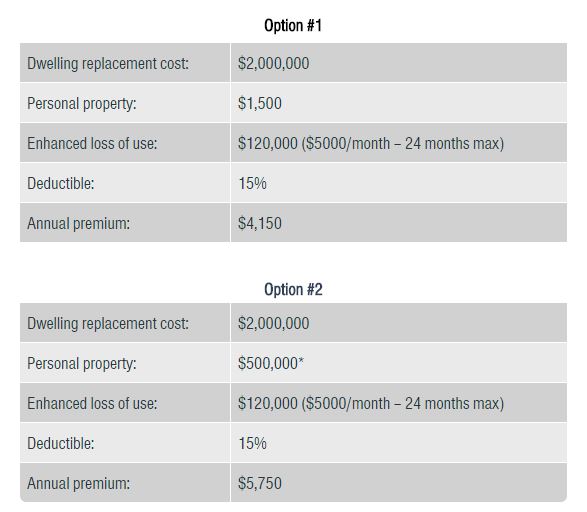 *Note: It's recommended to add scheduled fine arts on to a homeowner's policy. The premium for $1,000,000 of contents coverage can be as low as $400. Additional advantages include 'first dollar coverage' (no deductible imposed); 150% coverage extension (in the event an item costs more to replace); and includes all risk earthquake insurance.
Oftentimes, the CEA's premium is considerably more for less coverage.
David Costello holds dual licenses as a Real Estate Agent with Sotheby's International Realty (Sonoma County office), along with a Property & Casualty license with ISU Insurance, a national brokerage headquartered in San Francisco Calif. Learn more about Costello by visiting him at David.Costello.com or on Facebook.