Residents in California's Napa Valley area awoke Sunday to a 6.0-magnitude earthquake that crumbled buildings, knocked products off of store shelves and did an estimated $500 million to $1 billion in insured losses according to catastrophe risk modeler Eqecat.
The quake, which lasted 18-20 seconds, ruptured gas mains and water lines, damaged building facades, and spawned numerous structural fires across the area. Windows in the air traffic control booth at the Napa Airport were blown out, and local vineyards experienced major damage to their wine and olive oil stocks.
According to the U.S. Geological Survey the quake hit around 3:30 a.m. local time on Sunday about six miles southwest of Napa, Calif. No fatalities have been reported, but more than 170 people were taken to local hospitals with injuries ranging from broken bones and respiratory or cardiac issues. There were also a number of less severe injuries from falling debris. Power outages ranged from 70,000 customers in Sonoma and Napa counties to several thousand in surrounding areas. Streets and bridges are undergoing safety inspections throughout the city as of Monday.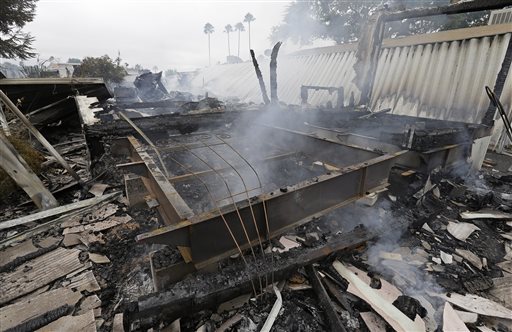 The remains of one of four mobile homes smolders after a fire engulfed it on Aug. 24 at the Napa Valley Mobile Home Park, in Napa, Calif. (AP Photo/Ben Margot)
The Napa Valley fire department is inspecting buildings in the downtown area to assess damage, but did not release a report on the number of buildings impacted. State Geologist John Parrish says that aftershocks will continue for the next several weeks, but did not anticipate another large earthquake.
The quake is the largest to hit the area "since the 1989 Loma Prieta quake, which resulted in $1.8 billion in insured claims (in 2013 dollars) being paid to policyholders," said Dr. Robert Hartwig, president of the Insurance Information Institute (I.I.I.). "The potential cost of earthquakes has been growing in many parts of the world, including the U.S. because of increasing urban development in seismically active areas and the vulnerability of older buildings, which may not have been built or upgraded to current building codes," he said in a released statement.
[Related: Is earthquake insurance now officially a thing of the past?]
While the U.S. has approximately 20,000 earthquakes annually, a 2014 I.I.I. survey found that only about 7% of homeowners have earthquake insurance, down 3% from 2013. Only 12% of California residents carry earthquake insurance, despite the state being the site of nine of the most costly quakes of the last century. After the 1994 Northridge, California, earthquake which caused $44 billion in total property damage and $15.3 billion in insured losses, approximately 30% of residents purchased earthquake insurance, but the number of insureds has dropped steadily over the last two decades.
According to Swiss Re, 2013 insured losses from earthquakes totaled about $45 million, significantly less than the $54 billion reported in 2011.
Earthquake insurance usually carries a percentage deductible instead of a flat amount. The standard policy issued by the California Earthquake Authority, which is the top writer of earthquake insurance, includes a deductible that is 15 percent of the home's replacement cost, and covers only the home and minimal contents. A separate policy is required for pools, adjacent buildings and additional household contents. Policies, deductibles and premiums vary widely by insurer.
I.I.I., has identified the top 5 earthquake insurers as:
California Earthquake Authority – 20% market share
State Farm Mutual Automobile Insurance – 8%
Zurich Insurance Group – 7.6%
American International Group – 5.3%
Travelers Companies, Inc. – 5%
The California Highway Patrol closed some ramps, but there were no reports of drivers being stranded in their cars by the quake. Some drivers experienced flat tires from driving over the damaged roads. Amtrak has suspended service through the Bay Area to inspect the tracks.
Click "next" to see pictures of the damage caused by yesterday's earthquake.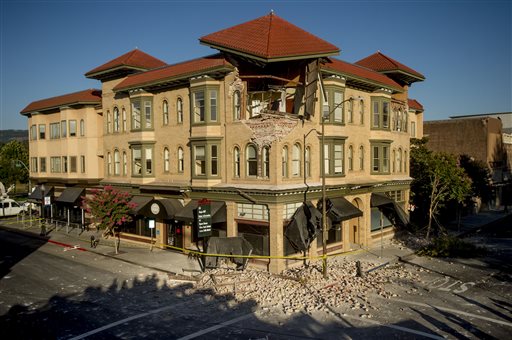 Bricks and debris surround the Alexandria Square building in Napa, Calif., following the earthquake on Aug. 24. Officials in the city say 15 to 16 buildings are no longer inhabitable after Sunday's magnitude-6.0 earthquake, and there is only limited access to numerous other structures.
(AP Photo/Noah Berger)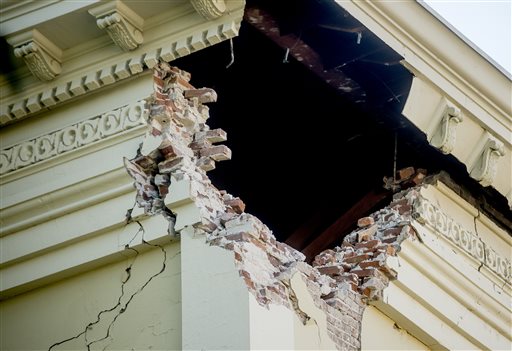 A corner of the historic Napa County Courthouse sits exposed following the quake.
(AP Photo/Noah Berger)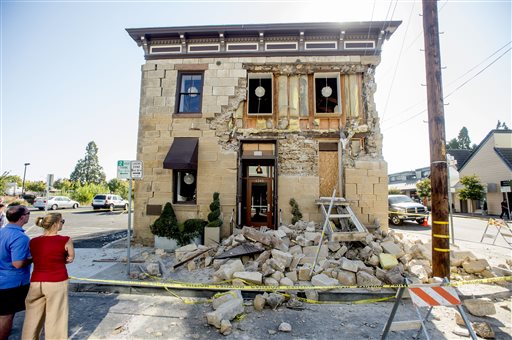 Pedestrians stop to examine a crumbling facade at the Vintner's Collective tasting room in Napa.
(AP Photo/Noah Berger)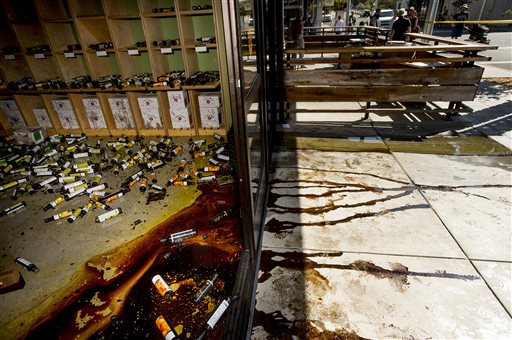 Olive oil and vinegar seeps from Lucero Olive Oil's tasting room in Napa after Sunday's earthquake that caused significant damage and left at least three critically injured in California's northern Bay Area.
(AP Photo/Noah Berger)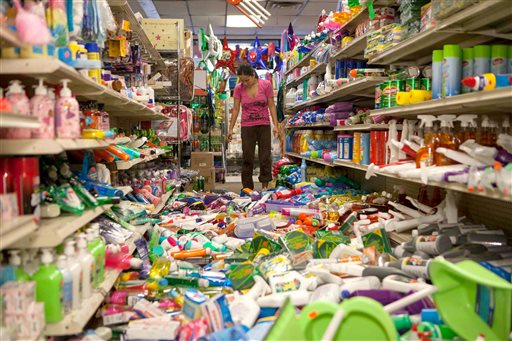 Nina Quidit cleans up the Dollar Plus and Party Supplies Store in American Canyon, Calif. Quidit and her husband were woken up in the early morning hours by the store's alarm company and immediately drove in to begin clean up.
(AP Photo/Alex Washburn)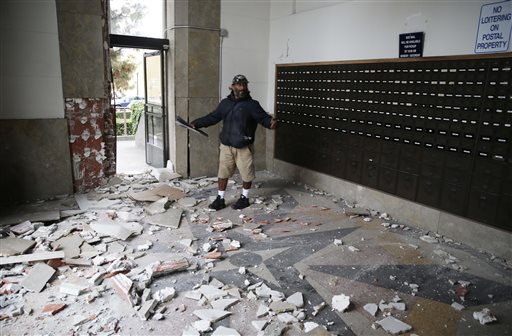 Jorge Sanchez looks over damage to the main post office in Napa. The large earthquake sent at least 70 people to a hospital, ignited fires, knocked out power to tens of thousands and sent residents running out of their homes in the darkness.
(AP Photo/Eric Risberg)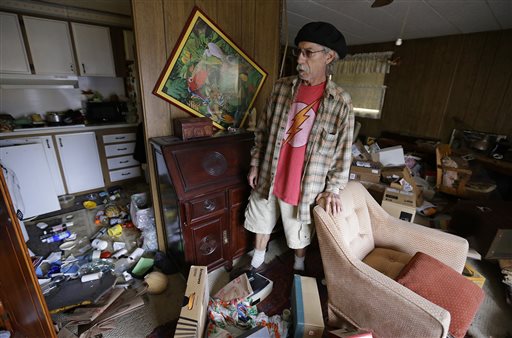 Steve Brody inspects damage to the interior of his mobile home at the Napa Valley Mobile Home Park, in Napa.
(AP Photo/Ben Margot)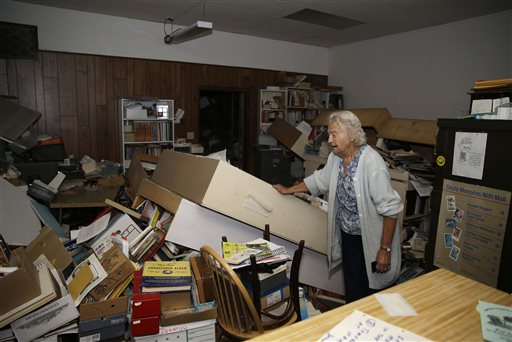 Jean Meehan looks over the damage to her JHM Stamp and Collectibles store in Napa. (AP Photo/Eric Risberg)