Medical and total loss dollars are reduced by double-digit percentages when nurses become involved on a workers' compensation claim, according to a report from Liberty Mutual Insurance and its wholly owned third-party administrator, Helmsman Management Services.
Based on the findings from an internal study of 42,000 claims, a nurse's participation in the workers' comp process decreases a claimant's future medical costs by 18% and overall costs by 26%. The study, "The N Factor: How Nurses Add Value to Workers' Compensation Claims," pulled data points across four categories:
Injury-related characteristics—including primary and secondary body parts, age of a claim, initial treatment and primary diagnosis
Patient characteristics—including employment status, weight, gender, age and prior injuries
Diagnostic and medical treatments—including opioids, surgeries, hospitalization, obesity and diabetes
Claimant behavior—including employer/employee relationship, return-to-work expectations, pain levels, complication, daily living and motivation.
According to the report, medical care costs are estimated to account for two-thirds of workers' comp claim costs within the next four years, driven by increased deductibles, limited choices, reduced reimbursements, and conditions such as obesity and diabetes. The rise in opioid prescriptions further complicates claim costs.
However, the way a claim is managed—from injury to close—impacts how quickly the employee returns to work and also workers' comp expenses. According to the report, nurse involvement also closes claims 15% faster (see figure below, click to expand).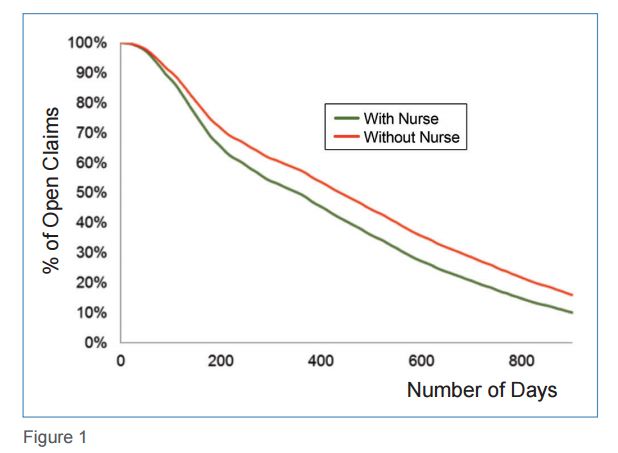 When a Nurse Makes the Most Impact
From its data, Liberty Mutual and Helmsman Management Services created a model—available to its brokers and insureds—that analyzes 25 to 30 data points within their claim system and determines the ideal timeframe for a nurse to become involved in specific claims cases.
In some cases, putting a nurse on a claim would not have a significant impact on the outcome, and would just increase overall claim costs, the report says, such as in the case of injured employee who has no comorbid (obesity, diabetes) conditions and has a good relationship with his or her employer.
"Adding true value to injured workers and employers requires focusing nurses on the right claims, rather than all cases," says Glenn Shapiro, chief claims officer, Commercial Insurance at Liberty Mutual. "Quality trumps quantity. Adding a nurse to some claims would not have a significant impact on outcomes, and would just increase overall claim cost."