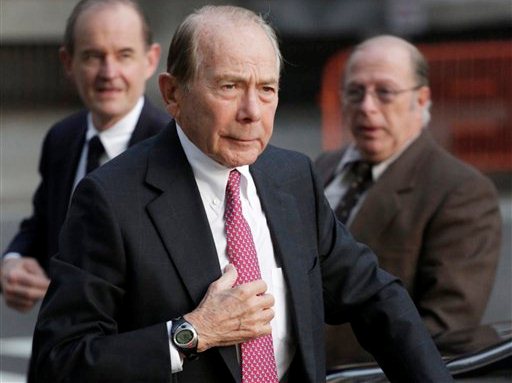 A federal judge has cleared for trial a claim by former AIG executive Maurice "Hank" Greenberg that the U.S. government acted inappropriately when it took control of AIG in September 2008.
Greenberg, through Starr International, a former AIG unit, owns 13% of AIG.
He claimed in a lawsuit, first filed in 2011 and refiled several times afterward, that the way the federal government handled AIG's bailout amounted "to an attempt to 'steal the business.'"
The trial will begin Sept. 29.
The case is being heard by Judge Thomas Wheeler in the Federal Court of Claims in Washington.
In a decision handed down Monday, Wheeler said the case involves "complex financial and economic issues" that deserve analysis and testimony from qualified expert witnesses.
He said while the motion and response have provided a useful summary of the parties' positions, "the court needs to weigh the evidence, make credibility determinations, and draw legitimate inferences from the facts.
"The sheer volume of material presented is a testament to the complexity of the issues before the court."
"The decision speaks for itself," said Dawn Schneider, a spokesman for Greenberg's lawyers at Boies, Schiller & Flexner in New York. "We decline to attempt to add to it."
Greenberg seeks $25 billion from the federal government for himself and other AIG shareholders. AIG itself has divorced itself from the case, which stems from the government's acquisition of 79.9% of AIG's stock, with the approval of its board, in return for $85 billion in cash in September 2008.
The Fed later provided additional aid to AIG through cash and creation of facilities in exchange for mortgage-backed securities either directly held by AIG or exchanged by holders of MBS guaranteed by credit default swaps AIG issued.
Greenberg says the original 14.5% interest rate on the government's loans was onerous and deprived AIG shareholders of their due process and equal-protection rights.
One of the key claims Greenberg is making deals with the federal government's decision to buy back credit default swaps (CDS) issued by AIG's Financial Products unit to insure mortgage-backed securities purchased by foreign banks.
Greenberg argues that decision was an effort to bail out other troubled financial institutions.
It was AIGFP's issuance of an estimated $2.77 trillion in CDS that got AIG in trouble and forced the bailout. As AIG's credit rating declined in 2009 when the scope of its liability came to light in the wake of a huge housing boom and bust financed by Wall Street, holders of the CDS demanded additional collateral in order to protect themselves. When AIG was unable to provide the cash to meet those calls, it asked for federal help.
Lawyers said one of the reasons Wheeler has taken such a hard line in the case is because of the "media frenzy" generated by the request of Greenberg that the newly-reconstituted AIG join his suit. The AIG board ultimately in January 2013 decided to renounce any claim to funds that Greenberg might gain through his lawsuit.
Wheeler, the lawyers say, was particularly upset by comments from AIG's lawyers that Greenberg had a "very low probability of success," in other words, that AIG lawyers were pre-judging Wheeler. It was partly based on a decision by a Federal Court judge in New York to dismiss a similar case filed by Greenberg against the New York Fed.
Wheeler said in a decision denying the government's claim to dismiss the case last year,"Although professionals surely can opine on the pros and cons of a lawsuit, the court cannot see how anyone could have made a precise assessment of this fact-dependent case without knowing what all of the evidence ultimately will show."