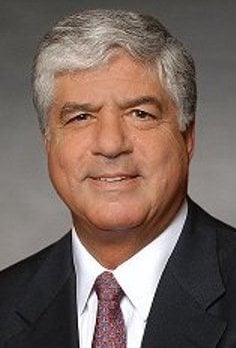 (Bloomberg) — American International Group Inc. Chief Executive Officer Robert Benmosche and four other senior managers received cash bonuses that exceeded their targets last year as the insurer's results improved.
Benmosche, 69, earned a $6 million cash incentive, 50 percent more than his target, the New York-based insurer said yesterday in a regulatory filing. Peter Hancock, who oversees AIG's property-casualty business, received $3.5 million, exceeding a target of $2.7 million, while life unit CEO Jay Wintrob got $3.8 million, 58 percent more than his goal.
AIG revamped pay plans for executives last year to link compensation to performance after the end of restrictions tied to a U.S. government bailout. AIG repaid the rescue in 2012 and advanced 45 percent last year, beating the 30 percent gain of the Standard & Poor's 500 Index.
The plan "aligns the economic interests of our executives with the long-term interests of AIG and our shareholders," the insurer said in the filing.
Benmosche received a $2.3 million salary and $6.5 million in stock awards, bring his total compensation to $14.8 million, That's 40 percent more than he earned a year earlier. Wintrob's total pay was $9.4 million and Hancock earned $9.6 million.
Chief Financial Officer David Herzog's $6.97 million pay package included a cash bonus of $2.26 million. William Dooley, executive vice president for investments, got a cash bonus of $2.4 million in his $7.1 million of compensation.
Dividend restored
AIG restored a dividend to its stock and posted profit of $9.09 billion last year. The insurer is cutting about 1,500 jobs as part of an initiative to control expenses, mainly at the property and casualty unit.
AIG's named executive officers in the filing receive long- term incentives, with payouts based on the performance of the shares and the growth of tangible book value.
The insurer also said it hired an "adult child" of Benmosche as a non-executive employee in September. Jon Diat, an AIG spokesman, said the CEO's son took a real-estate role and declined to comment further.
AIG selected Peter Fisher, a former BlackRock Inc. executive and U.S. government official, to join its board as the company prepares for increased oversight.
Fisher, 57, is a senior fellow at Dartmouth College's Tuck School of Business, and previously oversaw fixed-income portfolio management at BlackRock, the world's largest money manager. He's also worked as the Treasury Department undersecretary for domestic finance and at the Federal Reserve Bank of New York, AIG said yesterday. Fisher is a consultant to the BlackRock Investment Institute.
Fisher has "tremendous knowledge and unique perspectives in asset management and government," AIG Chairman Steve Miller said. "Fisher's global experience with the regulation of financial services companies will allow him to provide valuable insight."
To contact the reporter on this story: Zachary Tracer in New York at ztracer1@bloomberg.net To contact the editors responsible for this story: Dan Kraut at dkraut2@bloomberg.net Dan Reichl, David Scheer