Ashley M. Hunter, President of HM Risk Group
Years at company: 6
College: UCentenary College of Louisiana BM '00, Texas A&M University MBA '03
Read Ashley's previous nGi Q&A.
What challenges do you have in this industry as not only a woman, but as a woman of color? How do you work through those challenges?
It has been a difficult process with a ton of growing pains along the way. I am very thankful for my advisory board and my inner circle of women; these women are constantly advising me on how to make myself more competitive, industry trends from a big company perspective and key introductions to influential executives. I use my connections to leverage myself and business in the industry, this business is built of respect and reputation and I want to make sure that I align myself with the right women to help keep me grounded and focus on my ultimate goal.
How can employers recruit young talent?
You have to speak their language of young employees, what I find important in a position is very different from that of a 20-something. I always have to make sure that I am staying on top of the current trends in on boarding new employees.
Similarly, how can employers retain young talent?
Young employees love to feel like they are contributing to a bigger cause, on boarding for younger employees is much more interactive, with their first day being the "real" job opposed to a day of paperwork.
How did you determine that insurance was a viable career choice?
When all of my other friends were being laid off in the recent down turn, I was actually receiving offers for positions. I have always known that insurance was a viable choice but the last couple of years solidified my decision to stay in the industry.
How does technology fit into your work strategy?
Technology is what makes us stand out from our competitors who are similar in size, we have an mobile application for clients, we use different forms of communications to interact with our clients and we are constantly looking for ways to think outside the box when it comes to technology and how best to use it for our clients. Social media is also a large part of how we interact with our current and perspective clients, you can always find us interacting with carriers on twitter, linkedin or facebook.
What's your mantra for success?
Luck only happens to those who are well prepared.
Who do you look toward as a mentor in this industry?
I have several but a few that come to mind, Pam Humphrey – ACE USA, LoriAnn Lowery – Navigators, Pat Hakong – Lloyds and Kimberly Waller – Aon.
What are your future goals in this industry?
I want to be the largest women-owned insurance brokerage in the world.
What legislative issues are you interested in?
Federal oversight of the industry and Dodd-Frank are issues that I monitor closely.
How do you balance work and personal life?
I take time off! I schedule at least one day a week where I only check my email once that day. It allows me to get out and enjoy the Austin playground. I believe that you should play as hard as you work.
What is an important lesson you learned when joining a professional working environment?
It isn't what you know but, who you know.
Where do you hope to take your career?
I would to continue to grow my business and become more of a voice for the up and coming brokers and agents. What direction would you like your career to go? I love selling insurance, I just want to be the biggest!
Have you ever experienced any "generation gap" issues with your carriers in terms of personal interaction or the products they offer?
All the time, it is nice that I am now working with carriers who realize that they will have to start thinking outside the box if they want to grow their business. Business is changing and the carriers need to change with it.
Many young agents enter this industry because other family members work in insurance. What advice do you have when working with family?
I tried to work with my father, we are too much alike! You have to make sure that you compliment your family members otherwise it will become a struggle.
What skills do you think young agents will need next year?
Flexibility, Resilience and problem solving skills for complex situations.
What do you see young agents struggle with in their first years in this industry?
Burnout–Thinking that you can book a million dollars worth of business in first two years in the business. What advice do you have? Pace yourself, you have the rest of your life to sell insurance!
What sales strategies worked for you this past year?
Industry specific trade-shows and asking for recommendations from current clients, emails have worked as well for certain industries.
What was the biggest challenge you faced as a young agent, and how did you handle it?
Being overlooked as the agent of record for an older broker. I am persistent, I remind that perspective client that being smaller means we are able to do it better and faster.
What do you see as your biggest strength in this industry?
Size, personality, flexibility, knowledge of the industry trends and strategic partnership within the industry.
Similarly, what is your biggest weakness?
Size!
How have you addressed that weakness?
We have but, we like having a boutique feel–we just have to accept that concept isn't for everyone.
What are some of your career highlights?
Placing insurance business in the Middle East and North Africa.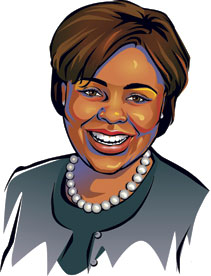 Ashley M. Hunter was featured in the December 2012 issue of AA&B. She is the president of HM Risk Group.