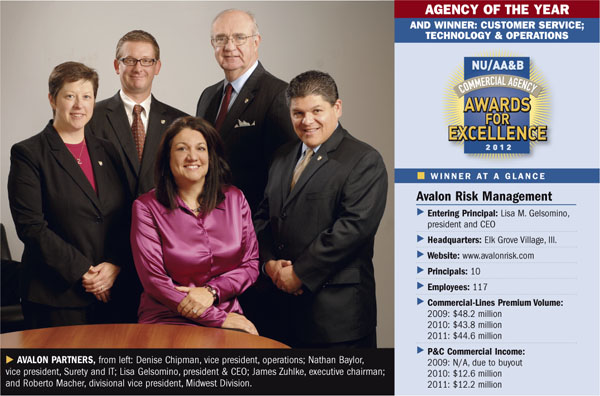 An insurance agency servicing the global trade and transportation industry needs to be as fast and efficient as its logistics-obsessed clients.
And even more important for success, risk management expertise is necessary in an industry governed by ever-changing domestic and international laws and regulations.
For its proven ability to be a trusted and nimble partner to its client base of customs brokers, freight forwarders, warehouse operators and truckers who ship products around the globe, Avalon Risk Management earns Agency of the Year honors in the 2012 NU/AA&B Commercial Agency Awards for Excellence. The agency, located in Elk Grove Village, Ill., also takes the gold in the Customer Service and Technology & Operations categories.
"The nature of our client base is such that we generally have regular contact with decision-makers in our customers' businesses on at least a weekly basis," said Lisa Gelsomino, Avalon's president and CEO. "This continual need to interact with our clients gives us the opportunity to deliver excellent service on an ongoing basis.
"We become business partners with our clients," she added. "Simply providing insurance to clients is only a partial solution."
Avalon was founded in 1998 as a wholly owned subsidiary of Kingsway Financial Services. In October 2009, Avalon's senior management capitalized on Kingsway's recession-related financial difficulties and bought the agency through sponsorship from Fund Management Group.
The buyout reinvigorated the agency and positioned it for future growth. Commission revenue has increased more than 10 percent, despite the challenges of soft market cycles and shrinking capacity.
Risk Management Gives Edge
As program managers for many of the coverage offerings it provides, Avalon integrates client risk management and loss control into its business at many levels. And its risk management approaches help Avalon earn endorsements and new clients.
Avalon recently solicited a large publicly traded company that needed a complex risk review. The evaluation found that the prospective client had a significant amount of uncovered risk, mainly from relationships the client had with larger shippers that handle high risk commodities. Using its authority as a MGA, Avalon delivered 30 changes to the coverage forms that allowed the prospective client to keep its shipper relationships, and Avalon secured the business.
As global shippers, the exposures faced by Avalon's clients include liability under international treaties and conventions as well as a host of territorial issues. Often, clients will have less than 30 days to comply with new statutes.
To help its clients deal with this complex regulatory landscape, Avalon is involved in more than 60 logistics-related trade associations at an international, national and local level, and its regular attention to detail enables clients to stay abreast of changes as early as possible—and make sure the right protections are in place.
"We believe that our clients' interests are best served when we periodically meet with regulators to be sure that we can predict coming changes as early as possible," Gelsomino said.
"Our employees are constantly trained on the niche industry we serve and so are able to converse with our clients on their own business matters as well as the products and services we offer to manage their risk," Gelsomino added. "We are such experts in our industry that we are able to effectively compete against the top, global brokers on Fortune 500 accounts."
The human touch is key to providing exceptional service—and all clients are assigned an account manager to act as their advocate. Support, including a designated claims adjuster, A/R representative and an underwriting specialist, is given to each account manager to help with coverage questions.
When claims do occur, they are acknowledged within 24 to 48 hours and are maintained through a proprietary claims system—ARMour— which tracks carrier activity and generates management reports.
Avalon is appointed as a TPA by several of its insurance carriers, and it offers claims services to clients as a value-added service as well. It provides services for all claims types, including Cargo Insurance, Legal Liability and Professional Liability (E&O) claims.
It can settle claims in-house up to $50,000, and Avalon is compensated by the insurance company for its TPA services so clients can receive complimentary claims handling with their insurance programs. For clients that maintain high deductibles, it also handles below-deductible claims on a fee and contingency basis.
Technology Drives Service
But it's Avalon's commitment to investing in cutting-edge technology—with the goal of making all transactions instantaneous and transparent—that elevates its customer-service capabilities and helps the company attain a 95 percent retention rate (98 percent in some lines of business).
Creating software from the ground up takes considerable resources. The agency spends more than average investing in technology and talented programmers to provide value for its customers. "This has provided our in-house technology team an opportunity to innovate creative solutions—and [as a result], we have an ecosystem of tools for internal and external clients," Gelsomino said.
In addition to its claims database ARMour, Avalon's IT development team created an agency management system called Excalibur, which customizes billing for different product lines and interfaces with Web Merlin, which manages clients' custom bond and cargo insurance programs.
Avalon's proprietary Web Merlin system manages clients' Custom Bond and Cargo insurance programs in a 24/7 environment. Web Merlin alerts clients to fraud protection and bond insufficiencies, manages reports, provides a bond sufficiency calculator, files claims, insures shipments and prints, emails or manages certificates. These systems manage underwriting, policy and document issuance, billing and cancellations, carrier reporting and management analysis to assist clients and carriers in managing a highly transactional business model.
As Avalon looks toward the future, it anticipates a hardening market that it will weather through its profitable MGA and TPA programs. "We know capacity for windstorm and other catastrophic losses are becoming more difficult or cost-prohibitive to insure," Gelsomino said, "so we are providing more risk-management and business-continuity services for our clients in this area."
Programs and Endorsements
Avalon is the exclusive MGA and TPA for Great American Insurance Co. and ProSight Specialty Insurance for a Customs Surety and Combined Transit Liability programs, respectively. The Combined Transit Liability program also includes the option to maintain an Open Cargo Policy to insure cargo at full value if lost or damaged during transit. The combined program has operated under a 30 percent loss ratio since 2002.
Avalon is tribunalized with Lloyd's of London to write its combined transit liability and ocean marine programs on a worldwide base. Avalon also writes ocean marine and commercial P&C with Chubb, CNA, Allianz, Travelers, TT Club and other carriers.
Several associations have chosen Avalon to be their exclusive, preferred or endorsed insurance provider including the Transportation Intermediaries Assn., National Customs Brokers and Forwarders Assn. of America, International Federation of Freight Forwarders Assn. and National Assn. of Foreign-Trade Zones.