Underwriting and operating profitability improved in 2012's first quarter, data from ALIRT Insurance Research shows. After four straight years of underwriting losses, the industry managed an underwriting profit through the first three months of this year. The improved underwriting results led to a rise in return on equity.
But the industry continues to derive most of its pretax net income through investment gains rather than underwriting results, and those investment gains are pressured by the low-interest-rate environment, ALIRT says. Additionally, reserve releases continue to play a large role in helping reported underwriting earnings.
On the following pages, ALIRT Insurance Research breaks down the first-quarter results of the ALIRT P&C Composite, which consists of the 50 largest U.S. insurers, excluding professional reinsurers.
Note: When 2012 figures are presented as 2012*, figures are annualized for the first three months of 2012.

The industry's combined ratio soared in 2011, due in part to substantial storm and catastrophe losses, but accident-year results improved considerably during the first three months of 2012. Reported results were even better as substantial reserve releases continued. The 2012 first-quarter operating ratio improved mainly due to a lower combined ratio, but was hurt by somewhat lower investment income, ALIRT says.
Net premium growth continued to improve in the first quarter, but direct premium growth rate slowed. ALIRT says declining ceded premiums, or larger net retentions, helps explain the diverging growth rates.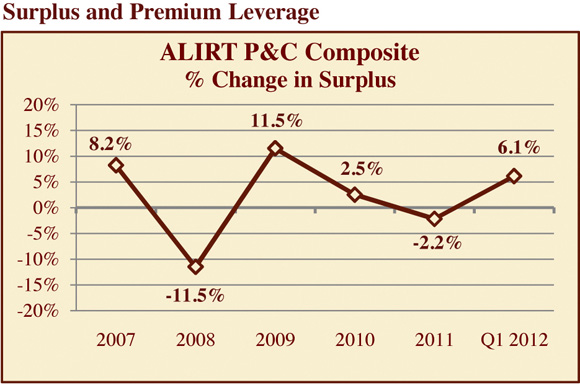 Industry surplus remains strong. ALIRT notes that after falling 2.2 percent in 2011, surplus grew 6.1 percent in 2012's first quarter due in part to stronger underwriting results in the period.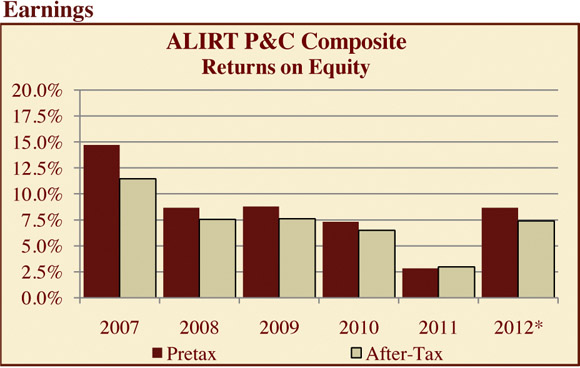 Returns on equity declined sharply in 2011 after the industry was forced to contend with storm and catastrophe losses. But returns on equity rose sharply in 2012's first quarter as underwriting results improved.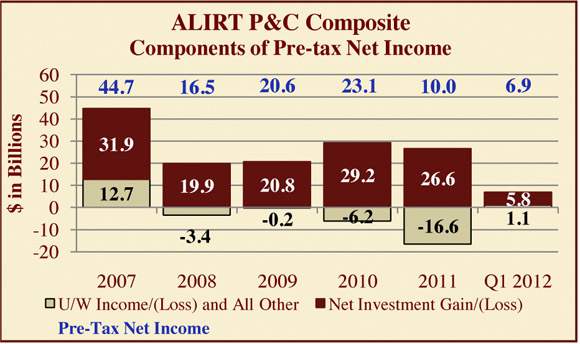 Despite low interest rates, investment gains are still driving net income. However, the ALIRT Composite did manage to generate an underwriting profit in 2012's first quarter after four consecutive years of annual underwriting losses.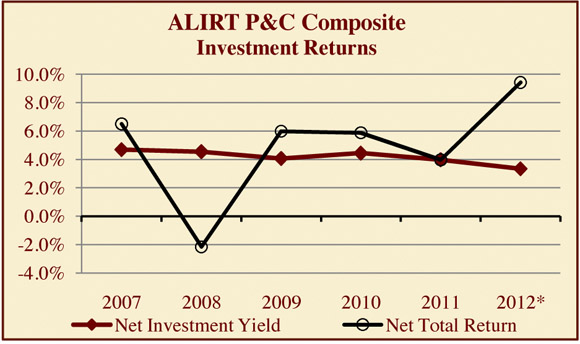 While low interest rates held down investment yields, ALIRT says net capital gains provided a "substantial boost" to the ALIRT Composite's net total return.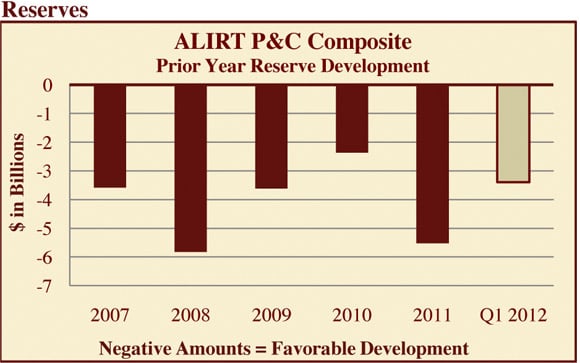 After a steady decline from 2008 to 2010, reserve releases picked up again in 2011. These large reserve releases continued again in 2012's first quarter.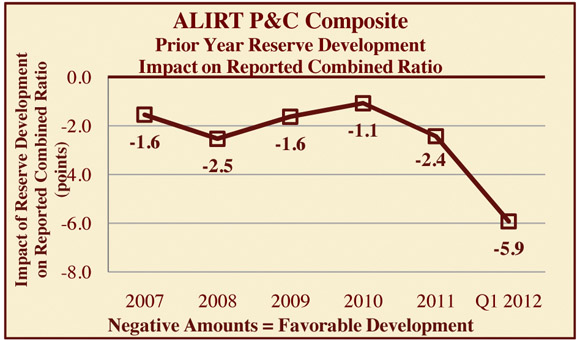 ALIRT says the impact of reserve releases on the quarter's reported combined ratio was "quite noticeable." Reserve releases shaved 5.9 points off of the ALIRT Composite's combined ratio.