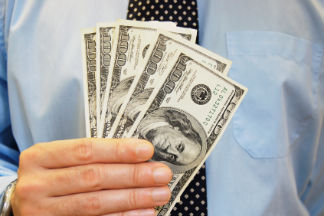 NU Online News Service, Jan. 27, 3:06 p.m. EST
Contingent-commission payouts are expected to be 12 percent higher this year than last as insurers make changes in the way they compensate agents, according to a report from the consulting firm Ward Group.
Jeff Rieder, president of the Cincinnati-based group, says the firm arrived at its figures after an analysis of company data on agent incentives and management practices.
The expected increase in contingent commissions assumes lower losses from the record catastrophes experienced in 2011 and a firming insurance marketplace that is witnessing premium-rate increases, which would benefit agents' commissions as well as company earnings, Rieder notes.
The study, available for purchase, includes results from a diverse group of 69 companies for the years 2010 and 2011.
The "Agency Compensation and Management Practices Study–2011" aims to "help companies measure their performance and establish meaningful benchmarks."
Among some noteworthy trends indentified in the study:
Thirty-nine percent of companies plan to modify their contingent-commission plan in 2012.
Minimum premium requirements for contingent commissions have increased since 2009 and 11 percent of companies increased premium-volume requirements for 2012. Rieder says on average a company is seeking approximately $300,000 in premium that he says should be easily attainable for an experienced agent.
Growth requirements were added by 7 percent of companies for 2012 and five percent added retention requirements.
Electronic-fund transfer for commission payments has become more widely adopted.
Base-commission plans have not changed significantly in the past 3 years.
The report also notes that 17 percent more agents attended trips in 2011 compared to 2010. Rieder says this reflects the realization that conferences and trips serve as a motivational force for agents and allows company executives and other managers to build relationships with their sales force.
The combination of the contingency-fee scandal under New York Attorney General Eliot Spitzer and the economic downturn saw companies cut back on such programs drastically, said Rieder. Now, they are making a comeback.
The report also notes that both new-agent appointments and agency terminations are lower. Despite lower agency-termination rates, five-year agency retention declined for both the independent and captive agencies.
Rieder says the economic downturn has made agency expansion more difficult and companies may not be appointing enough agents to achieve their sales growth.