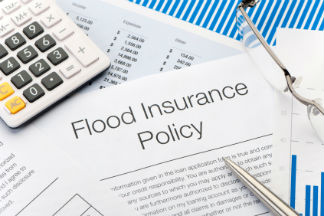 NU Online News Service, Dec. 14, 2:53 p.m. EST
The House last night passed a five-year National Flood Insurance Program extension as part of a larger, controversial bill extending some tax cuts while also seeking budget cuts.
House Republicans tucked the House version of a long-term NFIP extension, which had already been passed in July, into the "Middle Class Tax Relief & Job Creation Act of 2011," which passed last night by a 234-193 vote mostly along party lines.
The NFIP extension is included in the bill as a "pay-for," with Republicans calculating that reforms to the program would reduce the deficit by $4.5 billion over 10 years.
Previously, when the bill was introduced in the House, an industry lobbyist questioned the math involved in saying passing the NFIP reauthorization would save this amount of money when the program currently owes the Treasury almost $18 billion due to losses created by paying claims from Hurricanes Katrina and Rita in 2005.
The NFIP extension is only a small part of the bill, which also includes House Republicans' demands for budget cuts in exchange for their support on extending expiring tax cuts.
Other parts of the bill are unlikely to gain favor among Senate Democrats and the Obama administration. News reports indicate that Senate Majority Leader Harry Reid, D-Nev., wants to call a quick vote to reject the House bill. Pres. Obama has also indicated he would veto the measure.
However, Matt Brady, a spokesman for the National Association of Mutual Insurance Companies, says Senate Minority Leader Mitch McConnell, R-Ky., has blocked the payroll tax bill vote, saying he wants to focus on a separate omnibus spending bill first to avoid a government shutdown.
The Senate did pass a short-term NFIP reauthorization earlier this month that would extend the program until the end of May 2012. That bill has not yet been taken up by the House.
The Senate Banking Committee advanced a long-term extension in September that is similar to the House's long-term bill, but the full Senate has not taken it up yet.
The NFIP faces a Dec. 16 deadline before the program lapses.
Brady says, "One way or another, they'll reach a resolution. It's just a question of what that resolution would be."
He notes that "everything is up in the air" at the moment, but he says he expects Congress is aware that an extension is needed before Dec. 16. While he says an ideal situation would be a long-term extension that includes reforms, he adds Congress should, at the bare minimum, pass a short-term extension.