NU Online News Service, Sept. 19, 3:03 p.m. EST
Though nearly two-dozen insurers in Connecticut have agreed to waive hurricane deductibles following Hurricane Irene, State Farm is not among them.
Gov. Dannel P. Malloy and Insurance Commissioner Thomas B. Leonardi have asked insurers to waive the hurricane deductible.
In dispute is policy language regarding the deductible, which applies in Connecticut when a hurricane warning is declared anywhere in the state and ends 24 hours after a hurricane warning is terminated or 24 hours after the hurricane is downgraded.
Before Irene got to Connecticut, it was downgraded to a tropical storm. However, a hurricane warning—the first in the state in more than 20 years—had been issued for several counties.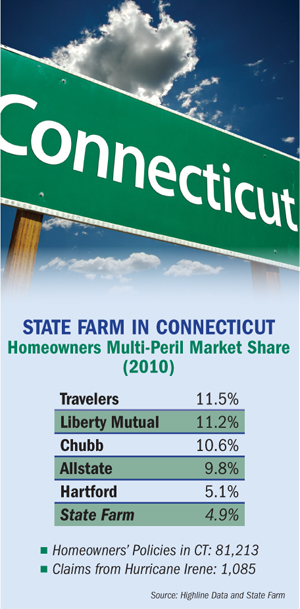 "We are aware of the Connecticut [insurance] department's concerns, as the commissioner is well aware of our concerns on this issue," says State Farm spokesman Phil Supple "We continue to talk with the department."
Connecticut is 1 of 18 states that allows insurers to apply hurricane deductibles.
Dozens of insurers in Connecticut agreed to waive hurricane deductibles for property owners following the losses caused by Hurricane Irene last month.
Among the companies waiving deductibles are Allstate, ACE, Farmers, Fireman's Fund, Hartford, Liberty Mutual, MetLife, PURE, Safeco, Tower, Travelers and Universal N.A.
Liberty Mutual "made a business decision not to apply hurricane deductibles to personal insurance property losses for Liberty Mutual and Safeco customers in Connecticut, Rhode Island, Maine, New York and New Jersey, and for Liberty Mutual customers in parts of Maryland," the company says in an email. "Other policy deductibles would still apply, based on customers' individual policies."
Other companies—Chubb, Factory Mutual, Hanover, Kemper, Nationwide and Peerless—are not applying hurricane deductibles because triggers were not met.
State Farm has about 5 percent of the homeowners' multi-peril insurance business in Connecticut. Travelers Group leads all insurers with an 11.5 percent market share, according to Highline Data, a unit of Summit Business Media.
The Bloomington, Ill.-based insurer says it has about 81,210 homeowners' policies in Connecticut.
Since Hurricane Irene, State Farm has received 1,085 homeowners' insurance claims in Connecticut as of Sept. 9.
Recently in Texas, State Farm announced a change to homeowners-insurance deductibles.
As part of a filing seeking a 9.6 percent average statewide rate increase, State Farm says it is eliminating flat deductibles in favor of a minimum of a 1 percent deductible.
This means a home previously insured for $200,000 with a $1,000 flat deductible now has a $2,000 deductible.