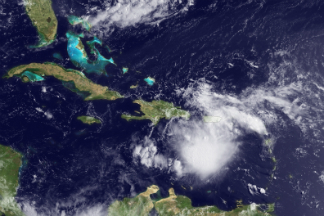 NU Online News Service, Aug. 4, 1:50 p.m. EDT
As Tropical Storm Emily dumps rain on the Dominican Republic and Haiti, the National Oceanic and Atmospheric Administration (NOAA) has raised the number of Atlantic storms it expects this year.
Due to climate factors, NOAA says its "confidence for an above-normal season has increased from 65 percent in May to 85 percent."
In its pre-hurricane season outlook, NOAA called for 12-18 named storms and 6-10 hurricanes.
The agency now says it predicts 14-19 named storms and 7-10 hurricanes for the season, which is from June 1 to Nov. 30.
Specifically, Gerry Bell, lead seasonal hurricane forecaster at the NOAA's Climate Prediction Center, says, "The atmosphere and Atlantic Ocean are primed for high hurricane activity during August through October."
"Storms through October will form more frequently and become more intense than we've seen so far this season," Bell says.
Of the 7-10 hurricanes it projects, the NOAA says 3-5 could be major hurricanes (Category 3 or better, with winds of at least 111 mph).
The average hurricane season has 11 named storms, six hurricanes and two major hurricanes, NOAA says.
A busy hurricane season does not always equate to U.S. landfall. Though last year was a historic one for named storms, none made U.S. landfall. The last hurricane to touch the U.S. was Hurricane Ike in 2008.
Hurricane forecasters at Colorado State University predict an active hurricane season with a total of 16 named storms predicted for the Atlantic basin.
As for Emily, now spinning with winds of 50 mph near the Dominican Republic and Haiti, the National Hurricane Center (NHC) says the storm is expected to approach Florida after passing over Haiti.
Emily will probably come within 50 miles of southern Florida, with the strongest winds offshore, before turning northeast.
It could become a hurricane—the first of the 2011 season—when it is parallel to the Carolina coast, NHC says.