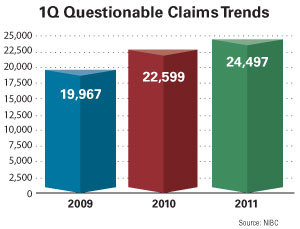 Those spearheading the fight against insurance fraud report that the past few years began with an influx of suspicious cases. During the first quarters of 2009-2011, the number of questionable claims (QC) referred to the National Insurance Crime Bureau (NICB) for further investigation increased 23 percent, with the most significant uptick in medical-related claims.
That's according to the Des Plaines, Ill.-based organization's first-quarter 2011 ForeCast report, which analyzes referrals submitted by its more than 1,100 property and casualty (P&C) insurers and self-insured member organizations. In the report, NICB showed that the first quarter of 2009 brought in a total of 19,967 QCs, compared with 24,497 received in the first quarter of 2011—for a 23 percent overall increase.
NICB categorizes suspicious claims as property, casualty, commercial, workers' compensation, vehicle, and miscellaneous. The 1Q report findings indicated that property QCs were up 3 percent, while casualty and commercial QCs rose by 25 percent and 21 percent, respectively. Workers' compensation QCs increased 24 percent, and there was a 25-percent swell in miscellaneous claims.
With the exception of vehicle claims, which were down by 4 percent, all other categories were up, most notably those pertaining to medical-related claims. The fact that medical-related claims continue to pose headaches for insurers comes as no surprise to NICB President and CEO Joe Wehrle, who explained that NICB has allocated its ample investigative and analytical resources accordingly:
"In recent years, NICB has expanded its medical fraud task force operations to address the rampant fraud associated with illegitimate medical claims," Wehrle said.
For NICB's classification purposes, a single claim may contain as many as seven referral reasons, although the initial referral process can be somewhat subjective—as selection criteria for claims handlers will invariably differ amongst insurers. These red flags help to create an early statistical snapshot of potentially fraudulent incidents and schemes to propel the industry's fraud detection and mitigation efforts.
"A lot of these referrals turn out to be legitimate instances of fraud," explained Frank Scafidi, director of public relations at NICB. "However, a referral is just what the name implies. Each company couples its own claims review process with specific training. One example is a member insurer that may suspect a claim involving an owner give-up based on high cost of gas. Perhaps 8 months ago, that sort of thing wouldn't have warranted a second glance."
NICB's most recent 1Q findings seem to be on par with its annual report, which was published in February earlier this year.