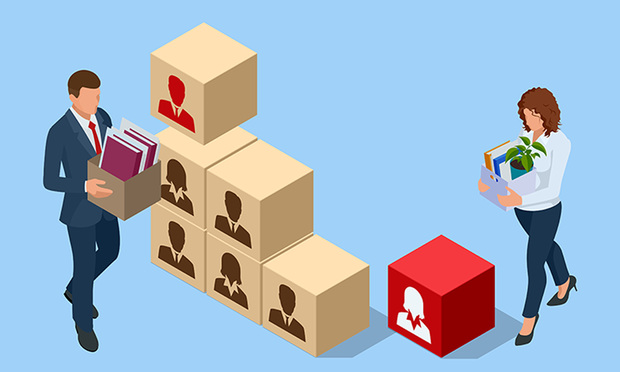 Downsizing is a continuing trend in 2023 for several industries, from hospitality and professional services to retail. However, no sector has been harder hit with layoffs than technology, with more than 66,000 workers laid off in U.S.-based tech companies.
While few individuals enjoy layoffs and downsizing, company leaders would be wise not to shrug them off as merely "doing business." Instead, let's examine how layoffs increase insider risks and what solutions are available for those left holding the fort.
Understanding the influx of layoffs and downsizing
The global pandemic undoubtedly put a wrench in many companies' plans to grow and scale. Stay-at-home orders and lockdown restrictions delayed expansion strategies while leaving the American workforce scrambling to keep up with newly inflated prices and housing issues. Dealing with the entangled web of complexities was nothing short of a nightmare for companies of all sizes in multiple industries.
Fast forward a few years, and here we are facing many of the same problems: inflation, social and political unrest, a shaky economy and too many worldwide issues to name in one post. Unsurprisingly, popular venture capital firm Sequoia Capital recently introduced the Adapting to Endure memo, charting a cost-cutting kind of future for private and public companies, which foretold downsizing.
Here's what we know: rapid scaling isn't what it used to be. Organizations have lengthened their runways, prioritizing profits over growth. And massive hiring sprees are a thing of the past. Leaders now carve away at their workforce, leaving only a few integral members.
Some argue that pandemic layoffs were a pathway to retirement for many, with roughly 57% of retirees in one CNBC survey only exiting the workforce permanently after being laid off during COVID-19. That said, many late-stage companies have delayed their initial public offerings, holding out for a better market. With dry powder hiding deep in the pockets of cautious investors, laying off employees is one route to cutting costs for capital-starved companies. But this strategy doesn't come without a toll.
Threats layoffs create for companies
The current employment landscape — inundated with downsizing emails and layoff notifications — has sent many people into a frustrated frame of mind. Employers struggle to explain their "it is just business" stance, leaving dozens of employees out of work. Some downsizing efforts seem unavoidable, yet, employers find them challenging to navigate.
That said, the amount of employment practices liability (EPL) insurance claims increase daily, with the following accusations topping the list of lawsuits:
Sexual (or other workplaces) harassment.
Wrongful termination.
Failure to employ or promote.
Breach of terms of employment contract.
Negligent evaluation.
Wrongful discipline, bullying.
Wrongful infliction of emotional distress.
Unsurprisingly, backlash and retaliation toward tech companies are more common nowadays than in the past. People, specifically newly laid off employees, are angry. And who could to blame them; we're all human beings trying to survive this world the best we can, after all.
Unfortunately, the position of between-a-rock-and-a-hard-place has resulted in tech companies facing new risks and traversing previously unknown exposures. Remember that government regulations provide a clear path to employment-related litigation. A successful plaintiff might have the law on their side, but employers often pay the legal costs, even if the settlement is a dollar. Our litigious society typically accepts this approach with no qualms.
Identifying insider risks during layoffs
Let's circle back to retaliation and backlash toward downsizing tech companies. What does this look like in everyday life? It sounds like a plot from a movie, and it would likely be a smash hit. However, this vindictive behavior of former employees often unfolds in the frame of "insider risks."
Insider risks are threats to a company from individuals, such as employees or former employees, independent contractors, partners, etc. Many of these people know the computer system, how to access confidential data, and how to bypass security systems. The common thread is that these folks still have access to valuable insider information.
Unfortunately, recently laid-off employees are often desperate to land a new job or launch a startup in the same industry or tech niche as their former employer. They use insider information to "steal" clients from their former employers. Some might also use this insider data to implement their employers' "secret sauce" strategy to gain market momentum.
Naturally, insider risks severely threaten tech companies that are neck-deep in downsizing. It's undoubtedly a slap in the face when a former employer exacts revenge in this manner. However, it can also result in significant financial loss. But tech companies aren't alone in their downsizing efforts.
Solutions that protect companies amid layoffs
Leaders of tech companies might feel that their backs are against a wall, unable to predict or prevent insider risks. However, combating insider threats is more straightforward than many suppose. Experts agree that a proactive approach is better than cleaning up the mess.
For example, many tech companies have implemented programs that detect and identify threats and assess risks before an incident occurs. Proactive tech companies also have their ducks in a row, with an updated employee handbook outlining off-boarding procedures and guidance for the uncomfortable conversations that often unfold.
Once an employee has been laid off, some tech companies immediately deny access to systems and confidential information. While this approach might seem too forward for some, it often combats insider risks head-on.
However, if employment-related issues surface, such as a data breach or stolen intellectual property, insurance can help mitigate the damage. EPL insurance protects companies against employee lawsuits surfacing from their employment conduct practices. This policy covers employment-related lawsuits, and companies often couple EPL insurance with directors and officers insurance for secure, 360-degree protection.
While none of us can change market conditions or calm any unrest, plenty of insurtech companies provide innovative solutions to developing insider threats. Identifying the problem is a significant part of the battle. The next step is strategizing a multichannel defense against insider attacks that we know could cause severe damage. With a savvy risk management strategy, tech companies can hold the fort, waiting for their time to shine again.
Jonathan Selby is the general manager of Founder Shield, a boutique insurance brokerage specializing in serving emerging industries. He works to oversee client strategy and communication and has fostered a culture of providing unparalleled service and risk consulting for some of the fastest-growing companies in the world.
Opinions expressed here are the author's own.
Related: