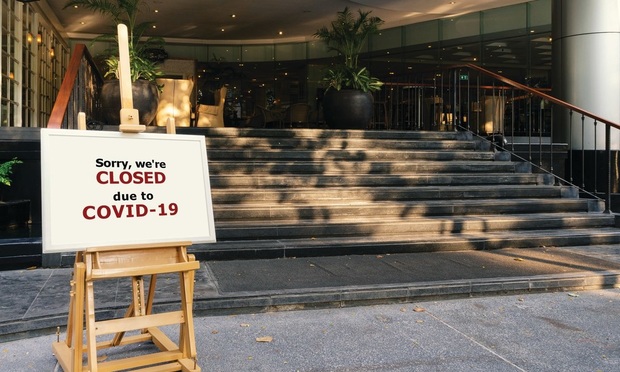 Insurers have argued that businesses seeking coverage for resulting income losses due to government shutdown orders were not covered under some commercial policies throughout the pandemic. That position was affirmed in a recent ruling by the U.S. Court of Appeals for the Sixth Circuit.
On Sept. 22, a three-judge federal appellate panel ruled in favor of Acuity Insurance Co. after a Medina, Ohio, Italian restaurant owner sued the insurer under its commercial property insurance seeking reimbursement for lost income as the result of statewide COVID-19 shutdown orders.
In Santo's Italian Cafe v. Acuity Insurance, Chief Judge Jeffrey Sutton and Judges Alice Batchelder and Joan Larsen agreed with the U.S. District Court for the Northern District of Ohio's decision to grant the insurance company's motion to dismiss, reasoning that the cause of the restaurant's suspension of operations "did not arise from a physical loss of property or damage to it," according to the appellate panel's June 21 opinion.
The owner of Santosuossos, an Italian restaurant operated under Santo's Italian Cafe LLC, previously filed a claim with Acuity Insurance, seeking recovery under its commercial property insurance policy forcibly halting business operations, according to the opinion. The insurance company denied the coverage, and the restaurant owner filed a complaint in state court, seeking reimbursement for lost income as health orders forced restaurants to close across the state at the onset of the coronavirus pandemic in March 2020. Acuity then removed the complaint to federal court.
The plaintiff argued that under its policy's additional coverage provision, Acuity must reimburse the restaurant owner if their loss of income "was caused by direct physical loss of or damage to property."
But the panel said insurance does not provide a "general safety net for all dangers."
"Everyone agrees that the shutdown orders required Santosuossos to suspend its in-premises dining operations, that the restaurant lost business income due to that suspension, and that the orders caused the shutdown," Sutton wrote for the appellate panel. "What separates the parties is disagreement over whether the suspension arose from a covered cause. Does a pandemic-triggered government order, barring in-person dining at a restaurant, count as 'direct physical loss of or damage to' the property?"
The appellate court said Acuity's policy does not cover the loss because the restaurant was not "tangibly destroyed," and the owner was not deprived of any of it. Further, neither the coronavirus nor the shutdown orders physically affected the building the way a fire or water damage would.
"It still owns the restaurant and everything inside the space," Sutton said. "And it can still put every square foot of the premise to use, even if not for in-person dining use."
The restaurant is represented by Colin P. Sammon of Sammon Law in Medina, who said they're both disappointed by the court's decision.
"When the government tells you that you can't use your space for what it's intended, and here, it's a business. The purpose of the dine-in space was to make money… if you can't use that square footage to make money, I believe it's a loss under policy and should have been considered," he told Law.com on Sept. 23rd.
Going forward, Sammon said his team would consider an en banc petition, but they're also waiting for the Ohio Supreme Court's decision in Neuro-Communication v. Cincinnati Ins. Co., a similar case which seeks to answer if the coronavirus' presence in a community, with particles of the virus landing on surfaces or being spread amongst people, constitutes direct physical loss or damage to property.
The insurer is represented by John R. Chlysta of Hanna Campbell & Powell in Akron, who could not be reached for comment.
Some courts have agreed that a loss of the ability to use property may sometimes constitute a physical loss, but "each case involved property that became practically useless for anything," the panel said, referencing more than five pre-pandemic cases from around the country, including the Third Circuit's rulings in Port Authority of New York and New Jersey v. Affiliated FM Insurance from 2002 and Motorists Mutual Insurance v. Hardinger from 2015.
The Sixth Circuit's ruling is in line with other recent decisions by federal appeals courts specifically addressing COVID-19 shutdown orders.
Last month, as Sutton noted, the Eleventh Circuit rejected a dentistry practice's claim that Georgia's shelter-in-place order caused direct physical loss or damage to the property in Gilreath Family & Cosmetic Dentistry. v. Cincinnati Insurance.
Sutton also referenced the Eighth Circuit's July opinion in Oral Surgeons v. The Cincinnati Insurance, rejecting an oral surgeon's claim that Iowa's gubernatorial order prohibiting non-emergency dental procedures was "a direct loss to property."
The Oral Surgeons ruling, however, continues to be an object of debate.
Recently, the U.S. District Court for the Western District of Missouri ruled in K.C. Hopps v. Cincinnati Insurance that the Eighth Circuit's ruling in Oral Surgeons barred the plaintiff from proceeding on the theory that a government shutdown order constituted a covered "physical loss" or "physical damage" to its restaurant. But the district court also found that "whether the virus was present on plaintiff's premises, whether it actually caused a physical loss or physical damage to plaintiff's premises, and the extent of plaintiff's damages due to that 'loss' are genuine issues of material fact which preclude summary judgment."
Related: