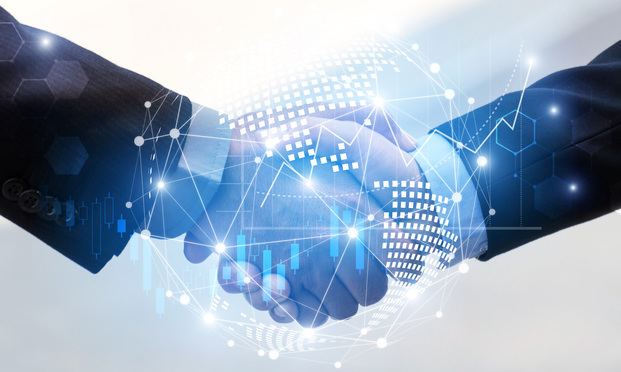 The InsurTech carrier Lemonade recently launched a public API (Application Program Interface) platform powered by behavioral economics and artificial intelligence (AI) that allows any company to offer its policies through websites and native applications. With this API platform, the insurer offered developers access to its portfolio of condo, homeowners and renters insurance while expanding the API as it introduced newer products. The platform provided commerce applications, financial advisors, real estate applications, smart home products, and bots with the liberty to complement any offering with insurance, and offer customers instant coverage with a seamless purchasing experience without leaving the app or website.
This was not a one-off case: Lemonade simply emulated a successful digital operating model that was creating immense possibilities across sectors. The insurance industry, which has been traditionally slow in digitizing operations, is ripe for large-scale open innovation. The sector faces stiff competition from the global InsurTech market, which was valued at $2.72 billion in 2020, as well as tech disruptors such as Google and Amazon, both of which are eager to grab a piece of the pie.
Doubling down on the opportunities
The post-pandemic market landscape has compelled insurers to reimagine products and service development strategies. From digitizing the ecosystem to enabling quick product rollout, insurers today need to think like startups. Additionally, emerging trends highlight that customers increasingly demand additional value from insurers in the form of products and services that meet digital preferences and fast-paced lifestyles. In order to succeed in this complex environment, insurers need to forge partnerships with the extended digital ecosystem of channel partners, regulators, service providers and InsurTechs to deliver a differentiated experience to customers.
By extending data and services to communities, partners and startups, insurers can create and deploy new services, products and disruptive business models while future-proofing the business. An open operating infrastructure driven by APIs enables greater service, product deployment agility and interoperability between partners. This can ultimately result in the following benefits:
Forge meaningful partnerships and create new Distribution models: Open insurance provides insurers the opportunity to enter new markets and deploy new products and services. It allows for diversification of distribution channels through collaborations and flexible business models, like embedded insurance and pay-as-you-go insurance. These business models allow insurers to shift from the traditional approach where customers are sold coverage, to a modern, flexible approach where customers have the liberty to opt for coverage that best suits their current needs and preferences.
Develop attractive new customer value propositions: With open insurance, insurers can harness large volumes of real-time customer data to optimize services and offerings. By leveraging analytics to map customer journeys, insurers gain an upper-hand in delivering on-demand personalized services and products with variable price tags. Moreover, a better understanding of customer needs and preferences can allow insurers to launch ecosystem-based services by bundling native offerings with that of partners outside the industry.
Drive operational improvements and create new revenue sources: Embracing open insurance allows insurers to monetize proprietary customer data and reach out to customers early in the buying process. Massive repositories of actionable customer data and the expansive ecosystems underpinning the open insurance model also allow insurers to quickly scale. With the right data and partner support, insurers can design, develop and deploy customized products at speed while driving significant operational improvement.
The benefits of embracing an open insurance framework are endless. For traditional players, however, existing legacy IT infrastructure can be a major roadblock in the quest to drive tangible benefits. Research reveals that legacy systems are the major obstacle for insurers looking to enhance digital touchpoints and outreach, with 55% of insurers indicating that legacy mainframes embedded deep within the enterprise IT ecosystem are at the heart of this challenge.
In order to quickly develop and deploy APIs in a legacy IT landscape, insurers need to decouple existing technology architectures, design APIs for reuse, and implement a robust API platform.
Open insurance building blocks
Considering the open insurance model drives a digital insurance transformation from the top-down, insurers also need to implement intelligent technologies to sustainably drive the open initiatives. Three key technological building blocks are critical to an insurer's success in an open API ecosystem:
Bolstering cloud computing infrastructure: Cloud solutions allow insurers to store vast amounts of data and rapidly share proprietary dormant data with ecosystem partners. Additionally, the cloud is a cost-effective, scalable platform for developing effective analytics models, reports and dashboards.
Embracing automation: Automating processes like underwriting and claims can help insurers drive profitability and achieve a sustainable competitive edge by leveraging intelligent automation technologies such as AI and machine learning. This allows for the delivery of dynamic pricing based on risk.
Harnessing actionable insights: Analytics provides a deeper understanding of customers to deliver digital-first, hyper-personalized offerings while helping to identify specific tasks that would benefit from data and the implementation of intelligent technologies.
Last but not least
As these technology building blocks become more ingrained within the traditional insurance space, insurers will have to prioritize forging a thoughtful partner strategy to support ecosystems and speed up application deployment processes. InsurTechs are increasingly collaborating with IoT service providers to transform customer engagement. Insurers should nurture a similar mindset to create fruitful collaborations.
Amit Tiwari ([email protected]) COO of Xceedance, the global insurance consulting and managed services firm.
These opinions are the author's own.
Keep reading…