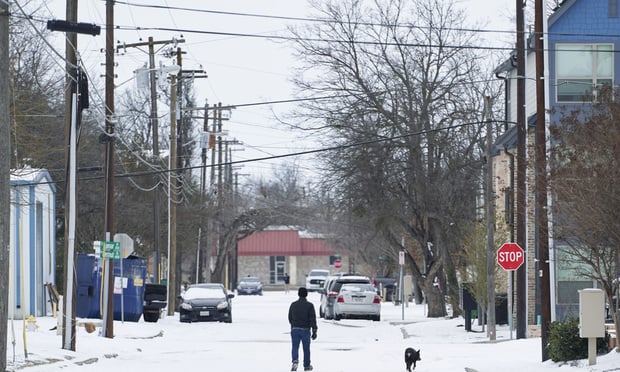 February saw severe and widespread winter storm activity in communities across the U.S., triggered by a polar vortex that generated record-breaking cold temperatures. But across the world, severe weather activity devastated hundreds of communities and caused billions of dollars in economic losses.
A new report from Aon lists and analyzes the major events recorded in February, along with estimates on damage impacts and loss costs. Among the key figures published in Aon's Global Catastrophe Recap report for February 2021 was the impact of Winter Storm Uri in Texas and across the U.S.
Between February 8–12, an Arctic cold front settled in the central U.S., hitting Texas, Arkansas, Kentucky and Tennesee the hardest with freezing temperatures and a severe ice storm that Aon researchers say resulted in tens of millions of dollars in economic losses.
Worse weather followed from February 12–20 as a polar vortex impacted nearly every corner of the nation with record-breaking cold temperatures. Fueling the damage from this stretch of winter weather, a series of low-pressure systems triggered damaging snow, sleet, freezing rain and severe thunderstorms that caused millions of power outages, transportation disruptions, extensive property damage (particularly in the Southern Plains due to burst pipes) and impacts to the agricultural sector.
Aon researchers estimate the total economic loss cost of this event will exceed $10 billion.
That wasn't the end of it, however. On February 25-26, Northern Texas was hit with thunderstorms and large hail that resulted in over $100 million in damages, Aon reports, noting that most of the cost will be covered by insurance.
In the last days of February, severe flooding impacted parts of Ohio and Tennessee, which was compounded by hail, straight-line winds, and isolated tornadoes in Kentucky and West Virginia. This storm caused another $100 million in economic losses, Aon estimates, but most of the damage from flooding is expected to be uninsured as flood insurance take-up is notably low in the affected regions.
Around the world
Aon's Global Catastrophe Recap report for February 2021 included summaries and analysis on the month's weather activity in regions all over the world.
In the rest of North America, the polar vortex that hit the U.S. in mid-February also impacted northern Mexico, triggered millions of reported power outages that disrupted commercial operations in the region's factories. In Tamaulipas, hundreds of thousands of hectares of crops were affected by abnormally cold and icy conditions. Researchers estimate the crop damage alone will exceed hundreds of millions in U.S. dollars.
In South America, heavy rains and severe flooding across an 8-day stretch impacted 10 municipalities and over 130,000 people in Brazil. Landslides were recorded and a state of emergency was declared in Madre de Dios, where 4,000 homes were damaged by floodwaters, according to the report. Aon estimates economic losses from February 12-20 flooding caused tens of millions of dollars in losses.
In Europe, winter weather activity from February 1-15 caused hundreds of millions of dollars in losses, driven by heavy business interruption costs and transportation disruptions. A second event during this period added another +$10 million in losses, Aon estimates. In France, 19 municipalities were impacted by flooding along several rivers.
In the Middle East, heavy rainfall of 5.9 inches triggered flooding in Turkey that damaged hundreds of vehicles, homes and businesses, resulting in roughly 3,000 claims, the report states.
In Iran, a 5.4-magnitude earthquake damaged or destroyed a total of 5,800 structures, killing two people and injuring 60 others.
Floods, earthquakes devastate Asia
Asia was hit exceptionally hard in February. Several flood events were recorded, two of which had receipts exceeding $210 million and $50 million each. On February 13, a magnitude-7.1 earthquake struck off the coast of Japan's Fukushima Prefecture, causing one death and 187 injuries. 4,700 residential structures were damaged or destroyed. According to the General Insurance Association of Japan (GIAJ), nearly 88,000 insurance claims had already been filed at the time of publication.
Hundreds of homes and other structures were also damaged in Japan in a second event of blizzard conditions between February 15-18.
In Indonesia, heavy precipitation in East Java Province triggered a large landslide that killed at least 19 people and damaged dozens of homes. Heavy seasonal precipitation prompted rivers to overflow on Java Island, flooding 8,600 residential structures between February 19-23. Fourteen people were left dead or missing, and heavy impacts to infrastructure and agriculture were reported, according to Aon.
Related: