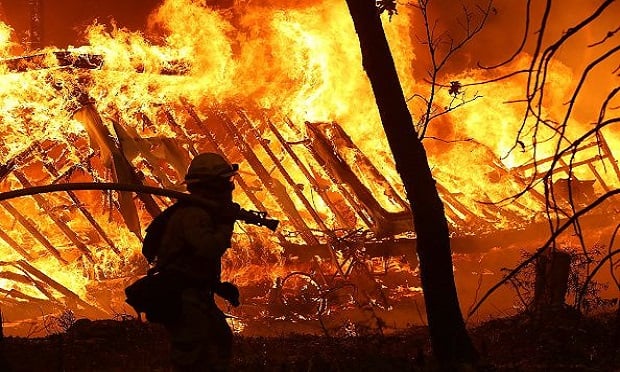 A crisis California didn't foresee — the COVID-19 pandemic — is complicating preparations for one that arrives with a vengeance every year.
With wildfire season on the horizon, state officials have ordered prevention efforts to proceed after rains have tapered off and before the heat of summer. But work is progressing slower than usual as firefighting agencies and electric utilities institute new practices to keep employees safe.
Battling social distancing
Social-distancing requirements complicate many of the tasks, including trimming trees near power lines, clearing brush around homes, setting small, controlled fires and replacing old utility poles that could snap in strong winds. Plus, crews must contend with virus-anxious residents not wanting them anywhere near their property. The result is California faces more challenges than ever to stave off deadly wildfires that have grown fiercer by the year as climate change and scant rain this season have turned the state yet again into a massive tinderbox.
"We're really facing an experience that's unprecedented," said Bill Chiu, managing director of grid modernization and resiliency at Edison International's Southern California Edison utility. "It's certainly adding an extra layer of complexity to what we do."
The U.S. Forest Service has suspended controlled burns and in-person training for firefighters, with no firm timetable to resume. Los Angeles County, where millions of residents are working from home, at one point ordered utilities to stop work that could temporarily interrupt power to residences, forcing Edison to rethink some of its fire-season preparations.
There's also the possibility that state officials may need to divert some of the money earmarked for fire prevention and spend it instead on efforts to fight the virus and restart California's paralyzed economy. The budget Governor Gavin Newsom unveiled in January called for $120 million for 677 new fire-related positions within the state government, as well as $9 million to open a wildfire forecasting center. But an updated budget, reflecting coronavirus realities, is expected by mid-May.
Still, the state's lead firefighting agency and the utilities all expect to complete their planned prep work before the worst of fire season, which is typically from August through October.
"It may take us a little longer, but we're getting there," said Scott McLean, spokesman for the California Department of Forestry and Fire Protection, or Cal Fire.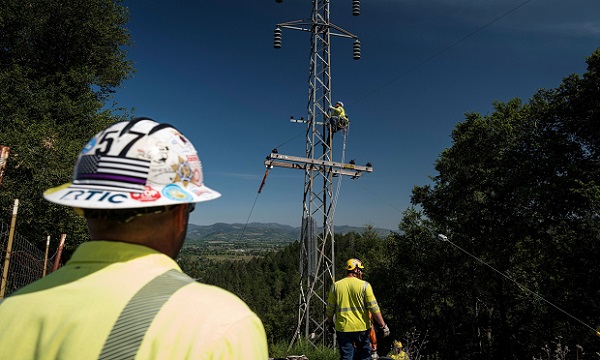 Northern California has been particularly gripped by dry weather. As of April 23, 58% of the state was abnormally dry, compared to 6% a year ago. Nearly 36% is stricken with drought, whereas last year, California ended its rain and snow season without a single county in that category, according to the U.S. Drought Monitor.
Protecting customers
The state's largest utility owner, PG&E Corp., is trying to emerge from bankruptcy as it makes ready for the 2020 season. State investigators blamed a series of deadly fires in 2017 and 2018 on PG&E power lines snapping, tangling in trees or falling down in strong winds. That included the 2018 Camp Fire, California's most lethal yet, which killed 85 people and leveled the town of Paradise.
The company has budgeted about $2.6 billion this year for fire-season preparation. By the end of March, PG&E had trimmed or chopped down trees along 573 miles of power lines, out of 1,800 miles planned for "enhanced vegetation management." It also aims to install metal poles and insulate wires along 221 miles of power lines or run some of the lines underground. About 19% of that work had been finished by late March, according to Rob Stillwell, a PG&E spokesman.
PG&E also agreed to a 10% pay hike for workers in the field and has staggered shifts so fewer people are on the job at the same time.
Edison, which plans to install 700 miles of insulated line this year, now tries to schedule any necessary power interruptions for night time or early morning to minimize the impact on at-home workers. Each such project also requires some negotiation with local officials.
"It's on us, and rightly so. We need to take a proactive role reaching out to these local jurisdictions," Chiu said.
Facemasks have become standard gear. Equipment and vehicles get wiped down with sanitizer on an obsessive basis. Workers take their own cars or trucks to job sites, rather than packing together into one.
ArborWorks Inc., a utility tree-trimming contractor, has added trucks to its fleet to reduce the number of people who have to ride in each vehicle, Vice President Chriso Lee said. The trucks are sanitized multiple times a day and are equipped with hand sanitizer and wipes, he said. Workers are required to wear face masks and are asked to keep their distance from each other whenever possible.
"We want to make sure that customers see us respecting social-distancing guidelines," Lee said. "We have had some run-ins with people in communities who don't feel like we should be considered essential," he said. "We've had people who show up and start yelling at crews."
The pandemic has slowed the pace at which ArborWorks can hire new employees because of social-distancing limits on the size of mandatory safety-training classes, he said. At the same time, the company expanded policies that allow workers to take leaves of absence without pay because several said they don't feel safe going out into the field.
Last year's wildfire season in California, which began in May and ended in November, caused $80 billion in damage and claimed three lives.
— With assistance from Michael Marois and Brian K. Sullivan.
Related: