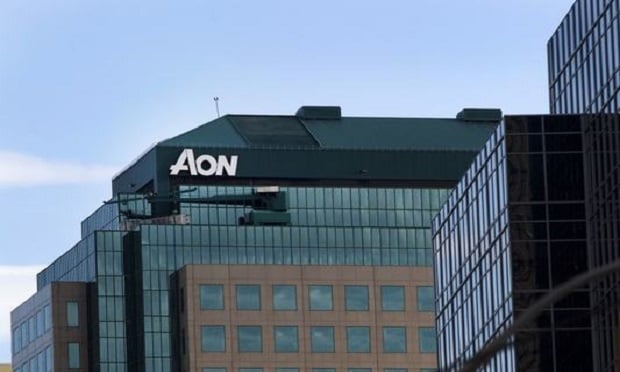 In a letter to Aon employees on April 27, CEO Greg Case said that while the company remains committed to keeping all employees' jobs, temporary compensation reductions will be implemented to help combat the effects of the COVID-19 pandemic.
Starting May 1, named executive officers and board members will receive a temporary 50% reduction in salary, and 70% of employees will receive a temporary 20% reduction, said the letter.
The reductions were determined by working with local leaders around the world and accounting for a set of criteria, such as the cost of living, said the brokerage. As a result, 30% of employees will have no change to their compensation.
"Our objective is that everyone emerges from this challenging period in as good a place as possible; unfortunately, it is too early in this economic crisis to determine how we ultimately mitigate these actions," said Case. "Our commitment is that we will act with integrity to protect our colleagues and our firm. We will continue to apply our principles-based approach to how we manage through this crisis and review these actions monthly."
The letter outlines the principles-based approach that aims to guide the firm's actions and protect jobs. The principles include prioritizing colleagues, clients, and the firm and making swift decisions to safeguard operational flexibility.
Additionally, Aon has curtailed spending on contractors and third-party vendors, paused its stock buyback plan, and is reducing expenses not related to client services. The pending completion of Aon's merger with Willis Towers Watson will not be affected and is proceeding as planned.
An April supplementary survey to the Semi-Annual U.S. Insurance Labor Outlook Study, conducted in partnership with Jacobson and Aon, suggests a low likelihood that insurance companies will reduce staff during the COVID-19 crisis. However, it does reveal that 18.5% of insurers said they are on or are anticipating a hiring freeze. At the time of this article, Aon is the only major insurance brokerage to announce salary changes in response to the economic toll from the coronavirus.
Nonetheless, the letter affirms that Aon is committed to maintaining job security and preserving operations. "There is no question that it would be easier to wait and see how significant the coming economic downturn will be, but that puts the future of our firm at risk," Case said. "Some might argue it would simply be easier to layoff a subset of our colleagues, but that would put our ability to serve clients at risk. We are taking a more complex and difficult step because we believe that all of us are critical to delivering on the full potential of Aon. At a time when our clients need us most, we need the full force of Aon United behind them."
Related: