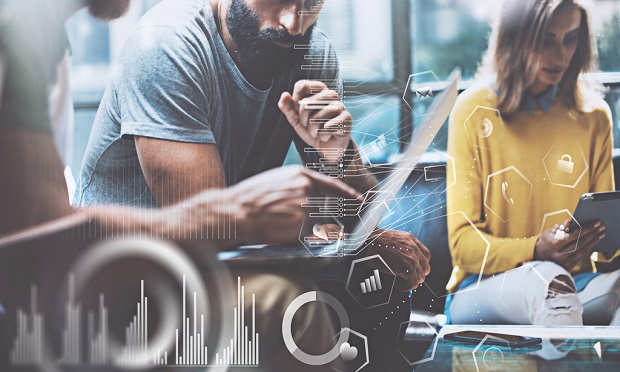 The unprecedented challenges faced by organizations in the midst of the COVID-19 pandemic are forcing us all to participate in a grand experiment of agile working — a work-anywhere, nimble approach that gives employees a high degree of autonomy. All of a sudden, an enormous chunk of the global workforce has decamped from the office and canceled face-to-face meetings, opting instead to collaborate virtually.
For years, the number of organizations offering remote work options has been growing, tripling between 1996 and 2016, according to SHRM. Yet the quantum leap toward virtual collaboration that has occurred in recent weeks may permanently change the way we work.
Organizations that offer agile working practices and equip their teams to work remotely have a distinct advantage in a crisis such as this, due to their decentralized, adaptable nature. This is a key feature of a "starfish" organization, according to Ori Brafman and Rod Beckstrom, authors of "The Starfish and the Spider." Their metaphor uses the spider to represent a centralized organization that is controlled by its head, which, if cut off, causes death. By contrast, a starfish, akin to a decentralized structure, has no head and its organs are replicated in each arm, so if cut in half, it creates two starfish which survive.
So, how can insurers establish agile working practices to keep business running as usual during the crisis, as well as the adaptability and resilience they need to better cope with future ones?
Establishing an agile organization
The one thing we know for sure is that the future remains unpredictable. When faced with uncertainty, Darwin's words ring truer than ever: it is not the strongest nor the most intelligent that survives. It is the one who is most adaptable to change.
To get through a crisis effectively, insurers need agility to be able to maneuver quickly as needed. Following are seven best practices insurers can take to create an agile organization and manage remote teams effectively:
Create an atmosphere of trust. This new era of agile, remote working demands, more than anything, a heightened level of trust. As Hemmingway said, "The best way to find out if you can trust somebody is to trust them." When people are free to choose when and where they work, trust between co-workers ensures that everyone makes themselves available when necessary and takes responsibility.
Take time to review the dashboards and performance metrics you have in place. When people are working from home and organizations are under pressure to work efficiently during tough times, it becomes more important than ever to prioritize and focus.
Continuous communication is key and should cut both ways. Leaders of a remote workforce should take pains to communicate news and changes in direction with everyone on their team, while also making time for personal communication. Meanwhile, individual team members should share key results via reports and dashboards, and provide context to the numbers through virtual one-to-one and team meetings. This not only helps individuals stay on track but also helps managers know what is going on, without having to resort to checking in too frequently with those who are comfortable self-managing.
Adopt a servant leadership approach where team members are encouraged to ask their manager for the support they need, on-demand. This helps build a culture of trust and loyalty, as well as increases productivity. Servant leadership helps leaders avoid micro-managing, by enabling self-starters to work autonomously while ensuring that people who want support and guidance get what they need, when they need it.
Adapt leadership to the realities of managing remote teams. As with face-to-face leadership, there is no one-size-fits-all approach. Rather, each team member's personality, job role and preferences should be considered. For example, some people are comfortable self-managing and will respond best to high levels of autonomy, struggling with what they perceive as micromanaging if there is too much oversight and intervention. Meanwhile, others may appreciate extra help in prioritizing their work and staying on track. Extraverts are more likely to desire a higher frequency of communication than introverts, and those working on focused tasks will have a lesser need to collaborate than those working on brainstorming new ideas or other group work.
Don't just focus on the work. It's more important now than ever to make sure that your communication isn't just about business. Take time to check in with people on a personal level, rather than simply focusing on work during conference calls. Some team members may be struggling with personal issues, such as financial, childcare or health concerns. Adopting a sensitive, empathetic and flexible attitude towards team members and co-workers will help build trust and greater organizational resilience during difficult times.
To create a sense of cohesion in teams that are geographically distributed, weave organizational values and vision into every-day conversation. Particularly when decisions need to be made, referring back to these strategic pillars will help embed culture and maintain a sense of unity.
Managing social distancing in the office
When free movement resumes and employees begin to return to the office, it is likely some level of social distancing will remain necessary. One way to manage this is by using automated resource booking to enable social distancing. For instance, systems can be configured to prevent people from booking desks that are too close to a colleague. Likewise, room occupancy can be restricted so that when a meeting is booked, a conference room will be allocated only if it has sufficient space to allow seats to remain at a certain distance from one another.
Additionally, automated systems provide key data and analytics to aid decision-making. For instance, organizations can use usage data to see whether a particular workstation, meeting room, or area is under- or over-utilized, and then make decisions to optimize space and resources. Space utilization data can also help organizations right-size or reconfigure their office space to suit a more agile workforce, increasing cost reduction, productivity and employee well-being.
While the COVID-19 pandemic has created the imperative to enable remote working, it's likely that this trend will continue to thrive long after the crisis is over. A work-anywhere, agile approach that grants people a high degree of autonomy results in greater resilience, and at the same time, can minimize real estate costs. But it also requires companies to go beyond just equipping people with essential tools and technology — from laptops and secure access to data to video conference software and more — to focusing on new leadership approaches for an agile working environment.
Leaders in every discipline can benefit from agile working and creating a more agile, starfish-like organization that can not only adapt to the new ways of working during the COVID-19 pandemic and future crises, but that also results in a more nimble, stronger organization.
John T. Anderson is CEO of Smartway2, which provides next-generation workplace scheduling solutions for all types of organizations and enterprises. He can be reached via email or LinkedIn.
These opinions are the author's own.
Related: