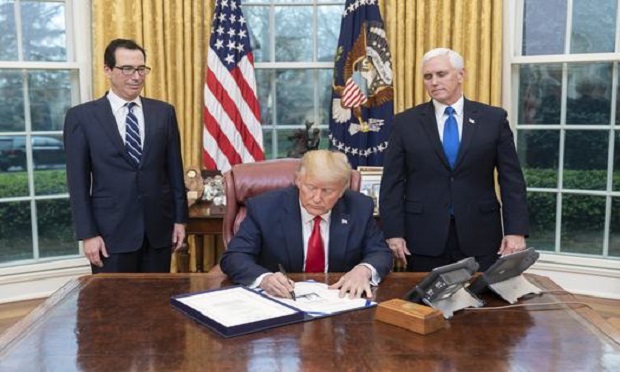 Editor's Note: At the start of each month, we publish insurance legislative and regulatory news and updates from around the nation.
National updates
President Trump signed the Families First Coronavirus Response Act (FFCRA). The law seeks to assist employees (from employers with fewer than 500 employees) who are impacted by the COVID-19 outbreak by providing sick leave, expanded unemployment insurance, food assistance, and free testing for the virus.
In early March, the president also signed a $7.8 billion emergency coronavirus spending bill. The measure reimburses state and local governments for the cost of preparing for and fighting the virus. In addition, it allows for Medicare to spend $500 million telehealth programs.
USDA's Risk Management Agency (RMA) is authorizing additional flexibilities due to the coronavirus. The added flexibilities include: enabling producers to send notifications and reports electronically, extending the date for production reports and providing additional time and deferring interest on premium and other payments. "Crop insurance will continue to support farmers through the challenges ahead, and our RMA team is here to support them," RMA Administrator Martin Barbre said in a statement. "We are working with the AIPs to continue to deliver crop insurance and to respond to farmer needs."
On March 27, President Trump signed the Coronavirus Aid, Relief and Economic Security (CARES) Act, the largest stimulus package in U.S. history. According to Bloomberg, the package provides about $500 billion in loans and other assistance for major companies; $350 billion to aid small businesses; and $117 billion for hospitals. Additionally, the measure includes $1,200 direct payments to middle- and low-income American adults, plus $500 for each child.
The U.S. Department of Transportation Office of Drug and Alcohol Policy Compliance issued guidance on conducting drug-and-alcohol testing on DOT-regulated employers, employees, and service agents. On its website, the DOT stated it is "committed to maintaining public safety while providing maximum flexibility to allow transportation industries to conduct their operations safely and efficiently during this period of national emergency." The new guidelines include direction for DOT-regulated employers to make a reasonable effort to locate resources needed to continue conducting testing requirements in addition to other instructions.
State updates
Virginia passed HB 617, which will direct the state's Workers' Compensation Commission to study the implications of covering repetitive motion injuries in the state workers' compensation system.
Public adjusters in Wisconsin now have to register with the Department of Insurance every two years under a new law.
SB 2848 in Tennessee is pending that would make it unlawful to prepare a property and casualty insurance certificate with false or misleading information.
Governor Gretchen Whitmer of Michigan signed House Bill 5174 into law. The new law eliminates the prescriptive $64 cap on surplus lines agent policy fees has been eliminated for commercial surplus lines policies and for personal surplus lines policies, replaced with a cap of $100 or 10%, whichever is greater.
On March 11, the California attorney general published additional revisions to its proposed regulations for the California Consumer Privacy Act (CCPA). The three key changes proposed include the removal of the opt-out button; the removal of the IP address "link" requirement; and additional required disclosures to consumers in the privacy policy.
Lawmakers in Oklahoma passed two bills modifying the states workers' comp market:
HB 384: If signed into law, this bill would make it a felony if an injured worker failed to report a material change in income to the state. The crime could be punishable by imprisonment, fines, or both.
SB 1818: Changes the list of incidents that are non-compensable under workers' compensation to include idiopathic injuries.
Senate Bill 7843 was introduced in New York. The bill would amend the state's workers' comp law to require employers to provide documents to employees in their native language. If made into law, the bill would "prohibit cases from being closed without a hearing or written stipulation, requires a stenographic record of all hearings held and requires minutes and decisions to be provided to the injured worker in their native language."
House Bill 4361 in West Virginia would update the state's fraud law to include increased penalties for convicted fraudsters; the creation of a fund for forfeiture recoveries and more.
Florida passed HB 7097 that reduces the surplus lines premium tax rate from 5% to 4.94% and eliminates the taxation of multistate surplus lines policies based on the rate where the risk is located.
SB 2422 passed in the Hawaii Senate. the bill aims to crack down on storm-chasing roofers by prohibiting them from offering to pay insurance deductibles.
Commissioner Jim Donelon of Louisiana issued Emergency Rule 38 to help address the public health emergency brought on by the coronavirus. The rule provides Louisiana residents making an application for a producer license for lines of insurance with a pre-licensing requirement an opportunity for temporary licensure.
"I have issued Emergency Rule 38 to address the interruption of domestic insurance producer's ability to sit for licensing exams or submit fingerprints due to the stay at home order currently in place throughout Louisiana," said Donelon in a statement. "This rule provides guidance for obtaining temporary licensure, defining eligibility for this temporary license, the duration of temporary licenses and the process for conversion of same to permanent licenses under this order."
A New Jersey bill is in the works that would compel insurance companies to cover claims by the state's small business owners for business interruption resulting from COVID-19. A-3844, sponsored by Assembly members Roy Freiman (D-Hunterdon/Mercer(, Louis Greenwald (D-Camden), and Annette Chaparro (D-Hudson), failed to reach a floor vote but remains a work in progress.
Massachusetts, Pennsylvania, New York and Ohio also introduced bills that will require insurers to cover coronavirus-caused business interruption losses even when losses fall outside the written policy language.
A number of states have passed legislation in response to the coronavirus (COVID-19) while others have legislation pending. The states that have enacted laws include:
Related: